OUR MISSION
At The Climate Reality Project, our mission is to catalyze a global solution to the climate crisis by making urgent action a necessity across every level of society.
In 2020, we saw that mission challenged like never before. Like organizations and people across the planet, we saw our lives and work turned upside down by COVID. We watched the pandemic turn a million-watt spotlight on the inequities and injustice at the heart of societies everywhere, as rising infections and economic collapse hit poor families and many communities of color with a devastating one-two punch.
Then came the murders of George Floyd, Breonna Taylor, and Ahmaud Arbery, sparking a reckoning on racial justice that spread all around the world. It was a time to speak out for justice. It was also a time to look in the mirror as an organization. To face some painful truths about how we've fallen short and failed our staff, our friends, and our supporters.
Our challenge was to face this moment with eyes and ears wide open. To listen to the voices in the streets and in our organization. To confront our mistakes and begin to learn from them. To adapt our work to the changing reality around us.
And we did. When the pandemic forced us to cancel the five in-person Climate Reality Leadership Corps trainings we had planned, we got creative and developed a new digital training program that saw us train over 9,700 new Leaders and grow our global activist network nearly 50% in one year alone.
When health concerns shut down large-scale planned get-out-the-vote events, we took our organizing online and mobilized COVID-safe voter registration efforts, with a special focus on BIPOC communities and young people long underrepresented in US elections and government.
With the world working through online meetings, we recalibrated our signature 24 Hours of Reality initiative to be a day of digital conversations on the climate, justice, and COVID crises shaping our moment and exploring how together we can build a more equitable and healthy future for all.
The list goes on. Yes, our challenges are immense. Yes, our history as an organization is imperfect and we have a ways to go to fully live our ideals. But we are committed to the work. To building a new kind of climate movement shaped and led by communities of color, Indigenous voices, and other historically marginalized peoples too long ignored. To working together to solve the climate crisis and create the just and sustainable world we want.
This is that story.
A LETTER FROM OUR
FOUNDER & CHAIRMAN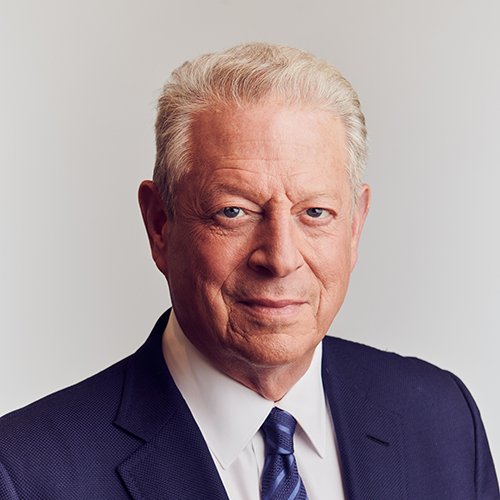 Dear Friends,
2020 brought monumental challenges to our world.
Like most of you, we at The Climate Reality Project had a plan for 2020. We'd planned a busy year of in-person trainings ahead of one of the most consequential international negotiations about the future of our planet in history.
Then the pandemic struck. Then the brutal murders of George Floyd, Breonna Taylor, and Ahmed Arbery reignited a long-overdue global reckoning on racial justice.
These events forced us to think critically about our priorities as individuals, as families, and as a global community. Some even asked the question of how could we keep talking about the climate crisis at such a time. But for me, the question is how could we not?
Because the climate crisis closely intersects with both the COVID-19 pandemic and the crisis of racial injustice, disproportionately impacting so many of the same communities that have suffered the most. Indeed, we cannot confront the climate crisis without confronting the legacy of racism and inequality poisoning our societies.
To do this, of course, we have to go beyond slogans and statements. Both as an organization and individuals. For me, this has been a year to recommit myself to the work of environmental and racial justice I first worked on decades ago with my late friend and colleague, the great Congressman John Lewis.
As you'll see in the report that follows, this work remains central to Climate Reality. We are committed to growing a truly diverse and inclusive movement where all voices are heard and respected. We are committed to not just solving the climate crisis, but building a more just and equitable future of opportunity for all.
We can only do it with the support of friends like you and I am deeply grateful for your partnership through this challenging year. Thank you.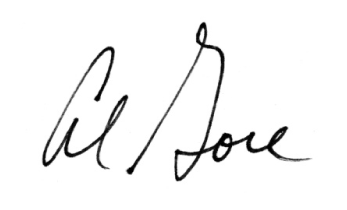 Al Gore
Founder & Chairman
OUR GOALS
At Climate Reality, we recruit, train, and mobilize activists to pull on the levers of power at decisive moments and work toward three goals we believe can accelerate a just transition to clean energy and open the door to a more equitable and sustainable future for us all.
Goal 1:
Build a critical mass of public support for addressing climate change.

Since 2006, we've worked to recruit, train, and mobilize climate activists to drive transformative policy change on climate and accelerate a just transition to clean energy.
In recent years, we've focused on expanding the climate movement beyond the green choir. Specifically, we engage young people and frontline communities of low-income families and people of color hit first and worst by climate change and increasingly vulnerable to deepening climate impacts.
Through this approach, we expand our outreach and programming to recruit individuals underrepresented in the movement and groups living with the reality of climate change to build a truly diverse and inclusive movement to win.
THE CLIMATE REALITY LEADERSHIP CORPS
You want to make a difference. We can help.
We had a plan. Hold five major in-person activist trainings and make climate a front-burner issue for voters. Then the pandemic struck, and life changed forever.
But even as COVID turned the world upside down, climate change didn't stop – and neither could our work to solve it. In response, we developed a new way to engage and train activists across the planet, creating a special online training platform and holding two global multi-day events in July and August.
Together these global training events grew our Climate Reality Leadership Corps of activists by nearly 50%, helping build an even more powerful movement for change at moment when rising inequality and rising temperatures together showed how desperately we need to change.
Critically, we designed the online format to be flexible for a global audience training in different time zones and balancing real-life responsibilities. All while maintaining the compelling speakers and world-class skill-building sessions our in-person events are known for.
Perhaps most important, the unique training platform design helped connect attendees from every continent, with experienced mentors leading small-group meetups of activists living close to each other while larger sessions helped bring home the big-picture and imbued those attending with a shared sense of purpose.
The digital format also enabled us to significantly grow the geographic reach of our training and welcome the most diverse group of attendees we've ever seen.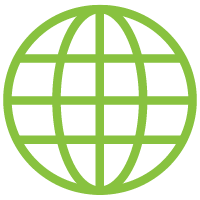 Countries
represented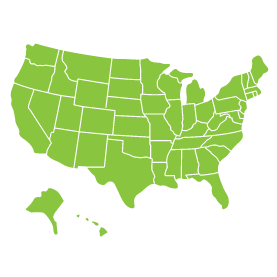 US states and six US territories represented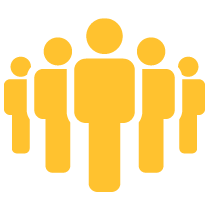 Climate Reality
Leaders trained in 2020

Acts of Leadership
in 2020
Climate Reality Leaders (As of December 31, 2020)
CLIMATE REALITY

LEADERS
IN FOCUS
Climate Reality CHAPTERS
Trained Climate Reality Leaders are the engines of change in a wide range of campaigns and actions orchestrated through our 140 US chapters and 11 international branches (see below).
Launched in 2017, our chapter program uses a distributed organizing model that unlocks the power of collective local action by supporting networks of activists working together.
After some consolidations, closures, new chapters, and an influx of thousands of new members, our chapter program emerged from 2020 stronger than ever. With the pandemic limiting in-person organizing, we evolved to feature more digital actions, skill-based and topical webinars, and helped organize the largest number of chapter meet-ups to date, leading to our most successful year for actions as activists together logged over 55,000 Acts of Leadership in 2020.
"I really, really want to say to the donors that help support our training that there is not a higher quality training about climate science, climate justice, [and] climate solutions that anyone could get anywhere. And the beauty of the chapter extension that now has developed is that it really moves people who are now well [and] carefully informed with highly vetted, responsible information. It moves people out into chapters nationally and internationally and helps to deploy super responsible leaders on the ground who can help to move not only campaigns, but move every aspect of this movement forward in a way that is respectful, inclusive, just, equitable, and effective." – Charlotte B., Santa Cruz, California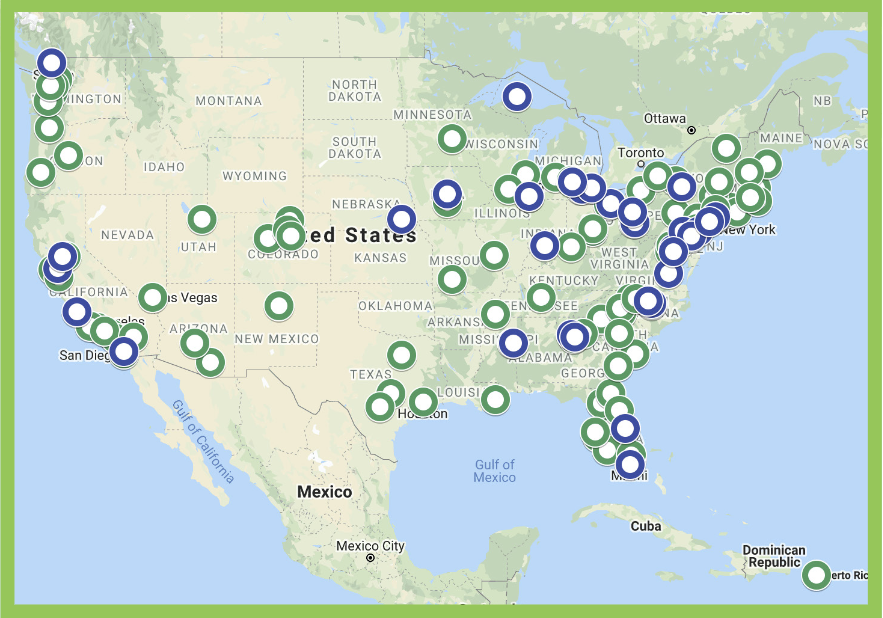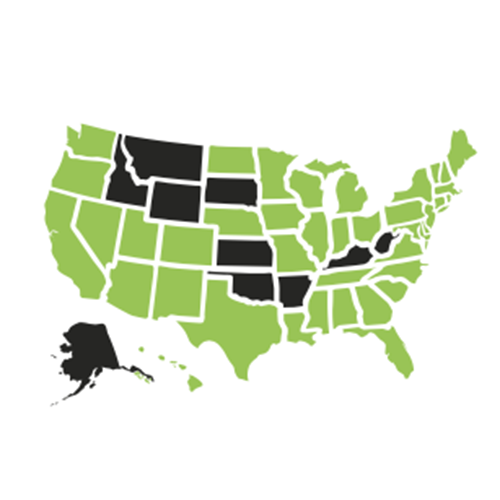 chapters nationwide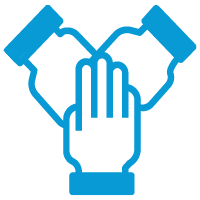 members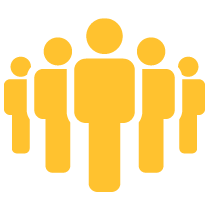 growth in active members in 2020
CLIMATE REALITY

CHAPTERS
IN FOCUS
Chapter Wins
Our chapters mobilize committed activists to drive progress in communities of all sizes – from the 1,000 Leaders in our San Francisco Bay Area Chapter who've taken on projects across the city and the state, to the 15 in our Coastal Georgia Chapter who helped secure the city of Savannah's commitment to renewable energy earlier this year. Just a few of the victories these chapters won in 2020 include:
New Orleans Chapter: Activists successfully pressured the city council to pass a resolution calling for the city's public utility, Entergy, to develop a renewable portfolio standard of net-zero by 2040.
Westchester County, NY Chapter: After two years of effort to secure a 100-percent renewable energy commitment by the county executive, we saw the county officially sign on to the County Climate Coalition.
Dallas-Fort Worth Chapter: Activists were instrumental in developing the City of Dallas Comprehensive Environmental and Climate Action Plan (CECAP), which was passed by city council in late May.
Hudson Valley/Catskills Chapter: Activists successfully pushed the towns of Rosendale and Olive to join the nearly 80 other commitments the chapter has secured over the past three years to achieve 100% clean electricity by 2030.
Campus Corps Chapter Wins
While the pandemic temporarily sidelined many of our Campus Corps chapters organizing young activists at colleges and universities across the US, we still saw a long-term campaign effort result in a major victory.
University of Pennsylvania: Activists helped push the university to announce a new climate action plan and a large power purchasing agreement that together will reduce campus carbon emissions by 45% and work towards carbon neutrality by 2042.
Climate and Environmental Justice Focus
Our chapters have become a critical part of our work fighting for climate and environmental justice in the US, with 31 chapters across 18 states engaging in climate justice campaigns and eight chapters in six states collaborating directly with the Poor People's Campaign.
Charlotte Chapter: Activists spearheaded a food and toy donation program for vulnerable communities in coordination with the local chapter of the NAACP and United Neighborhoods of Charlotte. Activists also launched a 20 Houses of Faith in 20 Weeks campaign, where chapter members tour 20 historically Black churches in 20 weeks to deliver climate justice specific presentations.
Dallas-Ft. Worth Chapter: Chapter members collaborated with the Poor People's Campaign Dallas and are creating programming focused on issues uniquely faced by Latino communities.
New Orleans Chapter: Activists joined with the Coalition Against Death Alley to stop the development of 14 new Formosa plastic plants and enforce EPA chloroprene standards at the Denka plant.
Central Florida and Gainesville Chapters: Members collaborated with the NAACP Environmental and Climate Justice Committee as well as other social justice organizations in the region, hosting webinars and educational opportunities for frontline communities and coalition members.
Climate Justice for All
It's one of the greatest cruelties of the climate crisis: Rich and white communities pollute while communities of color and poor families suffer the consequences as climate-fueled floods swallow communities, storms turn homes into matchsticks, and so much more.
Taking aim at this core injustice, we launched the Climate Justice for All program in 2020 to increase the inclusivity of BIPOC and disadvantaged communities at our trainings and amplify their experience, ideas, and leadership to the movement as a whole.
The program also provides strategic grants to community-based climate projects led by local environmental justice organizations fighting for solutions in their own backyards and train their leaders virtually.
In the first year of this program, we awarded 19 grants of $10,000 each to organizations working on climate projects in 12 different states. In addition, over 130 volunteers, staff, and constituents from these organizations also attended our trainings to help build their skills and networks.
Grantees Making an Impact
In 2020, we saw grantees drive real progress in communities across the US, with projects including:
The Alliance for Affordable Energy is installing air monitors and building local community capacity to monitor the air readings in St. John the Baptist and St. James parishes in Louisiana, where 29 petrochemical plants are located.
Dream in Green is boosting water and energy conservation among college students in the Miami area with a series of workshops and toolkits.
Greenaction conducted its first Youth Academy for participants from diverse low-income and frontline communities and Native nations to share community knowledge and experience with each other.
The North Carolina Climate Justice Collective is building Resiliency Organizing Hubs in the eastern part of the state, which kicked off with community climate disaster impact surveys and mutual aid.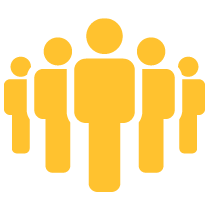 Grantees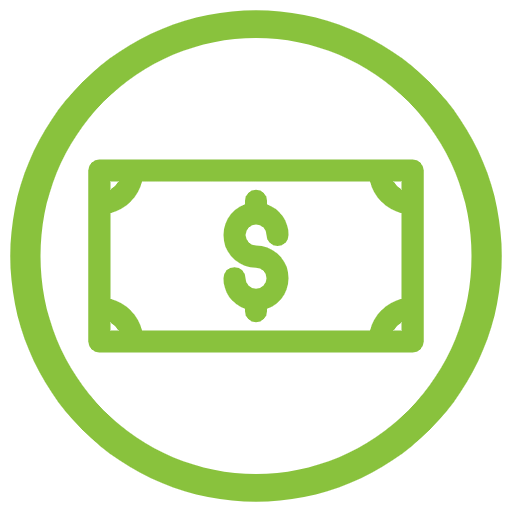 IN TOTAL GRANTS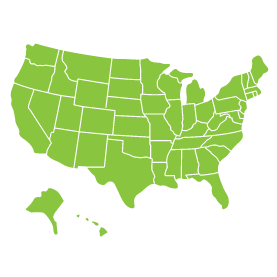 States
GLOBAL SHAPERS
In partnership with Climate Reality board member Rosamund Zander and the World Economic Forum (WEF), we train the next generation of young leaders in WEF's Global Shapers program on climate communication and activism.
Through this partnership, we trained 299 Shapers from 68 countries as Climate Reality Leaders in 2020, leading to a total of 1,200 trained Shapers from 129 countries who together have led 234 climate projects in communities around the world.
In 2020, we added to this effort with a grant competition to support five Shaper Hubs and accelerate yearlong climate projects in strategic communities across continents .
Stories of Impact
Brussels: Shapers launched a bike-to-work advocacy campaign breaking down barriers to cycling — including partnerships with cycling and scooter companies, and a new mobile bike mechanic program.
Quito: Shapers began wide-ranging efforts to reduce municipal waste, educating students about sorting and composting, helping install a composter at a school, and reaching out to elected officials on the issue.
Bucharest: Shapers are implementing rooftop solar on a city block, the first initiative of its kind in Romania and a demonstration project for cities around the country.
Abuja: Shapers planted thousands of trees in strategic locations across the
city and developing an incentive program to ensure long-term care of the trees.
Melbourne: Shapers are engaging young Australians in the legislative process as it relates to climate by educating young people about climate policy and encouraging and supporting them in running for office.
Goal 2:
Accelerate a Just Transition to a Clean Energy Economy
There's no secret to how we stop rising temperatures and solve the climate crisis.
Stop burning fossil fuels.
But simply transitioning the global economy to clean, renewable energy isn't enough. We have to do it right, using the once-in-a-lifetime opportunity of energy transition as a vehicle to create good-paying jobs for millions, create real opportunities in disadvantaged communities, and ensure all families enjoy the same safe water and clean air.
Most of all, we have to confront the legacy of racial injustice that has left BIPOC communities across the planet in the path of dangerous climate impacts from hurricanes to floods and condemned millions to live with fossil fuel pollution.
A Just Transition in the Southeastern US
In 2020, we joined forces with a wide range of coalition partners in Virginia and North Carolina to fight the Atlantic Coast and Mountain Valley Pipelines, with routes planned to cut through numerous predominantly Black and Native communities and expose families to dangerous pollution.
Thanks in part to our activists filling meetings and local opinion pages, helping draw national attention to this fight, the 4th US Circuit Court of Appeals denied a compressor station its permit, finding that the state of Virginia inadequately considered environmental justice.
After more courtroom developments, we ultimately saw victory in July 2021, when Dominion Energy and Duke Energy canceled the Atlantic Coast Pipeline project altogether.
Proving the impact of community activism, their decision cited reasons directly related to the coalition's opposition: the high costs and legal uncertainty that are now a fact of life in the permitting process.
Allyship in Justice
Sometimes the best way to be an effective ally is to provide partners on the ground with the tools and resources to take what they already do well and do it even better.
Guided by this ethos, we create compelling research and data visualizations that help our environmental justice partners bring home the reality of climate change to their constituents and communities.
As one example, we created a presentation highlighting the intersections between climate impacts and pervasive poverty and advocating for an equitable and just climate platform. Our partners at the Poor People's Campaign used this as part of a successful campaign to pressure Asheville City Council in North Carolina to declare a climate emergency and call for an equitable and just citywide mobilization.
Fighting Petrochemical Buildout in the Ohio River Valley
In partnership with the Heinz Endowments in the Ohio River Valley in the heart of coal country, we're building a vibrant climate activist community to fight new petrochemical construction and promote a new economic narrative on clean energy.
This effort is led by two organizers coordinating efforts with our 12 chapters in the area and spearheading a powerful regional coalition, People Over Petro. Together with our coalition partners, our organizers run education campaigns, engage local media, and mobilize communities to pressure decisionmakers at key points.
Recognizing petrochemical plants disproportionately affect historically disadvantaged communities, we've partnered with the Ohio Poor People's Campaign to forge and strengthen relationships with frontline communities throughout the Ohio River Valley. Our goal is to ultimately expand this campaign to other regions facing fossil fuel strangleholds on state and municipal governments.
100% COMMITTED
Launched in 2015, our 100% Committed™ campaign brings Climate Reality Leaders and chapter activists together to work with municipalities, universities, and businesses to commit to transition to 100% clean energy.
Today, nearly one-third of our 140 US chapters are running 100% Committed™ campaigns. In 2020, chapters added to a growing list of victories with Savannah, Georgia and the Los Angeles Community College District — the largest community college district in the country – committing to reach 100% clean energy.
Goal 3:
Strengthen National Commitments to Emissions Reduction in Key Countries and Regions
Climate Reality branches mobilize Climate Reality Leaders and activists to push for aggressive emissions reduction and other climate measures in 11 countries and regions critical to global progress.
Each branch draws on its extensive local knowledge and network to identify the greatest opportunities for emissions reduction and climate progress in its unique country or region and then pull on the levers of power.
With the pandemic, branches embraced an even stronger focus on digital outreach and action to keep pressure on decision-makers and key sectors.
Plus, thanks to our new digital Global Trainings, we were able to recruit and train dozens – and in some cases, hundreds – of new Climate Reality Leaders in branch countries and regions. The new flexible digital format enabled us to bring in Leaders unable to make in-person events and expand our activist network in key areas at a vital time.
Along with the work of our formal branches, we began a partnership with Phoenix Television in 2020 to raise public awareness on the climate crisis in China, through a dedicated webpage and cooperation on training Climate Reality Leaders in China. In addition, we opened a new office in Japan and began working with Leaders trained in Tokyo in fall 2019 to educate corporate and community leaders.
CLIMATE REALITY

BRANCH
IN FOCUS
24 Hours of Reality: COUNTDOWN TO THE FUTURE
On October 10-11, Climate Reality Leaders from over 90 countries and all 50 states delivered 2,362 online climate change presentations in conjunction with TED: Countdown.
In partnership with and on the heels of the inaugural TED climate event, we hosted "24 Hours of Reality: Countdown to the Future," a total of three days of important conversations about how the climate crisis and systemic racial injustices are shaping this historic moment in history and the sustainable future within our reach.
The event began on the TED stage, where Al Gore and Jaden Smith hosted a session about climate leadership at all levels — governments, cities, and businesses, and were joined by four star Climate Reality Leaders to discuss how they've been inspired to act. During the last 24-hours, Climate Reality Leaders then took the conversation to their communities online.
"24 Hours of Reality: Countdown to the Future" underscored the commitment, resilience, and reach of our phenomenal corps of Climate Reality Leaders. In an exhausting election season, during a global pandemic, amidst societal reckoning with systemic racism, Leaders shone through with the hours and care they dedicated to outreach, recruitment, and delivering presentations.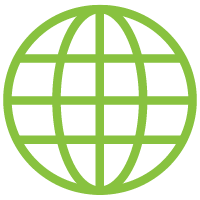 Countries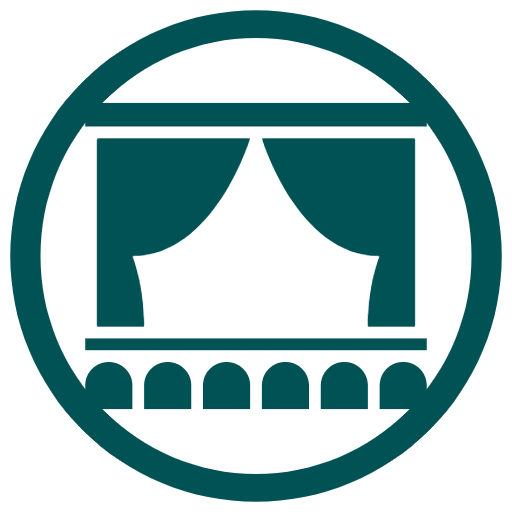 States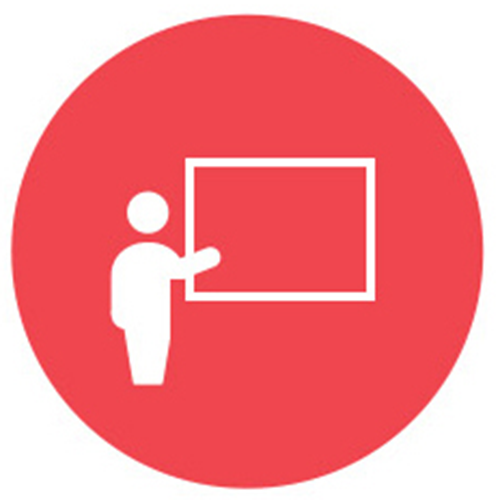 Presentations
Civic Engagement: Election 2020
We'd seen record fire seasons across the US West and a hurricane season so active that authorities ran out of letters to name storms. We'd watch a national reckoning on racial justice begin, swiftly followed by a conservative backlash. We knew our future was on the ballot in the US elections.
So along with our affiliated-but-separate 501(c)(4) organization, the Climate Reality Action Fund, we launched our largest and most concerted civic engagement campaign in a decade. Recognizing the power of young people and BIPOC voters to play a critical role in the election, the Climate Reality Action Fund ran a three-phase campaign to enlist, engage, and activate these constituencies in the most important election of our lifetime.
Phase One: In-Person Events – January–March 2020
The Climate Reality Action Fund began work to register college students to vote, with organizers working on nine campuses in four key states, field operations active in Las Vegas and Pittsburgh, and national campus tour planned headlined by Vice President Gore.
These efforts began strongly, with organizers collecting several thousand voter registrations and Vice President Gore and legendary environmental justice activist Dr. Robert Bullard together rallying students at Texas Southern University in Houston. Then the pandemic arrived, forcing us to cancel in-person events and pause field organizing.
Phase Two: Voter Engagement and Education – April–August 2020
With traditional organizing tactics off the table, we had to get creative. Creative meant the Action Fund partnering with influencers like Saad Amer, co-founder of Plus One Vote, and NRDC President – and former EPA Administrator – Gina McCarthy for online conversations with Vice President Gore to promote the practice of vote tripling and encourage audiences to ensure their friends, family, and colleagues register to vote. Together these events earned over 70,500 views and reached 266,000 people online.
Creative meant using the power of Climate Reality's email list, blogs, and social posts to educate audiences on how to register, the importance of vote by mail for democracy, and important timelines.
Creative also meant going beyond our platforms and using online tools and peer-to-peer SMS messaging to empower our audiences to get their friends registered too.
Phase Three: Voter Registration and Turnout – August–November 2020
As we came to better understand COVID and how to conduct safe outreach on the ground, Climate Reality and Action Fund both supported a broad coalition of progressive organizations working to ensure all Americans could vote.
To do so, the Action Fund opened five offices focused on registering and turning out BIPOC, young, and historically low propensity voters in North Carolina, with organizers knocking on doors and speaking to people on the street. Meanwhile Climate Reality organizers in Arizona and Nevada worked tireless to contact, register, and turnout voters in November.
Your Vote Your World
As part of this effort, on National Vote Early Day, October 24, Climate Reality partnered with EARTHDAY.ORG and the Hip Hop Caucus to host a large GOTV online program to encourage young people to vote. "Your Vote, Your World" featured important messages from Al Gore, fellow activists, artists, musicians, and cultural icons – such as Stacey Abrams, Bishop William J. Barber II, Joseph Gordon-Levitt, Dave Matthews, Kal Penn, Questlove, and more.
The program aired live on Twitch and through partner social media channels, garnering nearly 350,000 views. We also partnered with the Hip Hop Caucus's "The Year of Truth" campaign to help ensure audiences in Florida, Georgia, North Carolina, Virginia, and Michigan were able to vote amidst the COVID crisis.
Special Election Turnout
Finally, Climate Reality joined the coordinated voter registration effort in Georgia during November and December, to ensure all voices were heard in the special elections.
We opened seven offices that ran for 17 days, from November 20 to December 6. We concentrated heavily on the Atlanta metro area, as well as more rural parts of the state. Our canvassers worked through voter fatigue and a smaller pool of unregistered voters (given the amazing work other organizations) to expand the electorate and still managed to collect 3,205 voter registration cards across 1,555 shifts. Collectively, our partners collected 21,000 voter registration cards through additional in-person efforts in a short period of time.
Key Metrics
Together, Climate Reality and Action Fund activists and organizers:
Made 2.2 million voter contacts.
Registered 79,666 voters.
Sent 1.3 million unique emails.
Sent 184,336 peer-to-peer messages.
Attracted 70,590 views of vote-by-mail and voter registration videos.
DIGITAL COMMUNICATIONS
At Climate Reality, we are storytellers of the possible. We create and share wide-ranging digital communications that both make the climate crisis personal for millions and show audiences how we'll solve it — and what they can do to make a difference. Key to this strategy is a commitment to audience-centric social media and content marketing that meets audiences where they are, highlighting what the climate crisis means for them, and empowering them to join the fight for solutions and take action through our programs at the level right for them.
As part of this effort, in 2019-2020, we produced a range of practical explainer and toolkit content, adding "Weather vs. Climate" and "The Failing Economics of Petrochemicals" fact sheets, the updated Cities100 guide to urban climate action, and "What Can You Do? Your Guide to Climate Action" in 2020 e-book to the 16 e-books already available for download. Together, these new e-books have been downloaded more than 5,500 times.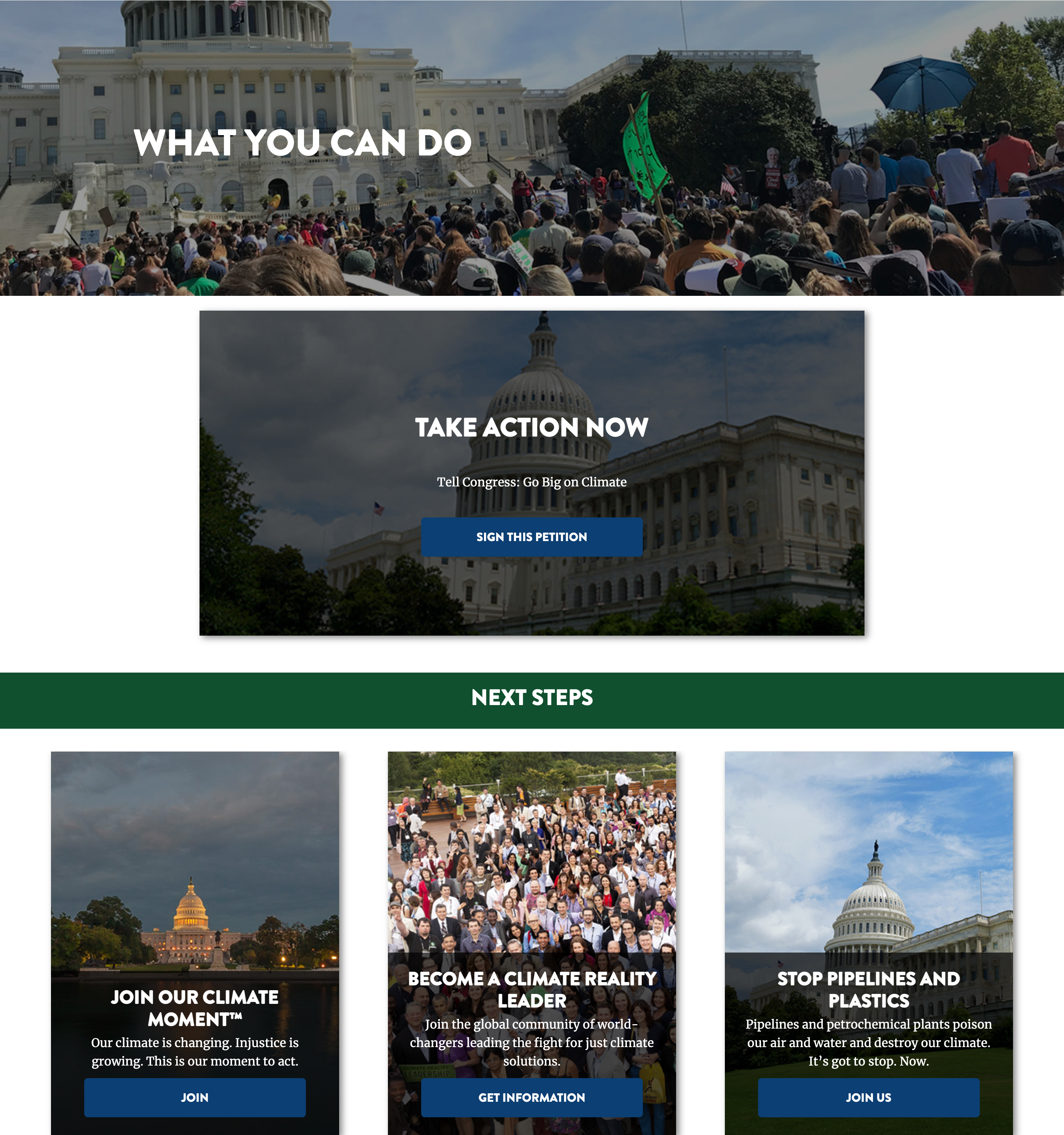 Key Themes and Actions
Even before COVID-19 turned the world upside down, 2020 was a year of transformation at Climate Reality.
Since our 2018 Climate Reality Leadership Corps Training in Los Angeles, we've worked to make climate justice an increasingly core component of work, raising awareness of the unequal impacts of fossil fuels and climate change on people of color and frontline communities. Just as important, when we advocate for energy transition, we advocate for a just transition to clean energy that centers community voices in decision making and creates jobs and opportunities for all — not just white and wealthy constituencies.
With the economic shockwaves of COVID-19 and the murders of George Floyd, Breonna Taylor, Ahmaud Arbery, and more highlighting the deep inequities and systemic racism in society and the need for big-picture change, we've strengthened our focus on justice in climate solutions. Guided by this objective, we've focused many of our actions on pressuring members of Congress to pass stimulus measures that protect frontline workers and communities during the pandemic and ensure federal recovery efforts rebuild America with green jobs and clean energy in all communities.
Using our digital tools, we mobilized our supporters to contact their representatives and senators in the lead up to key votes and to pressure state and Trump Administration officials directly to uphold essential protections on our air and water, and to make climate action a priority. Through these tools, nearly 140,000 signers sent almost 250,000 letters to members of Congress and state and administration officials.
In addition, we've also recently launched a new action calling on state departments of education to ensure climate science becomes or remains a core component of education standards across the US, with nearly 8,000 individuals participating in just one week.
Thanks in part to these efforts, we now share a message of urgency, solutions, and hope with over 1.5 million combined followers on Facebook, Twitter, and Instagram, and reach nearly 842,000 email subscribers.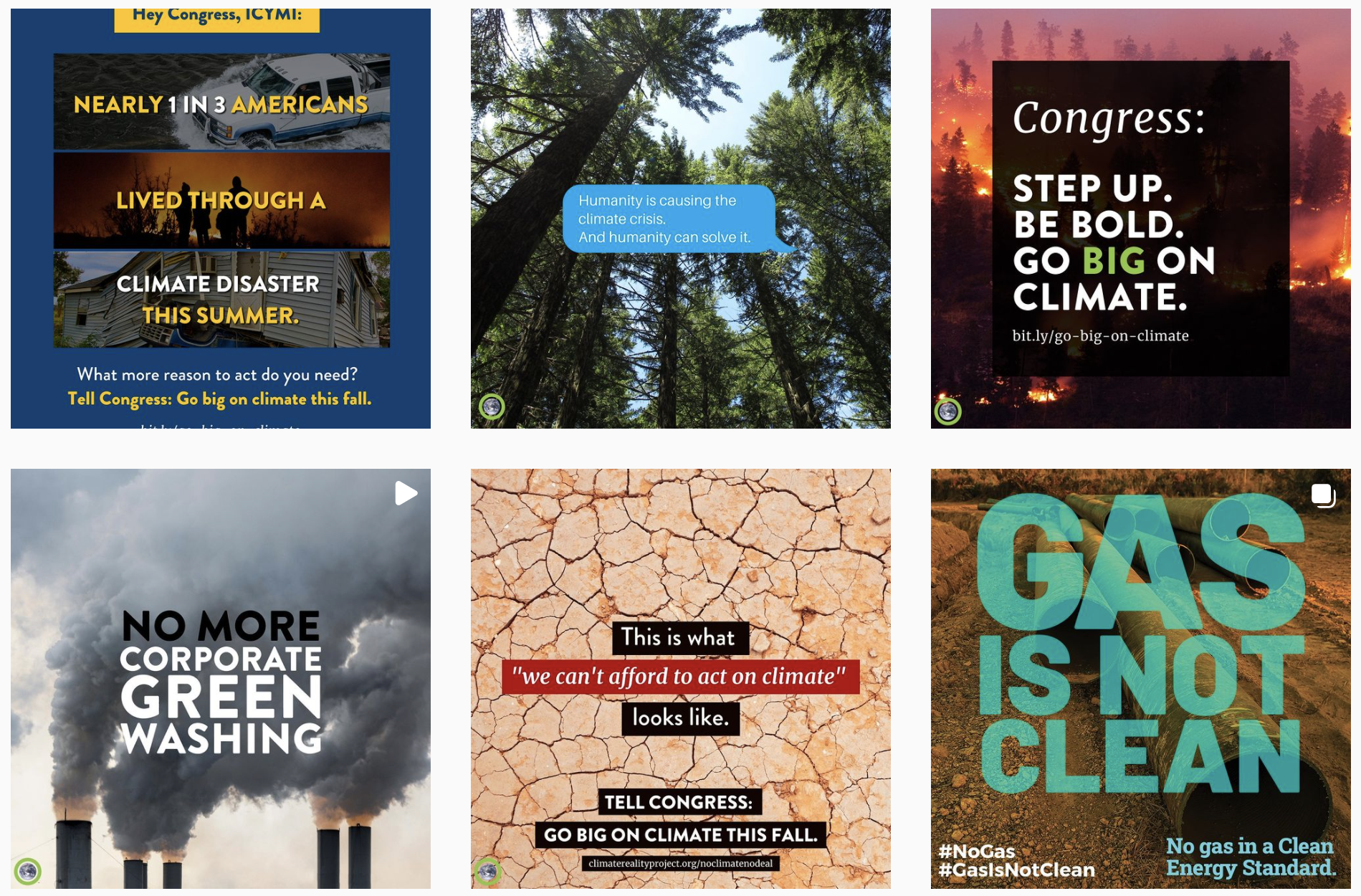 IN SUM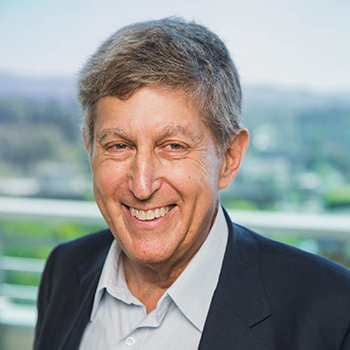 This was a year that changed the world and changed us all.
It was a year to listen to the righteous anger of communities of color and the movement they inspired around the world. It was a year to look plainly at the inequities that underly our societies, brought so painfully to the surface by the pandemic, and remember what is truly important.
For me, it was also a year to reflect how our organization and our movement have – in our own ways and even with the best of intentions – perpetuated the injustices and racism that fueled the protests filling the streets. It became a year to re-imagine what we could be and how we could humbly put our collective shoulders to the wheel to make our movement a true force for justice in this world.
Equally important, it was a year to be amazed and honored at the creativity and commitment we saw from climate activists all around the world. The pandemic may have upended our lives, but it only intensified our commitment to fighting for our planet's future and to protecting our democracies.
We could continue this fight only because of friends and partners like you, and for that I am deeply grateful. Thanks to your support, we were able to train thousands of activists to push for real change at a critical point in the climate fight. Thanks to you, we could keep the pressure on policymakers at every level. Thanks to you, our movement is becoming stronger and more diverse and inclusive every day.
We have tremendous work ahead of us. Even as the crisis intensifies and wildfires, heatwaves, hurricanes and more become part of everyday life for more and more people around the world, the forces of denial and obstruction fight us at every turn. But I believe deeply that momentum is with us and with the support of friend and partners like you, we will win and create a truly just and sustainable future for this Earth.

Ken Berlin
President & CEO
FINANCIALS