December 26, 2018 | 6:00 AM
2018: Looking Back on the Year in Climate
Are you tired? We know we sure are.
It's been a very busy year in the movement for climate solutions, and there's no reason to beat around the bush here: It's also been a tough, sometimes disconcerting 12 months. In the US, we saw moves to weaken America's historic Clean Power Plan, vehicle emissions standards, and many more environmental and climate protections. Globally, there was the Intergovernmental Panel on Climate Change's (IPCC) latest unnerving report, Global Warming of 1.5ºC, with no coordinated response. Take them together and you'd be forgiven for letting your #ClimateHope slip just a little bit.
But the thing is, we've been here before. We've weathered failed climate negotiations and moneyed special interests trying to pull the wool over our eyes. We've watched Big Polluters refuse to clean up their acts. We've seen the representatives we put into office go on to vote the fossil fuel party line.
Yet, we come back stronger every. single. time.
So once again, in America and around the world, we faced a choice: give in to despair and check out – or stand strong and fight like our world depends on it.
Here at Climate Reality, we went with the latter. And thankfully, thousands and thousands of our supporters did too.
And you know what? It made a difference. How? Read on to find out!
Climate Reality Leader Trainings
Each year, Climate Reality's founder and chairman, former US Vice President Al Gore, and teams of field-leading experts in communications, climate science, and organizing train regular citizens to become Climate Reality Leaders, powerful activists with the skills and knowledge to mobilize their communities for action.
If you're looking for proof that more and more people every day are ready to make a difference in our planet's future, look no further than the incredible success of our Climate Reality Leadership Corps and chapters programs in 2018.
This year, we hosted training events in three cities around the world: Mexico City, Berlin, and Los Angeles. And we trained more new Climate Reality Leaders than ever before, welcoming 3,420 newly trained activists to our ranks, each of them ready to jump into the fight for a sustainable future.
Our training in Los Angeles stands as our largest-ever. And if you needed proof of what motivated activists can do, the swift action of many attendees to call their representatives in the state capital during the event played a key role in helping one of the most important recent pieces of climate legislation advance through the California legislature and become law.
One of the most exciting aspects of these trainings and the program itself is that they're open to everyone. The Climate Reality Leadership Corps takes people from all walks of life – from doctors, educators, and police officers to electricians, farmers, and construction workers – and makes them exceptional leaders.
>> Learn more: 7 Reasons to Attend a Climate Reality Training <<
Join us for an event and we'll take your commitment to creating a better tomorrow and give you the tools to turn it into action, providing training in climate science, communications, and organizing to inspire communities and spark grassroots action worldwide.
It all starts at the training – and if you're interested in becoming a Climate Reality Leader, you're in luck: The application for our upcoming trainings in Atlanta, Georgia and Brisbane, Australia are now open.
Take this fun quiz to see if you should become a Climate Reality Leader.
Chapters Go Public and Our Supporters Get to Work
With the Trump Administration doing basically everything it can to block progress and push a fossil fuel agenda, one of the most important stories this year has been the incredible fight for solutions happening at the local level all across the US. And all across the US, Climate Reality chapters have been bringing together friends, neighbors, colleagues and more to join this fight.
When we first launched these chapters in 2017, they were founded and led by Climate Reality Leaders. This summer, we opened them to the public and the response was incredible.
"The beauty of Climate Reality chapters is that each chapter can determine which specific local issues, causes, events, and actions they want to tackle or support," Climate Reality Leader and Bellingham, Washington Chapter Chair Jill MacIntyre Witt told us earlier this year. "Climate Reality has a variety of campaigns that chapters can pursue in their communities – and when more and more chapters work on these campaigns, these local successes ripple across the entire country."
In Washington State, MacIntyre Witt's chapter, alongside other chapters united from across the state, saw an important early win: They succeeded in getting enough signatures to get a statewide ballot initiative, I-1631, on the ballot for the recent midterm elections. I-1631 sought to put a price on carbon pollution – and though it ultimately did not succeed on Election Day, it did raise an incredible amount of awareness for the fight to make the corporations responsible for the climate crisis pay for its impacts. It also laid out an important blueprint for how other state-wide carbon pricing initiatives could get off the ground.
>> Pricing Pollution: How We're Pushing for Fair Energy Solutions <<
But our Washington chapter is far from alone in making waves in the fight for climate action.
In the heart of Texas oil country, our Dallas-Fort Worth chapter is in the early stages of planning a promising campaign that could help bring solar energy to public schools. In Illinois, members of our Chicago chapter were on hand at an October EPA hearing to speak out against the Trump Administration's proposed replacement for America's Clean Power Plan and testify about the vital importance of strong, good-faith climate action.
These friends, neighbors, and colleagues are bringing clean energy to their towns, fighting fracking developments, and so much more. Most of all, they're making a real difference for our climate when it matters – and you can too.
Check to see if there is an existing Climate Reality chapter in your area now and join the fight for a sustainable future.
Key Comment Periods
The Trump Administration seems to have one governing principle when it comes to climate change: ignore, deny, or pretend (despite voluminous reports from within the administration itself) that we don't have enough facts to act.
This year, our work to counter this administration's denial focused on two major areas: vehicle emissions and fuel economy standards and saving America's Clean Power Plan. We rallied our supporters around a common goal – to let President Trump know that the majority of Americans know our climate is changing and believe we must take urgent action to counter it.
In short, we are the Climate Majority.
In October, Climate Reality™ submitted more than 26,000 comments to the US Environmental Protection Agency (EPA), opposing its plans to weaken fuel efficiency standards and replace the Clean Power Plan with a polluter-friendly policy that would allow coal-fired power plants to emit more greenhouse gases into the atmosphere.
These Cleaner Cars and Dirty Power Scam campaigns secured 13,017 and 13,123 signatures, respectively, from, well, you – our incredible network of supporters and activists.
>> Majority Rules: American Attitudes on Climate in 7 Stats <<
Dangerous Storms
Nothing hit home the need for urgent climate action more than the dangerous extreme weather communities around the world endured in 2018.
Early in the new year, a rare "bomb cyclone" brought measurable snowfall to cities as far south as Savannah, Georgia, and spread bitter cold, whiteout conditions across the US Northeast.
Dr. Michael Mann, distinguished professor of atmospheric science at Penn State University and author of The Hockey Stick and The Climate Wars and, more recently, The Madhouse Effect, explained in a guest blog for Climate Reality that the storm and accompanying brutally cold temperatures, at the same time that much of the rest of the world remained uncommonly warm (see image below), amounted to "an example of precisely the sort of extreme winter weather we expect because of climate change."
He explained that many climate scientists believe dramatic loss of sea ice in the Arctic because of global warming may favor an increasingly meandering "dipole" jet stream pattern, allowing frigid Arctic air to spill deeper than normal into the US – at the same time that a warmer Atlantic Ocean provides more fuel for storms travelling up the coast.
"As the oceans continue to warm, cold Arctic air masses collide with increasingly warm Atlantic Ocean waters. That means larger temperature contrasts and potentially stronger storms," Dr. Mann explained. "But those warmer oceans also mean more moisture in the atmosphere, even more energy to strengthen the storm, and the potential for larger snowfalls. We might, if you'll forgive the pun, call this a 'perfect storm' of factors for intensification."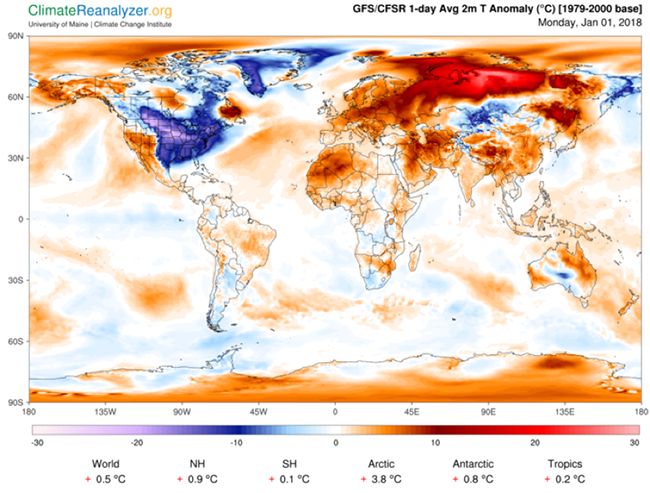 (Image obtained using Climate Reanalyzer, Climate Change Institute, University of Maine, USA)
And as the year went on, still more instances of climate change-exacerbated extreme weather piled up.
In Florida in October, an initially weak hurricane intensified rapidly due in part to very high water temperatures in the Gulf of Mexico. The result was Hurricane Michael, a Category 4 monster that effectively leveled the Panhandle town of Mexico Beach.
Powerful Droughts
At very nearly the same time that extreme winter weather was paralyzing the US Northeast, but on the other side of the planet, years of drought came very close to earning Cape Town, South Africa a truly alarming distinction: the first major city to run out of water.
Climate change worsens drought because as temperatures rise, evaporation increases. When this evaporation happens over land, soils dry out. Many places are also experiencing both decreases in annual precipitation and longer periods without significant rain. The result is reduced water levels in streams, rivers, lakes, and (importantly) reservoirs. When rains do come, much of the water runs off the hardened ground and is carried back to the ocean before it can fully replenish dams, reservoirs, or the water table.

Hurricane Michael Hits

BREAKING: Supercharged by extra-warm ocean waters, Hurricane Michael slammed into Florida with windspeeds just 2 miles per hour short of a Category 5 storm. #YEARSproject

Posted by The Years Project on Wednesday, October 10, 2018

Deadly Wildfires
At the same time, deadly wildfires raged across the American West.
The climate crisis creates the perfect conditions for extreme wildfire seasons around the globe. The reasons why are pretty simple science: Warm weather is arriving earlier and earlier and lasting longer.
It goes to figure that snowpacks are melting earlier too, leaving less water available during the heat of the summer. Precipitation patterns are also changing. The result? Lands getting parched and plant life dying.
All these dead and dried-out plants then act as tinder, igniting when the heat soars and lightning strikes or a careless cigarette butt is tossed in the wrong direction. And, with less predictable rains and seemingly more unpredictable wildfire behavior, once fires begin, it's harder to stop them.
In US state of California, these ongoing changes have brought about one record-breaking fire season after the next. And this year's has earned a particularly frightening distinction – the northern California Camp Fire is now the deadliest and most destructive wildfire in state history. As of this writing, 86 people lost their lives in the fire.
You Make the Difference
We worked hard all year to share the truth about these and other climate change-exacerbated natural disasters – and our readers responded, downloading our free educational guides and fact sheets and sharing our content on Facebook and Twitter.
This is a bigger deal than you may realize. When you talk, your friends and family listen. That's why simply sharing the facts of the climate crisis is one of the best ways to take climate action. So when we see such a great response to our blogs, e-books, and more, we know you have the facts and are out there speaking truth to power. Thank you.
>> If you haven't already, sign-up here to get the latest from Climate Reality. <<
Onward
So where does all of that leave us now?
Ready to fight even harder for urgent, aggressive climate action.
As this year's global broadcast of 24 Hours of Reality: Protect Our Planet, Protect Ourselves brought home, the climate crisis is also a global health crisis, creating an ever-more dangerous world for all of us. And as the Intergovernmental Panel on Climate Change's (IPCC) latest report, Global Warming of 1.5ºC, makes abundantly clear, we have to think big and act quickly if we want to keep global warming at levels we can live with.
Luckily, thinking big is our specialty.
But we need your help.
Climate deniers and Big Polluters have spent decades on well-coordinated campaigns to spread doubt and sway public opinion about the reality of climate change. Join us now to dispel their myths and build upon the climate victories we've seen around the world.
Become a Climate Reality Leader in 2019! As a trusted messenger in your community, you can help spread the word about climate change and how we solve it to people you know. Join former Vice President Al Gore at a Climate Reality Leadership Corps training and learn how you can lead the global fight for climate solutions.
We hold trainings all over the US and around the globe and best of all, they are free. Learn more now.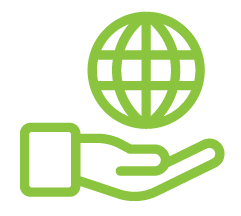 Before You Go
At Climate Reality, we work hard to create high-quality educational content like blogs, e-books, videos, and more to empower people all over the world to fight for climate solutions and stand together to drive the change we need. We are a nonprofit organization that believes there is hope in unity, and that together, we can build a safe, sustainable future.
But we can't do it without your help.
If you enjoyed what you've just read and would like to see more, please consider making a generous gift to support our ongoing work to fight climate denial and support solutions.