December 21, 2018 | 6:00 AM
24 Days to Make a Difference
Just a few days ago, we rolled the closing credits for 24 Hours of Reality: Protect Our Planet, Protect Ourselves.
This incredible event highlighted the powerful work people like you are doing across the globe to stand up for our planet and address the climate crisis head on. But our work is far from over.
We have a question for you: what sort of world do you want to live in?
One where a handful of climate deniers – including the denier-in-chief, President Donald Trump – are calling the shots? And where the Trump Administration hosts an event at COP 24, a major UN climate summit, that absurdly promotes the use of fossil fuels in the fight against global warming? Or one where we are leading the way to protect the health of our families and the future of our planet?
We know which one we'd prefer.
We want to see a world that shifts from dirty fossil fuels to affordable clean energy sources like wind and solar. Where scientific fact – not Big Polluters like oil and coal companies – inform our global policies and solutions.
With your support we can:
Create Activists
Help train thousands of world-changing activists to fight the fossil fuel agenda and accelerate the renewable energy revolution planet-wide. With over 17,000 trained leaders already, we want to mobilize even more in 2019.
Start an American Energy Revolution
Help our 80-plus chapters – and growing! – mobilize Americans coast to coast to bring practical climate solutions like clean energy and carbon pricing to their communities.
Catalyze a Global Solution
Keep the pressure on world leaders to strengthen the Paris Agreement to cut emissions and avert the worst.
Join us for our 24 Days of Giving campaign to help us reach our ambitious goal to take bold action to fight the climate crisis. With the help of a generous $175,000 matching gift, your support today can help us lead the way in the fight for our planet.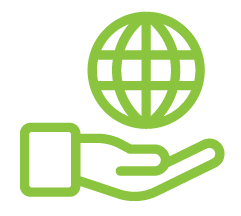 Before You Go
At Climate Reality, we work hard to create high-quality educational content like blogs, e-books, videos, and more to empower people all over the world to fight for climate solutions and stand together to drive the change we need. We are a nonprofit organization that believes there is hope in unity, and that together, we can build a safe, sustainable future.
But we can't do it without your help.
If you enjoyed what you've just read and would like to see more, please consider making a generous gift to support our ongoing work to fight climate denial and support solutions.