October 06, 2011 | 12:43 PM
24 hours of power is now a reality in Namibia
© 2009 Flickr/Wayne National Forest cc by 2.0
During hot summers in the American Northeast, blackouts are inconveniences that might make city dwellers suffer without air conditioning for a few hours. Halfway around the world in Namibia, however, blackouts are a daily part of life across all seasons and can impact daily survival.
Now, the fortunes of those living in Tsumkwe, Namibia are changing for the better with the installation of one of Africa's largest off-grid solar systems. For a municipality that previously used unreliable diesel and oil to meet 100 percent of its energy needs, this new solar supplement will reduce fuel costs and drastically reduce carbon pollution, while providing a reliable electricity source.
The project -- built by Juwi Solar and its regional partner Alternative Energy Systems -- consists of a solar array and storage battery that can power all of Tsumke's public buildings and 100 private homes. It also contains three diesel generators that supplement the solar array at night, making it possible for the town to have electricity around the clock instead of just three hours per day. Perhaps most importantly, 24-hour access to electricity ensures 24-hour access to water. Until now, the diesel generator powered the water supply system, meaning blackouts were no mere inconveniences (PDF).
Juwi Solar trained local technicians to operate and maintain the system, which will create local jobs. If Juwi's venture in Tsumkwe is successful, Juwi will likely implement more of these hybrid systems across the African continent. As Fabian Jochem, head of Juwi's Off-Grid Power Supply department, recently stated: "We have set a standard with this plant that we would like to transfer to other African projects."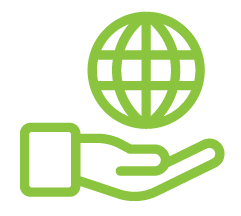 Before You Go
At Climate Reality, we work hard to create high-quality educational content like blogs, e-books, videos, and more to empower people all over the world to fight for climate solutions and stand together to drive the change we need. We are a nonprofit organization that believes there is hope in unity, and that together, we can build a safe, sustainable future.
But we can't do it without your help.
If you enjoyed what you've just read and would like to see more, please consider making a generous gift to support our ongoing work to fight climate denial and support solutions.