September 20, 2011 | 9:39 AM
24 Hours of Reality - In Headlines
24 Hours of Reality was a global event that made headlines all over the world. So once you've watched, here are a few places where you can learn more about our event to reveal the full truth and scope of the climate crisis.
Want to hear more from our Chairman, Al Gore? Here's his interview on CNN international.
In an interview on the Washington Post website, former Vice President Gore was asked if we should emphasize the economic benefits of clean energy as opposed to the science of climate change. Here's his response:
"Well, I think the opportunities for tens of thousands of good new jobs and building infrastructure -- that's a powerful economic argument. Reducing our dependence on expensive dirty oil in a market dominated by the most unstable region of the world -- that's also important. But I think these arguments and others are far more effective when they are coupled with the main reason for doing this, which is to save the future of civilization."
Our President and CEO, Maggie L. Fox, talked about the event on the NPR program Living on Earth:
"Every one of these locations, there's a magic story behind the individual who's delivering the slide show and who has helped us locate partner organizations in that country."

"It's time to move past denial and into the real debate, which is how do we solve this."
This event was covered in newspapers from Jakarta to Fiji, and from Australia to Alaska. One of our Presenters, Carl Duivenvoorden -- a Canada native who hosted the event in Greenland -- wrote a column in the New Brunswick Telegraph-Journal:
"When someone approaches you and says, 'We need to talk,' you know something's up. Well, today the subject is climate change, and we -- all of us -- need to talk."
A column in National Journal put our event into perspective by noting the recent extreme weather events we've seen in the United States alone:
"Most scientists remain reluctant to attribute any individual weather event to the atmospheric buildup of greenhouse gases, but the sheer frequency and scope of extreme weather suggests to many that the odds are shifting-against us. As Gore puts it, 'We are not only loading the dice; we are painting more dots on the dice. We are not only more likely to roll 12; we are now rolling 13 and 14, and we soon will be rolling 15s and 16s.'"
And just in case you missed it ... here's former Vice President Gore interviewed on The Colbert Report.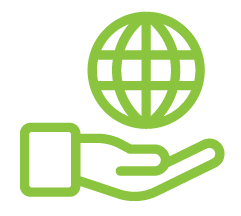 Before You Go
At Climate Reality, we work hard to create high-quality educational content like blogs, e-books, videos, and more to empower people all over the world to fight for climate solutions and stand together to drive the change we need. We are a nonprofit organization that believes there is hope in unity, and that together, we can build a safe, sustainable future.
But we can't do it without your help.
If you enjoyed what you've just read and would like to see more, please consider making a generous gift to support our ongoing work to fight climate denial and support solutions.