December 21, 2017 | 10:00 AM
24 Hours of Reality: Top Five Inspiring Moments
This year's 24 Hours of Reality program, Be the Voice of Reality, is officially in the history books. We watched 24 hours of thought-provoking conversations with world leaders like Chilean President Michelle Bachelet and California Governor Jerry Brown, cultural icons like Téa Leoni and Nikolaj Coster-Waldau, and activists like Mustafa Ali. Not to mention all kinds of social media hijinks orchestrated by Calum Worthy and music, music, music by artists from Ryan Tedder of One Republic to G.E.M. to Jay Park to Now United.
It wasn't just the lineup that was impressive either – it was also the response. The program was the world's largest social broadcast on a social cause to date, with over 32 million views online and television reaching over half a billion households. Which tells us that people across continents are united in their commitment to solving the climate crisis that is transforming our planet.
If you missed the show, missed a minute or two somewhere in the whole 24 hours (hey, we forgive you), or just want to watch your favorite parts again, we've compiled the most inspiring moments for you. With so many eye-opening and entertaining segments throughout the broadcast, it was difficult to pick only five that deserved the spotlight. But we tried and here are our picks for most inspiring moments:
1. San Juan, PR Mayor: "Climate Change Is Very Real"
Only two hours into the broadcast, we already had goosebumps. During an interview with former US Vice President Al Gore, the mayor of San Juan, Carmen Yulín Cruz, spoke of the very harsh lesson that Puerto Ricans learned after two hurricanes devastated the island: Not only is climate change real, but it can be very dangerous. The mayor gave an update about the situation in Puerto Rico – which is still quite precarious – and revealed how the American territory is embracing clean energy as a means of survival.

2. Hello, World! Who's Out There?
Throughout the broadcast, young actor and activist Calum Worthy kept an eye on how the world was talking about 24 Hours of Reality on social media. In hour six, he asked the audience what motivated them to tune into the program, inspiring a flood of emojis, acronyms in all caps, and just plain passionate responses, all saying pretty much the same thing: We want to solve this.

3. Momentum on Clean Energy
Patricia Espinosa, executive secretary of the United Nations Framework Convention on Climate Change, gave us all kinds of reasons for hope in hour 13. Speaking from the UN office in Nairobi, Kenya, Espinosa – who's served as Mexican ambassador to Austria, Germany, Slovenia, and Slovakia – talked to Vice President Gore about the challenges ahead of us on the climate front. Above all, she emphasized, we have a window of opportunity to change and the good news is that we're heading in the right direction. The key is to continue to invest in clean energy.

4. Shailene Woodley's Deep Love for the Earth
American audiences already know Shailene Woodley from her starring roles in the Divergent series of films and HBO's Big Little Lies, among other projects. But the actress has also long been a committed environmental activist and was arrested in 2016 for protesting the Dakota Access Pipeline (DAPL), an underground oil pipeline in the US that could impact drinking water and violate sacred tribal sites. As a guest star on 24 Hours of Reality: Be the Voice of Reality, Woodley gave voice to the love that drives her activism and called on all of us to spread the word and get talking about climate.

5. Music for the Soul
There were many inspiring musical guests throughout the broadcast – Annie Lennox, The Killers, Ryan Tedder and Brent Kutzle of OneRepublic, and many others. But on the last hour of the broadcast, after several inspiring interviews, testimonies, and stories, the American duo Tall Heights offered the perfect track to wrap up the show. They sang the iconic tune "Take Me Home, Country Roads" while blindfolded. But there's more – at the same time they played the audio of EPA's Administrator Scott Pruitt praising the US Government's decision to exit the Paris Accord. The performance was a strong message that the world will not be quiet as political leaders ignore the risks of climate change.

BE THE VOICE OF REALITY
Wherever you are, whoever you are, there are many ways you can make a difference. But you have to act. Learn how by downloading our climate action kit Be the Voice of Reality: Twelve Ways to Make a Difference and get started today.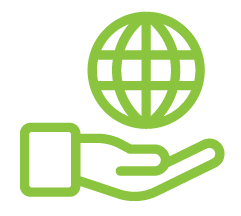 Before You Go
At Climate Reality, we work hard to create high-quality educational content like blogs, e-books, videos, and more to empower people all over the world to fight for climate solutions and stand together to drive the change we need. We are a nonprofit organization that believes there is hope in unity, and that together, we can build a safe, sustainable future.
But we can't do it without your help.
If you enjoyed what you've just read and would like to see more, please consider making a generous gift to support our ongoing work to fight climate denial and support solutions.