February 09, 2017 | 9:26 AM
25 Things You Can Do to #ShowTheLove for Our Planet This Valentine's Day
We can tackle the climate crisis if enough of us show the love for the things we stand to lose. This Valentine's Day, you can help that love be felt by the people who can make a world of difference.
Show The Love is an annual celebration of all that we love but could lose to climate change. It is part of an ongoing effort to protect the people and places we love by encouraging world leaders to shift to clean and affordable renewable energy.
Green hearts will kick off conversations about the things we love and the future we want for our children – one powered by clean and secure energy.
Climate Reality is joining The Climate Coalition and countless other organizations and individuals around the world in supporting a brighter, more sustainable tomorrow this Valentine's Day. And we need your help to spread the good word.
Here are 25 ideas for how you can #ShowTheLove on February 14.
1. Share a green heart! Take a picture of a green heart and post it on Facebook, Twitter, or Instagram with hashtag #ShowTheLove. Don't see any near you? Retweet this one on Twitter or share this video on Facebook.
We're turning red hearts green this Valentine's Day. Get yours now #ShowTheLove https://t.co/5si20nZ7eW pic.twitter.com/EoWKYHFZwf

— WWF UK (@wwf_uk) January 28, 2017
2. Get crafty! Sew or knit a green heart and wear your creation on February 14. Remember, you can always make one for yourself and share one with a friend!
Making a sparkling green heart badge

Fancy getting creative about climate change? Check out this lovely vid on how to sew a beautiful, sparkling green heart badge- to #showthelove for everything we love and want to protect.

Posted by The Climate Coalition on Wednesday, January 25, 2017
3. Wear a green heart on Valentine's Day to spark conversations about protecting our climate.

4. Take a selfie showing you and your green heart for Valentine's Day.
This Valentine's Day #ShowTheLove by protecting wildlife & the environment from climate change @TheCCoalition pic.twitter.com/PZrlT92alw

— Michaela Strachan (@michaelastracha) February 6, 2017
5. Get a group together and form a heart. Share your photo with the hashtag #ShowTheLove!
 
Last Saturday over 320 volunteers helped us plant 10,000 #trees in one day #showthelove https://t.co/LC2Weszkqc pic.twitter.com/wCNEGI0mgm

— Trees for Cities (@TreesforCities) February 20, 2016
6. Subscribe here to stay informed on the latest news in climate science and activism from Climate Reality.
7. Send a heart: Download a printable valentine here. (Remember to use 100 percent post-consumer recycled paper.) Fill in your name and why you care about climate change. Then send it to your elected officials to take a stand.

8. Bake a heart! Make a batch of heart cookies with a cookie cutter. Decorate them with green frosting, and share them with friends and family.
 
Getting ready for great event @Lords @TheCCoalition #showthelove pic.twitter.com/B8cPRea9RB

— Neil Thorns (@neilthorns) February 7, 2017
9. Download this #ShowTheLove Resources Kit for a printable heart frame. Snap a photo with the people, places, and things you love inside the frame. Be sure to share it on social media with the hashtag #ShowTheLove and email it to your friends and family.
Help us #showthelove for our beautiful nature reserve + other wild places on 12 Feb @ #RSPBPulborough. @TheCCoalition @RSPB_SouthEast pic.twitter.com/9WHt7XqjET

— Emily Summers (@Emily_Summers13) February 3, 2017

10. Follow the Climate Coalition on Facebook and Twitter.
 
Time is precious, let's continue to #ShowTheLove for all we want to protect. Watch this stunning film from @rsafilms https://t.co/vpNGRmqa2l

— The ClimateCoalition (@TheCCoalition) February 7, 2017

11. Watch and share A Love Song, this year's beautiful #ShowTheLove poem and video.
12. Request or attend a presentation from a trained Climate Reality Leader. Wherever you live, an expert can help you learn more about the climate crisis and its solutions, whether it's a crowd of two or a group of 2,000.
13. Organize a Show The Love event! Bring your friends together to craft green hearts, bake green heart cookies, write letters to your representatives, call your elected officials, and talk about why you care about our climate.
 
Happy Welsh Valentines Day everyone!!Here's the South #Wales team discussing future environmental enhancements on our #canals #showthelove pic.twitter.com/26GdTCbtCx

— CRTSWalesSevern (@CRTSWalesSevern) January 25, 2017
14. Teach your kids! Download a climate change activity sheet for children ages 7-11 to get crafty and enjoy nature.
15. Trees are the lungs of the earth, absorbing carbon dioxide and helping offset the harmful impacts of climate change. Show your love for trees by hanging a green heart on your favorite tree to inspire your neighbors and community to appreciate all the trees that we've got.
Happy #StDwynwensDay #ShowTheLove for people and trees this year and share your love for trees with #TreeCharter pic.twitter.com/qWqHNHmmPb

— Woodland Trust Cymru (@CoedCadw) January 25, 2017
16. Did you know climate change is affecting birds' migration patterns? Make a heart-shaped seed treat to #ShowTheLove to our fine feathered friends!
 
#showthelove at our Wildlife Watch Week - make a heart-shaped seedy treat for the wildlife in your gardens: https://t.co/F2nAmhw0M5 pic.twitter.com/D6nMoOquqI

— Pughs Garden Village (@pughsgarden) February 7, 2017
17. Make an origami heart using green paper. Write why you care about climate change on the back. Then give your green heart as a Valentine to #ShowTheLove with your friends, family, classmates, and colleagues. 
 
18. Join Climate Reality and The Climate Coalition for a Twitter chat on February 14 at 11 AM ET / 4 PM GMT where we'll talk about the practical, clean energy solutions to the climate crisis. A special guest will join us as we discuss this good news. 
19. Write a blog post discussing why you're concerned about climate change and how it could affect the things you love. Click here for inspiration. Share your post on social media with #ShowTheLove and let us know.
20. What people or places do you want to protect from the climate crisis? Record a video describing what you love and why you take action to protect it, and share it on YouTube or Instagram with the hashtag #ShowTheLove.
21. If you live in the United Kingdom, attend a #ShowTheLove event. See where they're taking place here.
 
P2P team members recently went out on the canal to help tidy up the local area in support of the Climate Coalition's #showthelove campaign pic.twitter.com/r7Xspro1Kf

— Purchase to Payment (@P2P_CRT) January 24, 2017
22. Make some green heart Rice Krispy treats. Download the recipe here.
 
Green crispy cakes & tissue hearts for Hatchmere's #showthelove eco day ️We talked about how to care for our earth pic.twitter.com/E4PIH5ir0M

— Delamere Academy (@DelamereAcademy) February 3, 2017
23. Download our activist kit and learn more ways to make an impact.
 
Looking for ways to fight back against climate denial? Download our free #MakeItAReality action kit: https://t.co/I5X9YJPiMP pic.twitter.com/wAiIyL8yfR

— Climate Reality (@ClimateReality) January 21, 2017
24. Schools can show the love, too! Click here for resources to get your school involved.
25. Learn about the climate crisis and how you can be an agent for change straight from Climate Reality Founder and Chairman Al Gore. Attend our next Climate Reality Leadership Corps training.
"Ordinary people face challenges.@ClimateReality Leaders embrace them" @KennethBerlin #CRinTexas
Let's go win this pic.twitter.com/8VDKwHScOe

— Anne-Claire Blet (@acblet) August 18, 2016
How will you #ShowTheLove?

Have more ideas or unique ways to join in? Let us know! Tweet @ClimateReality or send us a message.
No matter how you choose to participate, we hope you can join in and speak out for climate action this Valentine's Day.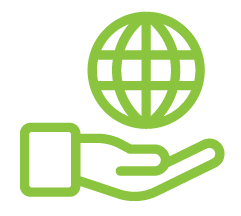 Before You Go
At Climate Reality, we work hard to create high-quality educational content like blogs, e-books, videos, and more to empower people all over the world to fight for climate solutions and stand together to drive the change we need. We are a nonprofit organization that believes there is hope in unity, and that together, we can build a safe, sustainable future.
But we can't do it without your help.
If you enjoyed what you've just read and would like to see more, please consider making a generous gift to support our ongoing work to fight climate denial and support solutions.