December 18, 2018 | 1:51 PM
30 Reasons Why 2018 Gave Us Climate Hope
We get it. Being an activist in the climate movement can be frustrating. Progress feels slow; we see national leadership fall short; and a new dire report seems to come out every week.
But despair can sometimes be just as bad (and as paralyzing) as denial. It can be hard to see all of the incredible progress we've made when the news cycle works at hyper speed. That's why we put together 30 reasons (plus one big bonus reason!) why 2018 left us feeling hopeful – that we must, we can, and we will solve the climate crisis.
Local (and Sometimes Very Young) Activists Lead the Way
1. In 2018, more than 3,400 people stepped up in a big way and became Climate Reality Leader activists. We held trainings in Mexico City, Berlin, and Los Angeles – hearing from world-renowned scientists, firefighters on the frontlines, mayors leading the way, and more. (By the way, we're starting 2019 off right and heading to Atlanta and Brisbane!)
2. In Washington State, the collaborative work of Climate Reality chapters in Seattle, Bellingham, Tacoma, and Snohomish County played a key role in collecting the signatures to get carbon pricing on the November ballot. (And while, disappointingly, the initiative failed this year, our chapters' tireless work and commitment continues to inspire us.)
3. Greta Thunberg (a 15-year-old activist hailing from Sweden) was the voice heard around the world, as she took world leaders to task at COP 24 in Poland: "Since our leaders are behaving like children, we will have to take the responsibility they should have taken long ago."
4. Twenty-one incredible young people (some of them trained Climate Reality Leaders) made headlines as they took the US government to court alongside Our Children's Trust. As plaintiffs, they argue the federal government is not doing enough to protect their future from climate change.
5. In 2018, our Dallas-Fort Worth chapter began working on a promising campaign that could help bring solar energy to public schools throughout the Dallas Independent School District.
6. "We are the ones we've been waiting for." In July, young people came together for a march that was the first-ever of its kind: Zero Hour's Youth Climate March. And the person at the helm of it all? Powerhouse activist Jamie Margolin, who was trained as a Climate Reality Leader in 2017.
7. World-renowned scientists are using the world's most popular video game, Fortnite, to talk about… climate change? No, we're not kidding. And yes, it just might be working.
Every global movement needs leaders.

Posted by Climate Reality on Thursday, April 13, 2017
Even as the Trump Administration Abandoned Leadership, American Cities and States Did Not
8. The Global Climate Action Summit in San Francisco this September led to a lot of big deal commitments that could accelerate the implementation of the Paris Agreement and de-carbonization worldwide. The best part? The summit was mostly made up of governors, mayors, business leaders, and civil society representatives – people who don't have an official seat in UN climate negotiations but can actually get a whole lot done to make Paris promises happen.
9. California also made history not once but twice this year – committing to reach 100 percent carbon-free electricity in the power sector by 2045 and approving a law requiring all new homes and apartment buildings to have some form of solar power installed.
10. But it's not just California who deserves all the credit. Small towns made a difference this year, too. One example? The work of our Hudson Valley and Catskills chapter led to plenty of businesses in Upstate New York committing to make the transition to 100 percent renewable electricity.
11. Plus, research shows that mayors (across party lines and around the country) know that cities have a vital role to play in fighting climate change.
12. In fact, Cincinnati, Ohio became the one-hundredth US city to commit to 100-percent renewable electricity on December 5. And the very next day, Dunedin, Florida made it 101.
13. The state of New York sued fossil fuel giant Exxon-Mobil, "claiming the company defrauded shareholders by downplaying the expected risks of climate change to its business."
14. And that's not the only place where Big Polluters are being taken to court – suits were filed against fossil fuel companies by the state of Rhode Island; California cities San Francisco, Oakland, Richmond, Santa Cruz and more; the city of Baltimore; King County in Washington; Boulder County in Colorado, and the list goes on and on.
And Other Countries Forged Ahead, Too
15. Talk about an Irish goodbye! In July, Ireland passed a historic divestment law – making the commitment to pull 8.9 billion euros, or about $10.4 billion, out of investments in dirty fossil fuels. (Can we recommend investing them in renewable energy instead? Just an idea.)


16. In Ukraine, a solar farm went live in October – remarkably, only about 300 feet from the site of the 1986 nuclear disaster in Chernobyl.
17. They say you should only compete with one person: Yourself. Well, in 2015, Costa Rica ran on renewable electricity for 299 consecutive days. In 2018, the nation broke its own record and made it 300.
18. One Pacific island nation, Palau, put plans in motion to make the world's fastest-ever shift to renewable energy. Palau has committed to ditching diesel for 100-percent solar by the end of 2019.
19. Contrary to what Big Polluters would have you believe, developing nations like Chile and India are leading the renewable revolution – and reaping big benefits.
20. Canada is forging ahead on putting a national price on pollution. In October, "Prime Minister Justin Trudeau announced that under the Greenhouse Gas Pollution Pricing Act, Canada will implement a revenue-neutral carbon tax starting in 2019, fulfilling a campaign pledge he made in 2015." The prime minister said it well: "Starting next spring, it'll no longer be free to pollute in Canada."
>> Join the global movement calling for a price on carbon pollution <<
Renewable Energy Just Gets Cheaper and Cheaper
21. According to a report from the International Renewable Energy Agency, almost all renewables could be as cheap or cheaper than fossil fuels by 2020. Yes, really!
22. And coal already isn't keeping up. Former Vice President Al Gore summed it up well: "Electricity from new wind and solar power is now cheaper than from existing coal plants in many regions of the US. The economic benefits of clean energy are here and now." Here's the proof.
23. In fact, a new report found that over 40 percent of global coal capacity isn't even profitable – and that the US could save billions by closing its coal-fired power plants.
24. And it's not just coal. Renewables are also starting to close in on natural gas – often labeled a "bridge fuel" between fossil fuels and renewable energy. David Roberts at Vox said it well, "The natural gas 'bridge' to sustainability may be shorter than expected."
Climate Action Just Made Good Business Sense
25. And because renewables are getting so cheap, "for the first time, a major US utility has committed to 100% clean electricity." That's right. Xcel Energy (which serves 3.6 million people) wants to make it happen by 2050 – and we hope it happens even sooner.
26. In January, T-Mobile announced that it would "cover 100 percent of its business" with renewable energy by 2021. The company's CEO, John Legere, said it well: "It's not just the right thing to do – it's smart business! We expect to cut T-Mobile's energy costs by around $100 million in the next 15 years thanks to this move."
27. Better yet? Social media giant Facebook wants to do it by 2020. Bring on the competition. (Like.)


28. Volkswagen isn't one to be left out, either. The company announced that it will be exclusively making electric cars after 2026. There's some unfortunate history here, of course, but going all-in on electric? That's drive.
29. Better yet, economies around the globe are seeing their economies grow even as their emissions fall. Just one example of many? "San Francisco… hit its peak greenhouse gas emissions in 2000 and has since reduced them by 30 percent from 1990 levels. During the same period, the city's economy grew 111 percent and its population 20 percent."
30. And renewable energy is putting people to work. According to the United States Bureau of Labor Statistics, the two fastest-growing jobs in the market are solar panel installers and wind turbine technicians.
Bonus!
31. We can't resist a bonus reason for hope (our cup runneth over, you know). We had a close call at COP 24 in Poland — things could have gone very wrong here (in fact, it looked almost guaranteed at some points). And, yet they didn't. Miraculously, leaders managed to extend negotiations by a day and agreed on a rulebook.
We still need to make this rulebook a lot more ambitious, but it's "a uniform set of standards for measuring [each nation's] planet-warming emissions and tracking [its] climate policies. And it calls on countries to step up their plans to cut emissions ahead of another round of talks in 2020."
Basically, our favorite basketball team went into overtime and managed to score a hard and messy (but significant) win. And the crowd went wild, because the world still has the chance to work together and stop climate change before it's too late. That's certainly a big reason for hope, no doubt about it.
Together, We Can Fuel Climate Hope in 2019
We want to see a world that shifts from dirty fossil fuels to affordable clean energy sources like wind and solar. A world where scientific facts – not Big Polluter spin from oil and coal companies – inform our global policies. A world where there are plenty more reasons for climate hope.
Sign up for our email list today and we'll keep you up-to-date on the latest climate science and all the ways you can get involved in the movement for climate solutions.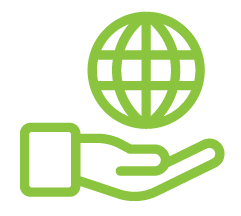 Before You Go
At Climate Reality, we work hard to create high-quality educational content like blogs, e-books, videos, and more to empower people all over the world to fight for climate solutions and stand together to drive the change we need. We are a nonprofit organization that believes there is hope in unity, and that together, we can build a safe, sustainable future.
But we can't do it without your help.
If you enjoyed what you've just read and would like to see more, please consider making a generous gift to support our ongoing work to fight climate denial and support solutions.