December 07, 2011 | 1:01 PM
5.9%: The scariest number you'll see this week
© 2010 Flickr/krapow CC BY-NC-SA 2.0
First: The bad news. An analysis released over the weekend tells us that global carbon emissions leaped 5.9% in 2010, the largest absolute jump since the Industrial Revolution. Compare the nearly 6% increase in pollution last year to the 3% yearly growth in 2000-2010, and 1% in the 90s. Notice a trend?
We've already told you that the amount of carbon pollution we release every year (almost 35 gigatons) would be enough to fill the balloons in two billion Thanksgiving Day parades. And it's only increasing. In 2009, we could take a little bit of comfort in the 1.3% decline in carbon pollution, almost entirely due to the global financial crisis. The fact that we experienced such a large jump in 2010 without a full economic recovery should give even the most hardened climate "inactivist" pause.
Moreover, we are causing the climate crisis without even creating revolutionary economic breakthroughs, or a strong foundation for a long-term, sustainable economy. More than half of the pollution growth came directly from regular old coal-fired power plants - not magic job-creating machines, rocket ships to explore other planets, or a teleportation system.
So that was the bad news. How about some good news?
It's not cause to celebrate in the streets, but as pollution increases, more Americans are acknowledging the reality of climate change. A new report from Pew shows that 63% of Americans believe there is solid evidence global warming is happening -- up from 57% in 2009 and 59% in 2010. Within that group, those who understand that humans are causing global warming increased, while those who think it's natural warming stayed flat. Since last year, there was a jump from 32% to 38% of those who view global warming as a "very serious" problem. These numbers are still below the all-time high in 2007, when 77% of Americans believed global warming was happening. But they do suggest we're moving back in the right direction.
So while the problem of carbon pollution isn't going away, more Americans are realizing exactly that. But not nearly enough of them. And if our carbon pollution rises another 5.9% year after year, that simply isn't sustainable for our civilization. Let's get to work making sure the only scary numbers we see come from Transylvanian Muppets.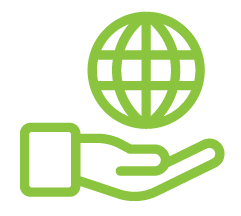 Before You Go
At Climate Reality, we work hard to create high-quality educational content like blogs, e-books, videos, and more to empower people all over the world to fight for climate solutions and stand together to drive the change we need. We are a nonprofit organization that believes there is hope in unity, and that together, we can build a safe, sustainable future.
But we can't do it without your help.
If you enjoyed what you've just read and would like to see more, please consider making a generous gift to support our ongoing work to fight climate denial and support solutions.