February 02, 2015 | 12:17 PM
After Many No's Comes the Yes
If the UN's 21st Conference of the Parties (COP21) meeting in December leads to 196 nations committing to taking action and cutting carbon emissions – like we believe it can – it won't simply be because a few inspired negotiators raised their hands at the decisive moment, like in some Hollywood movie. It'll be because millions of the people they represent —people with jobs to commute to, families to take care of, houses to clean, and dreams to pursue — took the countless small steps that showed the rest of us the way and made it possible for those hands to go up. And they did it when at first no one was looking, when it seemed no one else was heading the same way, and when the world was telling them to stop.
People like Yoca Arditi-Rocha. Yoca's own journey began like so many others when she watched the world change around her. As a child growing up in the Caribbean, she saw hurricanes as a normal part of life, but as an adult living in Florida, she witnessed the severity and close succession of names like Andrew, Katrina, Wilma, and Rita and it told her something new and unusual was happening.
Then came the cultural moment of An Inconvenient Truth. Like millions around the world, Yoca went into the theater one person and came out another. The film gave her a way to connect the dots between the science of climate change and the impacts she was seeing firsthand. It also challenged her to do something. She now had children of her own and the thought of them living in a future shaped by climate change made her want to take action immediately.
The only question was how. When the world's climate activists converged on Copenhagen for COP15, Yoca was living in Tripoli, Libya and the realities of raising a young family meant that heading for Denmark simply wasn't an option. So she focused her attention close to home, planning sustainability initiatives and creating a recycling program at her children's American school. To the protesters filling the streets of Copenhagen, her goals at the time might have looked more modest than the deal they were demanding, but for Yoca, these small steps at home put her on the path to the global stage in Paris years later.
Designing the program opened Yoca's eyes to how an everyday institution like a school can have an enormous carbon footprint – and how cutting this footprint with a few well-planned steps was simpler than she could've imagined. One realization quickly led to another. After all, if she could help her children's school cut its impact, why not others? And if she could help schools become more climate conscious, why not other institutions and organizations? Then there was another realization: she had to learn more about the business of sustainability. Much more.
Fast forward a couple years. After gaining a professional certification in sustainability from the University of Vermont's Global Institute of Sustainability and beginning a master's degree in environmental management and sustainability at Harvard, Yoca founded No Planeta B (in English, "No Planet B"), a sustainability consulting company based in her new home of Lima, Peru. Yoca's studies had given her a deep understanding of how data-driven metrics can help organizations comprehend and measure the carbon footprint of their everyday activities. Using these metrics as a starting point, No Planeta B works with companies and schools to develop initiatives that drive behavior change, increase energy efficiency, and reduce their carbon footprints – all with the ultimate goal of cutting their expenses and boosting profits.
Through her consulting, Yoca came to see that many people just didn't know or understand the basic science of climate change – and that even among those who did, few knew how accessible or practical climate change solutions like renewables are today. She knew how to talk to individuals and smaller groups about the issue, thanks to her work with No Planeta B, but she also knew she wanted to bring these skills to a much larger stage and needed to learn how. She'd heard about the Climate Reality Leadership Corps for years but the stars never quite aligned for her to attend a training. That changed with the 2013 announcement of a major training in Chicago.
Chicago was, as she says, "an unforgettable experience." Seeing and connecting with over 1,500 other activists equally committed to solving climate change gave her hope that progress was possible. The training also gave her new tools for outreach and organizing, and as she describes it, she "left Chicago more committed than ever and empowered to face any obstacles."
Her timing couldn't have been better. That summer, the UN announced that the next round of climate negotiations – COP20 – would take place in her new home of Lima in 2014. The choice was both personally and globally significant. With Peru recognized as the third most-vulnerable nation to climate change in the world, the UN's decision to hold talks on a framework agreement on emissions reduction in Lima signaled a new urgency to tackling the crisis head on and right in its very epicenter.
Yoca saw an opportunity to turn personal awareness into powerful action, challenging herself to engage and educate as many people as possible about climate change before COP20. In particular, she decided to focus on the one segment in Peru she knew would care most about the nation's future: young people. And having seen in Chicago how a major well-planned training could transform a group of concerned citizens into committed activists, she knew how to do it.
Her next step was to create a climate education program called U CLIMATICA that brought over 250 students from more than 30 Peruvian universities to Lima for a two-day training on climate science, organizing strategies, and opportunities for action. The experience taught her that not only was there incredible hunger for this kind of initiative in Peru – the one downside was that the training received many more applicants than it could accommodate – but also the value of persistence and partnerships in driving change. The US embassy provided key financial support and the US ambassador as a speaker. Climate Reality helped with key training materials and strategy. The Peruvian ministry of the environment not only helped with promotion, but enabled U CLIMATICA to feature both the minister himself and COP20 President Manuel Pulgar-Vidal as key speakers.
It wasn't all smooth sailing as being the new kid on the environmental block in Lima and securing the financial support and space to hold the training all presented their own challenges. Then there was the fact she had juggle roles as the event's director, graphic artist, public relations liaison, social media manager, and on and on all on her own. But Yoca kept on and, as she said, "After many no's comes the yes."
The force of that yes continues to echo as U CLIMATICA's reach and impact have only kept growing after the training. U CLIMATICA organized a petition from the students of the world on the threat of climate change and personally delivered it to the UN's Christiana Figueres during COP20. Students who attended the training all developed action plan for cutting greenhouse gases in their schools and communities and got to work right away as they returned home. Meanwhile, the program's Facebook page has attracted thousands of followers and the numbers keep growing.
Now, Yoca is working on next steps for U CLIMATICA with an eye toward making student voices a force for transformational change at COP21. First on the agenda is creating a global coalition of schools committed to reducing emissions and adding their names to a joint declaration that will be presented to Christiana Figueres during talks in Paris. At the same time, she's also mentoring a new generation of Climate Reality Leaders working to mobilize their own communities so that when that decisive moment comes in December, negotiators remember who's standing behind them and raise their hands.
Because that's how a global climate deal is becoming a reality.
To learn how you can become a Climate Reality Leader like Yoca, subscribe to Climate Reality Leadership Corps updates for program details and training announcements. To add your school to the U CLIMATICA coalition, contact No Planeta B.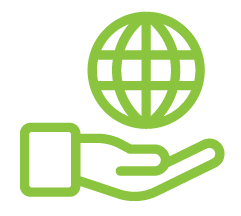 Before You Go
At Climate Reality, we work hard to create high-quality educational content like blogs, e-books, videos, and more to empower people all over the world to fight for climate solutions and stand together to drive the change we need. We are a nonprofit organization that believes there is hope in unity, and that together, we can build a safe, sustainable future.
But we can't do it without your help.
If you enjoyed what you've just read and would like to see more, please consider making a generous gift to support our ongoing work to fight climate denial and support solutions.