May 13, 2015 | 3:31 PM
Four Ways Al Gore Surprised Me at #CRinIowa
I just wrapped up three days at the Climate Reality Leadership Corps training in Cedar Rapids, Iowa learning about climate change and practical solutions.
I was there with about 350 others from 19 countries, and we heard from a lot of really inspiring speakers talking about progress in wind energy, climate-smart agriculture, and other areas. But the best part for me was getting to hear from Al Gore, who was there speaking on all three days.
Seeing his film An Inconvenient Truth when it came out had a profound effect on me and I still think it's one of the best environmental documentaries. But even if you've seen the film many times, there's something about being there in the room and hearing from Gore in person that fills you with hope and inspires you to act. As one attendee put it, ".@algore is teaching us to deliver his Inconvenient Truth-style material to inform & motivate. It's like Al Gore Unplugged."
I'd say I'm pretty well informed about climate change and I know some of the science Gore covered. Even so, there were plenty of moments in the presentation that really surprised and stuck with me. Here are just four of them.
1. How fragile our "pale blue dot" truly is

Near the start of his presentation, the former vice president shared the famous "Pale Blue Dot" image of Earth taken by the Voyager 1 space probe from over 3.7 billion miles away. I've seen the picture many times before, but sitting with hundreds of others in a hushed room and thinking about our place in the universe, I felt I was really seeing it for the first time.
After showing this picture, Gore presents another that shows the tiny sliver of atmosphere hovering above our home. Essentially, this thin bubble is all that keeps our blue planet from the vastness of space.
And that outer layer is all we've got. "Maybe if polluters realized how little we had, they'd stop treating our atmosphere like an open sewer," Gore said. In the room you could've heard a pin drop.
"Preserve and cherish the pale blue dot, the only home we've ever known."We couldn't have said it better. "Share" if you agree with the eloquent astronomer Carl Sagan.

Posted by Climate Reality on Saturday, February 14, 2015
2. He's a Pope Francis Fan

Pope Francis does things very differently, and the environmental community is taking notice – big time. "I'm no Catholic, but with a pope like this, I would consider converting," Gore joked.
The pope won Gore over with strong remarks that humanity needs to protect the creation that we're all part of. Then he followed up by convening a summit of Catholic leaders, leading scientists, and UN representatives to discuss how protecting the environment can also help us end poverty. He's already publicly acknowledged that humans are causing climate change and now he's working on an encyclical statement on what the 1.2 billion Catholics worldwide should do about it. For years, we've seen solving climate change as a scientific challenge. Thanks in part to Pope Francis, we're starting to see it as a moral one too.
3. Politicians CAN change their minds.

I try to live in a way that sets a model for my children, and one of the most important things I can do is show them the value of speaking up. When something really matters like climate change, just complaining to yourself isn't going to solve the problem. I've always believed that if working parents speak up, we can make a difference.
So it was heartening to hear Gore say over and over that we can make politicians change their minds and take a stand on climate change. Talking to your local representative, your city council, your county official, your senator – anyone – is free to you and takes only minutes. They're required to listen – and furthermore, it could even change their mind.
.@AlGore is in Cedar Rapids training @ClimateReality Leaders to #ActOnClimate http://t.co/BNcS5DViFF #CRinIowa pic.twitter.com/Z7JazTWlL4

— Climate Reality (@ClimateReality) May 6, 2015
4. The climate crisis is entirely solvable… Now.

One of the amazing stories Gore shared was about a young boy in a small village in Malawi. Relying upon articles in Popular Science magazine and using scrap materials, he created a functioning windmill to provide his village with electricity for the first time ever. Imagine – thanks to the ingenuity and drive of this one boy, this village in Africa skipped right over all the pitfalls of fossil fuels that those of us in the West are dealing with now and went straight to free, renewable energy.
If a 14 year-old boy can build a working windmill to power his village in Malawi, we can solve the climate crisis.
Just imagine what would happen if the rest of the planet – especially those of us in richer nations – put the same kind of effort and commitment into developing clean energy and solving the climate crisis as this boy. And we can. The solutions are here. We just have to make it happen.
Become a Climate Reality Leader

Join us for an upcoming Climate Reality Leadership Corps training and work with former US Vice President Al Gore and renowned climate scientists and communicators to learn about what's happening to our planet and how you can use social media, powerful storytelling, and personal outreach to inspire audiences to take action. Give us three days. We'll give you the tools to change the world. Learn more.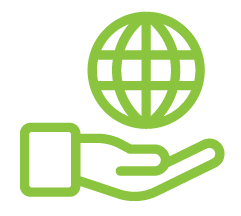 Before You Go
At Climate Reality, we work hard to create high-quality educational content like blogs, e-books, videos, and more to empower people all over the world to fight for climate solutions and stand together to drive the change we need. We are a nonprofit organization that believes there is hope in unity, and that together, we can build a safe, sustainable future.
But we can't do it without your help.
If you enjoyed what you've just read and would like to see more, please consider making a generous gift to support our ongoing work to fight climate denial and support solutions.