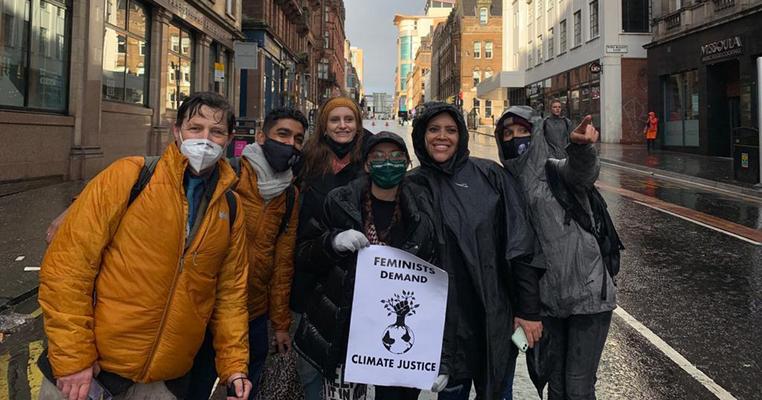 Being a Black Girl at COP, Where Do I Fit in?
How can the US represent the nation in climate negotiations when the team negotiating doesn't represent the nation?
By Alaura Carter
COP 26 was a lot of firsts for me. My first time traveling to the UK. My first time traveling internationally alone. My first time at a COP. Though I knew people who were going from my job, I got my COP badge through the Christian Climate Observers Program that was hosting me and others.
I went with excitement to explore Glasgow, experience COP 26, meet people from around the world and get stories of environmental and climate justice from across the planet.
My first day there, I explored the COP grounds – known as the Blue Zone – at the Scottish Event Center (the SEC), seeing people from various nations around the world. There, I stumbled into the exhibition pavilion where countries had various exhibits to showcase their culture. Some of the countries featured were Morocco, Saudi Arabia, Sierra Leone, Indonesia, Brazil, France, United Arab Emirates, and the United States to name a few.
You could, of course, explore these pavilions and get information about the country – along with free coffee, pens, and stickers – and sit and listen to videos and panel discussions. Most people there wandered through the pavilion and settled on their country of origin. But where do you go when you don't identify with any country?
To be clear I was born and raised in Washington, DC. My parents were born and raised in DC as well. My grandparents, like many, migrated to the DC area in the 50s. I know that my maternal great grandparents were from a small town in South Carolina. My great grandmother picked rice and went on to become a cook for a white family. Her husband, my great grandfather, was the family's chauffer. I don't know much about my great grandparents and beyond that.
I bring this up to say for myself and many others our family history is cloudy. Not necessarily through any fault of family sharing but because sometimes there is nothing to tell.
So, when coming to COP 26 where it's all about country representation, where does someone that really has no representation fit it in?
Yes, from my passport and speech, many knew I was American. I could, of course, take an ancestry test and learn of my true origins and try to make to connections. But sadly for many generations of African Americans many generations removed from slavery, though we can find our origins, all we know is America.
On the surface, at a place as diverse as the COP 26 grounds, everyone would seem to be truly represented. We had the chance to meet with a member of the US delegation for a brief conversation. As we stood in the back halls conversing, we watched many US staff walk by (we even saw John Kerry twice). But something stood out. Though the meeting was effective and pleasant I couldn't notice no one from America looked like me. There were hardly any people of color representing the US delegation.
I'm not saying there was none, but I remember only seeing one young lady that was African American in the US delegation while I was there. So how am I supposed to identify with and support the US in negotiations and decisions when there's no one like me being a part of that process? The US was part of many negotiations on deforestation, fossil fuels, and supporting climate finance. But were those helping with that keeping in mind how it affects everyone?
According to Census Bureau data released in August 2021, "In 2020, the Black or African American alone population (41.1 million) accounted for 12.4% of all people living in the United States, compared with 38.9 million and 12.6% in 2010."
So, with the US population growing in diversity race why are the people making decisions not reflecting the people that will be most affected?
According to a September 2021 EPA report entitled, "Climate Change and the Social Vulnerability in the United States: A Focus on Six Impacts":
"Black and African American individuals are projected to face higher impacts of climate change for all six impacts analyzed in this report, compared to all other demographic groups. With 2°C (3.6°F) of global warming, Black and African American individuals are, 34% more likely to currently live-in areas with the highest projected increases in childhood asthma diagnoses. This rises to 41% under 4°C (7.2°F) of global warming. 40% more likely to currently live-in areas with the highest projected increases in extreme temperature related deaths. This rises to 59% under 4°C of global warming."
So as the planet continues to warm, African Americans will continue to bear the brunt of climate change. EPA Administrator Michael S. Regan has acknowledged that this places urgency on the situation. The Biden Administration has issued executive order 14008 to tackle the climate crisis and established the first ever White House Environmental Justice Advisory Council to make sure vulnerable communities are not left out.
But is that enough? When US went to COP 26, who in the room and at the tables could truly identify with and speak for African Americans in vulnerable communities in the US?
To be clear, I didn't go to Scotland and expect to see a rainbow coalition of people in the streets. I knew I was walking into a predominantly white setting and there would be some major culture gaps to work through.
Once at COP 26, I was happy to see so many diverse nations come together to not only tackle the climate crisis but also learn and share with each other what their own nations are doing. However, I also had to remember America is a nation of immigrants, a melting pot of people that have come from all over. Every ethnicity and culture contribute something in its own way to keep the US running and make it beautiful.
Sadly, through all the COP 26 US events and gatherings I did not see that melting pot. I didn't see anyone that looked like me being a part of the helping to find the solutions to the problems that will affect us most.
Through my years of working in the environmental justice and climate justice space, I have been taught by many mentors to let communities speak for themselves and communities have the solutions to their problems.
So, who was there representing the vulnerable communities and sharing potential solutions to the problems that plague them and so many others? With several milestones discussed and put into agreement for the nations around the world, did the nation that represents me really make the right decisions for me? How do we move forward to make sure that the United States goes into further meetings of nations that those going look like me and others in our diverse nation? Where does a Black girl like me fit in to being a part of shaping the future of our nation and our planet?