June 01, 2016 | 10:17 AM
Bringing Light into the Darkness
We've all heard stories about extraordinary people who take on great challenges and bring light into the darkness. But for Climate Reality Leader Phurpa Lama, the phrase has become his life's work. Literally.
Hailing from Nepal, Phurpa grew up in a country of magnificent vistas and ancient spiritual customs, of vibrant cultures and resilient people. Nepal's extreme topography creates a tapestry of ecosystems, rich in biodiversity and highly vulnerable to climate change. It's a country of villages, where around 82 percent of the population lives in rural areas. Over three-quarters of its people depend on climate-sensitive agriculture and forest resources for their livelihoods, and around one-quarter currently live without any access to electricity.
As a Climate Reality Leader, Phurpa Lama teaches and engages his community about climate change.
While getting basic necessities that many of us in the West take for granted was already a challenge for many in Nepal, it became something else entirely on Saturday, April 25, 2015, when an earthquake of 7.8 magnitude struck the nation.
On that day, Phurpa was talking about climate change with a group of indigenous women in Chautara, Sindhupalchok, a remote mountain village. He was right in the middle of his presentation when the earthquake struck.
Phurpa and his audience watched as the buildings around them shook, crumbled, and collapsed. In a matter of moments, unspeakable devastation took hold of the village. Though he and the women he was with survived the initial earthquake, they found themselves surrounded by tragedy and destruction.
When talking about that day, Phurpa says "it was the lifetime melting of [his] heart." In the days following the initial earthquake, he threw himself into helping survivors in Chautara clear rubble and raise temporary shelters. But with no electricity and no way to charge phones, he had no idea if his own family was safe – and so, after four days, he left the area and navigated the boulder-strewn roads to Kathmandu.
Once there, he got the news that his parents were okay, but also that his home village had been badly affected. He connected with young people from the village, gathered all the food, tents, and tools they could bring, and drove four hours from Kathmandu to his home
He arrived to a heartbreaking scene. Historic monasteries, schools, stupas, and the community center – all had collapsed. That first day, he helped to distribute food and tents to his neighbors. He then spent two weeks removing rubble from homes and building temporary shelters for people to live in.
Everywhere he went, Phurpa saw people struggling to cope with the loss of loved ones and the destruction of their homes and livelihoods. But there was another thing he noticed. In the darkness of villages without electricity, in places without light, people were finding it even harder to rebuild and move forward. The reason was simple: people couldn't keep working on much-needed repairs when the sun went down. They also couldn't charge their phones and check on their loved ones. When they did have light after sunset, it was often because they were using dangerous kerosene lamps which bellowed soot and were made even more dangerous by the frequent aftershocks rippling through the ground.
A Light-Bulb Moment
When he was leaving Kathmandu on the way to his village, Phurpa got a call from his grandmother, asking him to bring kerosene for her own lamps.
For Phurpa, it was a light-bulb moment. After all, he'd spent years working on climate change, traveling around Nepal talking to villages about the crisis and joining international efforts as well. In 2009, he attended the Crossing Borders Climate Ambassador Conference in Denmark, and before that, he worked with the Climate Change Partnership Program of the Nepal Federation of Indigenous Nationalities. He even worked with indigenous communities developing a national strategy for the UN's REDD program (Reducing Emissions from Deforestation and Forest Degradation). Then in 2013, he went to Istanbul to train with former US Vice President Al Gore as a Climate Reality Leader.
So when his grandmother asked him to bring her kerosene, he realized he could do something better. Something that wouldn't choke her home with thick soot or start a fire if more aftershocks came or contribute to climate change. Something that would help Nepal recover more quickly from disaster if there was a next time. "Stopping fossil-fuels-based lighting became my first priority," he says, "for human health and our environment."
A woman poses with a new solar lamp on her home, courtesy of Light Up a Life for a Better Nepal
In a matter of weeks, this spark of inspiration became Phurpa's solar initiative, Light Up a Life for a Better Nepal. He already knew how to talk to people about climate change and with the challenges of disaster recovery all too evident, he knew donors and the international community would be open to new and innovative approaches. And so he set out to find the funds and resources to bring solar lamps to rural areas of Nepal.
Light Up a Life for a Better Nepal
To date, the project has deployed over 70 small solar lamps to households and 15 larger solar units to schools, monasteries, and community centers in the Sindhupalchok District. And in the meantime, Phurpa is currently working with partners to raise the funds to build a sustainable community center in Kakani village powered entirely by solar energy.
Through Light Up a Life for a Better Nepal, solar panels were installed at Bhumeshwor Higher Secondary School.
His work hasn't ended there, either, as today Phurpa is also working to fund and organize a climate change training program for top journalists in Nepal, with the aim of increasing public awareness and coverage of the crisis. And as a Climate Reality Leader, he continues to speak about the issue to audiences in Nepal and has served as a mentor to other Climate Reality Leaders at recent events in Miami, Florida and Manila, Philippines.
Even as his neighbors continue to recover from the earthquake of 2015, Phurpa hopes that all of his work benefits the people of Nepal and helps them in future disasters. He worries about the lasting trauma of the disaster, but is proud to have found ways to take action that bring hope, improve conditions today, and shine light on the importance of building resiliency for tomorrow.
Phurpa distributes solar lamps in rural Nepal through Light Up a Life for a Better Nepal.
Join More Than 9,000 People, Including Phurpa, as a Climate Reality Leader
To learn how you can become a Climate Reality Leader like Phurpa working to raise awareness and create innovative climate solutions, sign up here and we'll alert you to future training and action opportunities.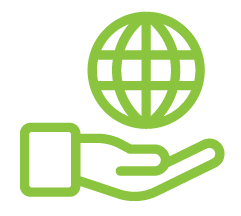 Before You Go
At Climate Reality, we work hard to create high-quality educational content like blogs, e-books, videos, and more to empower people all over the world to fight for climate solutions and stand together to drive the change we need. We are a nonprofit organization that believes there is hope in unity, and that together, we can build a safe, sustainable future.
But we can't do it without your help.
If you enjoyed what you've just read and would like to see more, please consider making a generous gift to support our ongoing work to fight climate denial and support solutions.