October 24, 2011 | 1:28 PM
Can "Occupiers" make investors put $20 trillion of their money where their mouth is?
© 2009 Flickr/Hossam el-Hamalawy CC BY-NC-SA 2.0 2.0
The hundreds of thousands of people around the world taking part in the Occupy Wall Street protests are demanding an end to corporate influence on government. But can corporate influence sometimes be a significant force for good? Especially when the influence is worth $20 trillion?
Maybe it can. This week, a group of the world's 285 largest investors urged governments to take immediate action on climate change. Convened by Ceres (a nonprofit that brings together investors and the environmental community to focus on sustainability solutions), this highly influential group of companies has a combined net worth of over $20 trillion. The companies demanded that well-designed and effective climate policies be implemented at once at the domestic and international level, and underscored that delays will cost the global economy dearly. In their collective statement , groups as diverse as teachers' pension funds, healthcare providers, church boards, banks, hedge funds, insurance groups and family foundations emphasized that climate and clean energy policies will "yield substantial economic benefits, including creating new jobs and businesses, stimulating technological innovation, and providing a robust foundation for economic recovery and sustainable, long-term economic growth."
Should the climate change movement take these unlikely allies seriously? In the past, we've seen some good examples of businesses being proactive in the fight against climate change and the push for clean energy solutions. Sure, capitalism is not motivated by altruism, but by the opposite -- self-interest. In fact, that's exactly why they get it. Businesses understand risks, and they do the cost-benefit calculus better than most of us. Guess what that tells them? That the time for action on climate change is now.
This is an exciting moment in the world's history, when people are fed up and taking to the streets to demand accountability. If climate-conscious corporations deliver on their promises, and the "Occupiers" force governments to sit up and pay attention, maybe that's the one-two punch the climate change movement has been waiting for. What do you think? We'd love to hear your comments about the role of big corporations in the fight against climate change.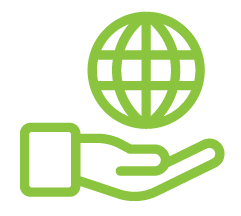 Before You Go
At Climate Reality, we work hard to create high-quality educational content like blogs, e-books, videos, and more to empower people all over the world to fight for climate solutions and stand together to drive the change we need. We are a nonprofit organization that believes there is hope in unity, and that together, we can build a safe, sustainable future.
But we can't do it without your help.
If you enjoyed what you've just read and would like to see more, please consider making a generous gift to support our ongoing work to fight climate denial and support solutions.