April 04, 2014 | 5:18 PM
Can three days change your life?
Three days can be a long time. Enough to give you a whole new perspective in some ways and enough to make you completely lose an old one in others. Especially when you've been running an immersive training event for over 700 people from 53 countries. Because after the last speaker leaves the stage and the lights dim, it's easy to forget just how much it takes to make a Climate Reality Leadership Corps training happen.
Not in terms of finding the right venue or squeezing years of experience and expertise into three short days or securing just the right lineup to pull it all together. But in terms of all the stories it took to get those faces there. All the 'whys' and the becauses that build for months or years and lead 700 someones to cross the line from passive to active voices, to decide that solving the climate crisis starts with them. Then the conversations with loved ones, with supervisors, with flight attendants and hotel clerks (or in Joburg, quite a few with local bus drivers).
Not many people get to hear how these stories come together to make a Climate Reality Leader, or at least not nearly as many as should hear them. So we asked a few of the extraordinary individuals who joined us in Johannesburg how they got there—and where they're going next.
Chulwon Jed Lee
For Chulwon Jed Lee living in Seoul, South Korea, there wasn't a dramatic moment that led him to become a Climate Reality Leader. All he needed was the invitation, and when it came in December, he applied the next day. The sense of purpose that got him there, though, had been building for years.
Growing up in South Korea, he did not have a lot of exposure to the climate crisis. Most of the major impacts were happening elsewhere and the local media, by his own admission, tended to limit news coverage to Korean angles and interests. None of his friends were engaged in the issue, so why should he?
That began to change in 2008 when Jed became a practicing Buddhist. What attracted him was less the spiritual side and more the philosophy of interconnection between all things. And it made him think about what was happening to the planet. "To me, it was more than just a religion. More like an invitation to care and get involved and do something about it. Then I didn't know what to do or how to."
The next step came when conversations with visiting British friends involved with the Planetary Collective opened his eyes to more of what was happening and what people were doing about it. Specifically what people were doing with culture and climate activism.
It sparked something inside and before long, Jed was getting involved both with Climate Reality and World Wildlife Fund. And thinking a lot about how to reach people about climate change. So when the invitation to become a Climate Reality Leader came, he was ready.
Some of us use our days off from work to lounge on the beach. Jed used his to come to South Africa ("The best summer vacation I've ever had and the only vacation I've ever had that is more meaningful than anything I've done with my life,"he described it). Having gone through the training and already made his first public presentation on climate, Jed is ambitious about spreading the word in South Korea. In particular, he's set his sights on making presentations and breaking through at global corporations like Samsung, LG, and Doosan since, in his own words, "They are not very interested in climate change yet, but opening their eyes on this issue will certainly have a huge impact in Korean society since Korean people are obsessed with what they do."
Seeing where he's come from to get here, we know we'll be hearing a lot more from Jed.
Become a Climate Reality Leader

Join us for an upcoming Climate Reality Leadership Corps training and work with former US Vice President Al Gore and renowned climate scientists and communicators to learn about what's happening to our planet and how you can use social media, powerful storytelling, and personal outreach to inspire audiences to take action. Give us three days. We'll give you the tools to change the world. Learn more.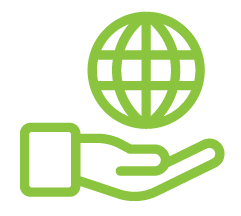 Before You Go
At Climate Reality, we work hard to create high-quality educational content like blogs, e-books, videos, and more to empower people all over the world to fight for climate solutions and stand together to drive the change we need. We are a nonprofit organization that believes there is hope in unity, and that together, we can build a safe, sustainable future.
But we can't do it without your help.
If you enjoyed what you've just read and would like to see more, please consider making a generous gift to support our ongoing work to fight climate denial and support solutions.