June 01, 2015 | 3:23 PM
Canada Drops the Ball on Climate
For many of us living in the US, there's a whole lot to admire about Canada, from universal health care to the freedom to marry nationwide, regardless of gender and orientation. Then there's the list of artists from godspeed you! black emperor to Leonard Cohen who've influenced pretty much every point along the radio dial, regardless of where you're listening.  And while it deeply pains us to say it, on the results of past Olympics and the endless conveyor belt of talent with names like Crosby and Brassard, you're better at hockey. It hurts, but we've got to give you that one.
But when it comes to addressing climate change, Prime Minister Stephen Harper and his government have dropped the ball in a big, big way. For one, there's the seemingly unflinching support for dirty tar sands oil. Then, while developing countries like Mexico were stepping up to the plate and making big commitments to cutting greenhouse gas emissions in their pledges for the UN climate talks in Paris (known as "Intended Nationally Determined Contributions," or "INDCs" for short), Canada stepped back and passed on making any significant commitments.
Tweet
Right now you might be wondering, "Wait, what about the press release trumpeting 30 percent reductions by 2030? Isn't that a bold step forward?" After all, the US, with its curious preference for Dunkin Donuts over Timmy's, is only pledging 26—28 percent by 2025.
So about that press release and the rhetorical smoke and mirrors at work . . . Here's what's really happening with Canada's INDC and why it's way too weak for any developed nation to put forward with a straight face.
1. Weak commitment to emissions reduction 

As we mentioned, Canada pledged to reduce its emissions by 30 percent from 2005 levels by 2030. In the past, Canada has aligned its commitments with the US', but in practice, this new INDC puts the country on a trajectory for a 23.5 percent reduction by 2025, far less than other developed nations around the world are making. Plus, Canada isn't just pledging to do less than other nations; it's also pledging to do so more slowly, with an INDC requiring it to only cut emissions at 60 percent of the EU and US's rate over the same time period. 
2. Ducks the tar sands issue entirely 

The INDC says Canada will continue driving improvements in environmental performance but says nothing about cutting emissions from the tar sands oil, which is a large and the fast-growing source of emissions. Which leaves much of its reductions to credits the country purchases from abroad. Which means it has no plans to change tar sands business as usual — and is relying on other nations to do the hard work for it.
3. Doesn't put Canada on track to meet its own targets

Canada, along with the rest of the G7 countries, signed on to a declaration to collectively reduce emissions by 80 percent by 2050. But if the government was serious about meeting this target, the INDC would have to set a 2030 goal of 38 percent reductions. 
The good news is that the bad deal in this INDC isn't a done deal, and there are several steps both the government and citizens can take to turn things around and join the rest of the world in working for a strong agreement in Paris.
1. Increase Canada's INDC emissions reductions targets 

Join @AlGore on the #RoadtoParis. http://t.co/cpryBSeisT pic.twitter.com/vhXS9ivimZ

— Climate Reality (@ClimateReality) May 31, 2015
First things first, Canada has to get serious about cutting greenhouse gases from tar sands oil and other high-emitting sectors. Matching the US goals of 26–28 percent by 2025 should be the bare minimum (and admit it, Canadians, you'd like to beat us here as well, right?). There are recent precedents for citizens shaming their governments into bolder action on climate – just look at how Australia was shamed into increasing its support for the Green Climate Fund last fall.
2.    Take provincial initiatives national

While the federal government in Ottawa has dragged its feet on any kind of serious action, several provinces have taken bold steps forward. British Columbia became the first North American jurisdiction to introduce a carbon tax back in 2008. While critics predicted imminent economic collapse, BC instead saw its taxable fuel use drop 19 percent compared to the rest of Canada in just the first four years and its economy outperform those in most other provinces. Ontario has phased out coal-fired power plants and set its own emissions reduction target of 37 percent below 1990 levels by 2030. Quebec joined California in a cap-and-trade scheme to limit emissions, and Ontario will soon join them by linking a carbon market of its own. These successes don't simply offer proven models for Ottawa; they offer proven models for the world. A federal plan would ensure other provinces follow BC, Ontario, and Quebec's lead, making more serious dents in the nation's emissions.
3.    Turn anti-pipeline sentiment into pro-solutions momentum

The level of support the anti-pipeline movement has generated in provinces like BC, Ontario, and Quebec has been nothing short of inspirational. If the same broad coalition of First Nation members, working parents, students, community leaders and others can come together to push for progressive provincial solutions like carbon pricing and abandoning coal power on a national level, Canada could quickly go from climate pariah to leader on the world stage.
We're under no illusions. If Canada is serious about being part of the solution to climate change, there's a long way to go. But the very real progress made at the provincial level shows that the nation can take steps that not only cut emissions, but also drive economic growth. Now it's up to Canadian citizens, activists, and influencers to ensure it does.
Here's what can you do about it.

If you've ever wanted to make a real difference on climate change, this is the year to do it, and the first step is to attend a Climate Reality Leadership Corps training.
At the training, you'll get an in-depth understanding of the latest science behind climate change. You'll also get the skills and tools to translate that understanding into stories and messages that move audiences to act, whether online, in the media, or in person. Just as important, you'll meet others just like you and connect with a global network of committed activists.
With a global deal to limit greenhouse gases on the table at the UN climate talks in Paris later this year, Climate Reality Leaders are playing an instrumental role in building the public support essential for world leaders to make the strong commitments to emissions reduction we need for a successful agreement.
© 2011 Jennifer Grant, The Pembina Institute / Flickr cc by nc sa 2.0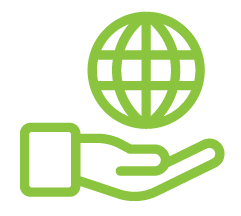 Before You Go
At Climate Reality, we work hard to create high-quality educational content like blogs, e-books, videos, and more to empower people all over the world to fight for climate solutions and stand together to drive the change we need. We are a nonprofit organization that believes there is hope in unity, and that together, we can build a safe, sustainable future.
But we can't do it without your help.
If you enjoyed what you've just read and would like to see more, please consider making a generous gift to support our ongoing work to fight climate denial and support solutions.