May 11, 2018 | 9:30 AM
Clean Energy in California: The Golden State Deserves a Gold Star
More than that, the Golden State is proving that we can start a renewable energy revolution right now.
With the White House stepping out of the climate fight, California has stepped up in a big way, leading a coalition of 16 states and the District of Columbia suing to prevent the Environmental Protection Agency from weakening fuel efficiency standards, as just one example of many (and more below).
But in California, this kind of step is way more than a political move – it's a necessity.
>>> How does solar power work anyway? <<<
The western state has been experiencing a growing number of extreme weather disasters, from wildfires to droughts. And scientists have linked these occurrences to our natural systems being out of balance, mostly because of fossil fuel heat-trapping emissions. The effects have been devastating to the state – including property destruction, loss of life, and billions of dollars in damages.
Californians are also struggling with another consequence of burning fossil fuels – air pollution. According to The American Lung Association's 2018 State of the Air Report, the Golden State has eight out of the ten smoggiest cities in the entire nation. The state's largest city, Los Angeles, has topped the list for almost 20 years. The dirty air has been attributed to emissions from power plants, refineries, vehicles, and other forms of combustion, as well as rising temperatures that increase the formation of smog.
>>> Learn more about how climate change is affecting California <<<
Luckily, there's a secret weapon to tackle all of these challenges: renewable energy. And the Golden State deserves a gold star for going all in on renewables – on nearly every single front.
In the political arena, California's Governor Jerry Brown has become one of the world's most outspoken leaders on climate change, frequently pushing back against climate deniers by pointing to climate disasters in his own backyard.
The governor has been a strong advocate for clean energy solutions and is pushing a plan for California to be powered 100 percent by renewables by 2045. "It's "exciting, it is bold and it is absolutely necessary," the governor said of taking carbon out of the economy during his 2015 inaugural address.
Some of the biggest California businesses are on the same page. Silicon Valley giants like Apple and  Google were already taking steps to power their data centers and offices with renewable energy more than a decade ago.
Recently the companies have kicked it up a notch. Both Apple and Google now purchase enough renewable energy to power their entire operations for the entire year. (And in the process, they're inspiring other companies across the country to do the same – the American corporate sector is on track to develop nearly 2.8 gigawatts of clean power.)
More Clean Energy Means Less Fossil Fuels

This clean energy revolution means California is relying less and less on fossil fuels. According to the California Energy Commission, the contribution of coal to the state's overall energy mix has dramatically decreased in the past few years, declining over 91 percent between 2001-2016. Nuclear plants are also nearing their end in California, though the state still has to rid itself of natural gas.
Still, the overall trajectory indicates that the future belongs to renewables, and there is no turning back.

The Golden State's green power revolution is even ahead of schedule. Due  in part to a massive construction boom in the solar- and wind-energy sectors, the state is already acquiring over one quarter of its energy from renewables, and could reach 50 percent by 2020.
Here are some other ways wind and solar are skyrocketing:
Solar

The sun shines bright in California, and so does solar energy. The western state is currently the national leader in solar power generation and capacity, and has recently set a new national record by supplying a peak of 49.95 percent of electricity demand with solar power

Wind

The wind has been blowing in the right direction in California for many decades. In the mid-1980s, the state had more than 90 percent of the globe's total wind power capacity. Although other states and countries have since taken the lead, California was still number four in wind capacity in the US.
The Bottom Line

California knows a lot about the consequences of fossil fuels, from the smog choking its cities to the wildfires swallowing huge swathes of forests and homes in recent years. But California's also shown that states can act decisively to cut carbon pollution in a big, big way. The state's embraced renewables and set ambitious targets to reach 50 percent renewable energy as soon as 2030. Even better, thanks to a boom in solar and wind construction may get there much sooner.
The result is a model for every other state in the union and – coming from the world's sixth-largest economy – proof we can power our lives without destroying our planet.
Wondering how you can help power a clean energy future? Join former Vice President Al Gore at a Climate Reality Leadership Corps training and learn how you can lead the global fight for climate solutions. Sign up for more infomation today!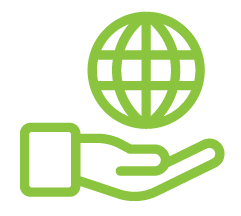 Before You Go
At Climate Reality, we work hard to create high-quality educational content like blogs, e-books, videos, and more to empower people all over the world to fight for climate solutions and stand together to drive the change we need. We are a nonprofit organization that believes there is hope in unity, and that together, we can build a safe, sustainable future.
But we can't do it without your help.
If you enjoyed what you've just read and would like to see more, please consider making a generous gift to support our ongoing work to fight climate denial and support solutions.