December 05, 2011 | 9:35 AM
Clean energy: It's time to get real
This is the first in a series of blog posts to give you the facts about clean energy and how we can solve the climate crisis. Stay tuned for the second post soon.
© 2006 Flickr/phault cc by 2.0
When people ask what we can do about climate change, what do you say?
If you've been listening to us for a while, you know that the way to solve the climate crisis is to make a transition to clean energy. That means clean, renewable sources like wind and solar, and it means finding ways to use the energy we have more efficiently.
But lately, a lot of naysayers have spoken up and tried to poke holes in the benefits that clean energy brings to the table. Maybe you've heard that clean energy is too expensive. Maybe you've heard clean energy technologies will never replace fossil fuels. Or maybe you've heard that clean energy doesn't create a lot of jobs.
None of these claims are true -- and we'll explain why in a series of blog posts about our clean energy reality. Scientists tell us that climate change is a real and urgent problem. It's also a reality that we can begin to solve this crisis, using clean energy solutions that are available today.
So when people ask you what we can do about climate change, we want to make sure you have an answer. We want to arm you with the tools necessary to win the conversation on clean energy in your community.
But first, I want to show you some numbers. A recent poll, conducted by the nonpartisan Civil Society Institute, shows nearly 80% of Americans believe "the U.S. needs to be a clean energy technology leader and it should invest in the research and domestic manufacturing of wind, solar and energy efficiency technologies."
This is just in the United States. Worldwide investments in clean energy reached $243 billion last year, and the global market for solar power is valued at more than $80 billion. And this investment is paying off. Clean energy is creating thousands of new jobs and offering more and more jobs to those who need it most. This global market is driving clean energy innovation, and no country can afford to be left behind.
The innovative global market is driving the push for leaner, more efficient clean energy technology. These super-efficient wind turbines, solar panels and geothermal sources are generating electricity that can charge our iPhones, keep the lights on and power our cars. Once you flip the switch, clean energy sources keep our lives running, just like their dirty counterparts but without the life-altering pollution.
Over the next few weeks, we're going to explore the ins and outs of how we can use clean energy to solve the climate crisis. We're going to break down its job creation potential, how energy efficiency can save you money (and who doesn't like that?), the ways the Pentagon is driving clean energy innovation and so much more. Stay tuned.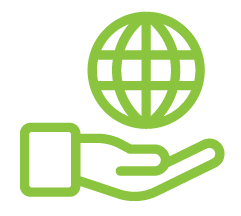 Before You Go
At Climate Reality, we work hard to create high-quality educational content like blogs, e-books, videos, and more to empower people all over the world to fight for climate solutions and stand together to drive the change we need. We are a nonprofit organization that believes there is hope in unity, and that together, we can build a safe, sustainable future.
But we can't do it without your help.
If you enjoyed what you've just read and would like to see more, please consider making a generous gift to support our ongoing work to fight climate denial and support solutions.