September 23, 2016 | 12:42 PM
Clean Energy: The Not-So-Dirty Secret to Global Economic Prosperity
This article was originally posted on The Huffington Post.
In a week of dark news dominated by a senseless terror attack, police shootings, and the increasingly divisive presidential campaign, there was a moment at the United Nations General Assembly (UNGA) in New York that instead showed humanity at its most aspirational and generous and reminded us what extraordinary things we are capable of when we put aside narrow self interest and work together.
That moment? When over 60 nations formally accepted the Paris Agreement to fight climate change reached at last year's COP 21 summit. The number is significant because for the agreement to go into force, at least 55 nations collectively responsible for at least 55 percent of global greenhouse gas emissions must, in the words of the UN, "have deposited their instruments of ratification, acceptance, approval or accession." With these 60-plus nations – who together account for 47.5 percent of emissions and include major economies like the US, China, and Brazil – now on board, we've crossed the first threshold.
Crossing the second is likely to now only be a matter of weeks, if not days with momentum for all 195 signatories to accept the agreement building with the force of a 20-ton boulder careening down a mountainside. And when we do cross that line, the world will have its first truly international framework to address climate change in effect as a matter of global policy. "Awesome" does not begin to describe the achievement.
Many factors, of course, contributed to us being here today in sight of an accomplishment that only six years ago – with the collapse of previous climate talks in Copenhagen painfully fresh in the memory – felt like a distant dream. But one in particular stands out as essential to the achievement that began in Paris and really came into focus during the UNGA and the discussion of the 17 Sustainable Development Goals (SDGs) during this week's meeting.
That factor, of course, is clean energy. The seventh SDG calls for world leaders to "Ensure access to affordable, reliable, sustainable and modern energy for all." And if we're serious about stopping climate change and pursuing a truly sustainable path for development that not only lifts millions out of poverty but gives people everywhere the chance to shape their own future, then expanding clean energy has to be the cornerstone effort.
Why? The answer begins with the simple fact that no solution to the rising temperatures that have seen 15 of the 16 hottest years on record come this century is possible without a global shift from the dirty fossil fuels driving climate change to clean, renewable energy sources like wind and solar.
By limiting global average temperature rise to well below 2 degrees Celsius (while aiming for 1.5 degrees or less), as the Paris Agreement requires, we lessen the chance that catastrophes like Super Typhoon Haiyan – which destroyed some 1.1 million homes in the Philippines, displaced 4.1 million people, and caused the region hundreds of millions of dollars in damage – become regular facts of life, crippling development in nations just getting on their feet. We give people everywhere a better shot at making good lives where they live, without being forced to flee recurrent disasters like mega-droughts. And on and on.
Even with these benefits being so clear, efforts to expand renewables globally face significant barriers, beginning with a widespread lack of understanding of the economics of clean energy today, due in no small part to the culture of denial fostered by the fossil fuel industry. Since the climate movement's earliest days, the industry and its allies have employed denial as a tactic to stymie progress. Denying the truth of climate science was the first salvo. Now we see the same tactic at work in economic denial as the industry perpetuates a dangerous myth that renewable energy is a luxury disenfranchising hardworking people struggling to make ends meet.
Other unfortunate barriers to widespread deployment of renewable energy exist as well, including the assumed political risk of supporting clean energy initiatives. However, as we cut through the myths and tell the real story, these flimsy barricades to progress will fall, paving the way for a booming and vibrant clean energy economy that will bring positive economic consequences on a global scale.
The good news is that these barriers are already beginning to fall – and economic denial is becoming ever more untenable – because renewables are becoming cost-competitive with oil, coal, and natural gas in more and more regions around the world. The result is that rather than disenfranchising hardworking citizens, affordable clean energy is instead playing a key role in solving energy poverty around the world, sparking innovation and creating opportunities for communities at all stages of development. In India, for example, Prime Minister Narendra Modi has made solar an integral part of his plan to bring electricity to the 400 million Indians living without it. In Africa, off-grid solar is poised to become the next "hot market" for investors, according to Fortune magazine, thanks in part to innovators like D.Light that have sold over 10 million solar lanterns in regions where many earn less than $2 a day.
The economic benefits of clean energy aren't limited to developing nations either. Here in the US, forward-looking policies like the Clean Power Plan will save Americans an estimated $55 to $93 billion in climate and health benefits per year by 2030 while also cutting average annual electricity bills by 8 percent.
But perhaps the biggest vote of confidence in the economics of clean energy comes from the growing numbers of major corporations from Apple to Bank of America to Ikea shifting to 100 percent renewable electricity to power their businesses. One factor driving these shifts is undoubtedly moral concern for the planet, but the fact remains that Fortune 500 companies would not be embracing clean energy at the level and pace they are unless doing so made compelling economic sense too.
Encouragingly, people on all continents are increasingly seeing renewables as the way forward and calling on their leaders to make a clean energy future a reality. We saw this last year when over 6 million came together to call for a strong climate agreement in Paris. And we saw it again this year in Brazil, where my own organization, The Climate Reality Project, and Brazil Branch Manager Alfredo Sirkis joined local partners in the Ratifica Já campaign, bringing millions together to create a broad popular and political consensus on climate action leading to the nation's formal approval of the Paris Agreement this month.
But despite these successes and reasons for hope – and there are many more – we have more work to do. Yearly investments in clean energy need to increase to $1 trillion per year (and last year reached only about a third of that figure). We need the leadership of dedicated public servants, government figures, activists, and concerned citizens to push for structure and incentives to bring clean energy solutions to a truly global scale.
The question isn't whether humanity can afford to shift from dirty fossil fuels to clean energy. With the cost of solar continuing to plummet and projected to drop even further, as just one example, we know we can. And when we consider the alternatives – with one scenario by Stanford University researchers projecting that unmitigated climate change could cost the world as much as 20 percent of GDP – it becomes clear we must. As much as the fossil fuel industry wants to deny this reality, the truth is right in front of us. People around the world are calling out for truly sustainable development, powered by affordable clean energy. It's time for our leaders to listen.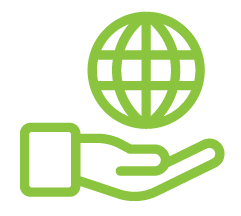 Before You Go
At Climate Reality, we work hard to create high-quality educational content like blogs, e-books, videos, and more to empower people all over the world to fight for climate solutions and stand together to drive the change we need. We are a nonprofit organization that believes there is hope in unity, and that together, we can build a safe, sustainable future.
But we can't do it without your help.
If you enjoyed what you've just read and would like to see more, please consider making a generous gift to support our ongoing work to fight climate denial and support solutions.