March 09, 2017 | 10:05 AM
The Climate Crisis Deserves Our Attention Right Now
When it comes to our changing climate, if we fail to reduce the fossil fuel emissions that are trapping the sun's heat and warming our world, we will soon cross a threshold – and there will be no turning back. It's just that simple.
We know the consequences of inaction, and in the Paris Agreement, world leaders agreed to limit global temperature rise to well below 2 degrees Celsius to avoid the very worst of these. But with oil insiders taking the place of climate champions in the US cabinet and other key federal positions, climate concerns have either been put on the backburner or are in the process of being undermined or rolled back in ways that favor Big Polluters like the coal and oil industries.
The relatively stable climate we've enjoyed since the last ice age has served as the foundation for civilization, making the crisis a truly existential threat. We simply can't wait to take climate action.
Here's why:
We are already experiencing the impacts of warming.

From intense rainstorms and severe droughts to powerful tropical cyclones and extreme heat waves, around the world, we are already beginning to see what a warmer future has in store for us – and it is not a pleasant sight. Rising seas are flooding coastal areas and quite literally swallowing entire islands. Some populations of animals have started to die out.
The climate crisis also has real and dangerous impacts on public health.
Even a rise of a degree or two makes a major difference. Consider the farms that depend on reliable seasons and predictable, consistent temperatures to grow specific crops in specific regions. Or the impact the difference between 0 and 1 degrees Celsius (or 32 and 33 degrees Fahrenheit) has on water.
For example, in just the last decade, 2 trillion tons of ice from the Greenland ice sheet has made its way into the Atlantic Ocean as fresh water, accelerating sea-level rise – a dire concern for the 39 percent of the US population that lives in counties directly on the coast.
If we fail to take action now to accelerate the transition to a clean energy economy powered by sustainable sources like solar and wind, the consequences will be devastating. 
We could see surface temperatures on Earth warm by more than 4 degrees Celsius (7.2 degrees Fahrenheit) by the end of this century if we keep burning fossil fuels without making any real efforts to cut emissions. Put as plainly as possible, this would transform the planet in ways that undermine its capacity to support a large and thriving human population.
A Handy Refresher on the Basics of Climate Change
Carbon pollution stays in the atmosphere for hundreds of years.

The reason our climate is changing is surprisingly straightforward: Human activities, such as burning coal and oil burning for electricity, industry, and transportation, have released large amounts of carbon dioxide (in particular), methane, and other greenhouse gases to Earth's atmosphere, causing our planet to warm. These gases trap the sun's energy as heat. So as we continue to dump more of them into the atmosphere, things keep getting hotter and hotter.
But even if we stopped emitting carbon pollution entirely today, our world would continue to warm for a long time. Once it's burned and goes into the atmosphere, carbon can stay there trapping heat for up to 200 years.
According to NASA, the levels of carbon dioxide in the atmosphere today are higher than they have been at any time in the past 400,000 years, and in 2013, CO2 levels surpassed 400 parts per million (ppm) for the first time in recorded history. Just three years later, levels exceeding that crucial benchmark became a permanent state.  
"If fossil-fuel burning continues at a business-as-usual rate, such that humanity exhausts the reserves over the next few centuries, CO2 will continue to rise to levels of order of 1500 ppm," NASA writes. "The atmosphere would then not return to pre-industrial levels even tens of thousands of years into the future."
Download Your Make It a Reality Action Kit
The longer we wait to address this problem, the more difficult and expensive it will get.

The climate crisis will have serious consequences on our food, national security, and water. It will affect the safety of our communities and in many places determine where we are even able to live. It will impact, in ways both big and small, every basic human need.
Our lives are connected to the climate in ways many of us take for granted, so it stands to reason that adapting to any changes – particularly as the warming cycle rapidly accelerates – will be extremely challenging. But the further we travel down the road toward certain climate outcomes, the fewer options we will have to course-correct.
Today, we can still mitigate the worst outcomes of the climate crisis by transitioning from dirty, dangerous fossil fuels to clean, renewable energy. But the longer we wait to fully embrace the already underway green energy revolution, the more severe the impacts we will have to deal with.     
Beyond the obvious moral concerns of these stakes, the climate crisis carries enormous financial costs – costs that only rise as natural systems are further disrupted by warming and the effects of climate change become ever-more severe.
We are already paying for climate change, of course, as extreme weather events like floods, droughts, heat waves, and hurricanes exact enormous damage and climate-related forest fires devastate massive swaths of area, causing billions in damages. But what we've seen so far is just the tip of the melting iceberg.
The exact cost of inaction on climate is difficult to calculate for many reasons; however, banking giant Citigroup estimated in 2015 that climate inaction could cost up to $44 trillion by 2060, while the Brookings Institution suggested that unmitigated climate change could shrink the global GDP by more than 20 percent by 2100.
Ready to Take Action?

The point is, the climate crisis is already happening – but how much global temperatures rise in the future is up to us.
Achieving net zero carbon emissions by the second half of this century is essential to the long-term health of the planet. It is an attainable goal if we act now to transition to clean energy technologies. We can limit global warming to well below 2 degrees Celsius (3.6 degrees Fahrenheit), while also creating many, many new jobs in fields as diverse as construction, transportation, manufacturing, research and development, operations, engineering, and much more. But we can't do it alone.
We must not sit idly by while climate action is stalled by political obstruction and unfounded denial. Together, we'll continue to fight back against policies that will roll back the progress we've worked so hard for over the next four years and beyond.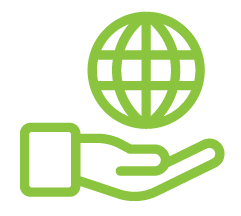 Before You Go
At Climate Reality, we work hard to create high-quality educational content like blogs, e-books, videos, and more to empower people all over the world to fight for climate solutions and stand together to drive the change we need. We are a nonprofit organization that believes there is hope in unity, and that together, we can build a safe, sustainable future.
But we can't do it without your help.
If you enjoyed what you've just read and would like to see more, please consider making a generous gift to support our ongoing work to fight climate denial and support solutions.