April 28, 2014 | 2:22 PM
Climate Reality Leader Desmond D'Sa Wins Goldman Environmental Prize
Desmond D'Sa didn't need a team of lab scientists to tell him that companies were dumping all kinds of toxic waste in his backyard and that was bad news. He could just smell it.
Living in South Durban in South Africa, next door to over 300 industrial facilities ranging from oil and gas refineries to chemical plants to paper mills, D'Sa had gotten to know what trouble smelled like. The area is home to nearly 70 percent of the nation's industry and 300,000 people—predominantly from low-income and working-class backgrounds—who were relocated by the government to work in the plants during the apartheid era. This forced relocation isn't the plants' only legacy, as the chemicals they produce has led to such high rates of cancer and unusually high rates of asthma and bronchitis that the region has earned the name "Cancer Valley."
D'Sa had arrived in Cancer Valley when he was only 15, just one of many sons in many families who were forcibly moved to the area for work. And he'd gotten to know just what the plants were doing to the local environment firsthand by working in several chemical factories. It was enough to inspire him to want to do something about it, and in 1996, he co-founded the South Durban Community Environmental Alliance (SDCEA) to bring local residents together to fight back.
And they did. Back in 1990, a major waste management company named Wasteman had opened a toxic waste dumpsite for the hazardous leftovers of area industry without as much as consulting local residents. The result was huge trucks illegally rumbling through residential communities and spilling all kinds of toxic materials from solvents to paint thinners to pesticides, poisoning the air, leaching into the soil, and contaminating the groundwater.
D'Sa and SDCEA had run a campaign for many years to close down the facility for good, but without much success. After all, they were local activists taking on a national corporation not much inclined to listen when it didn't have to.
That picture changed in 2010, when Wasteman's lease came up for renewal and the company applied for an extension until 2021. D'Sa and SDCEA knew an opening when they saw it and quickly started organizing the diverse and historically disenfranchised residents of South Durban into a unified and powerful force. When public comment forums opened up, residents were there to speak up, armed with an understanding of their constitutional rights and stories of lives transformed by the plants. When drivers wanted to speed right by the plants, residents were there with huge demonstrations on major highways highlighting the illegal trucking and attracting media attention to their cause.
As reporters tuned into the unfolding protest, D'Sa knew he had a compelling story to tell, but he also knew residents had to understand and document exactly what was happening to them if they were going to really ignite public empathy and outrage. The trouble was, they didn't have access to sophisticated scientific equipment to monitor the pollutants in the air they were breathing every day.
What they did have was their noses. D'Sa quickly transformed local residents into researchers by creating and sharing a Smells that Kill worksheet throughout the community. The sheet translated the presence of chemicals like sulfur dioxide into familiar smells like rotten eggs and pointed to the specific industries causing them and the impacts like nausea and headaches they created. Before long, residents knew what they were up against, and pretty soon, reporters and the general public did too.
Thanks to these efforts, public opposition to the landfill grew and Wasteman was forced to abandon its plans in August 2010. Then in November 2011, the facility officially closed and ceased all operations.
It was an important victory, both for D'Sa and the South Durban community, but one that came at a real cost. D'Sa's home was firebombed during the campaign, leaving him suffering from burns and his family suffering from the trauma.
In recognition of D'Sa's incredible bravery and achievements, he was selected as one of six grassroots activists around the world to receive the Goldman Environmental Prize. The prize is the most prestigious of its kind in the world and pays tribute to grassroots environmental activists' "sustained and significant efforts to protect and enhance the natural environment, often at great personal risk." 
Here at Climate Reality, we're very proud that this year Desmond D'Sa became not only a Goldman Prize winner, but also a Climate Reality Leader. D'Sa attended the Climate Reality Leadership Corps training in Johannesburg in March along with 700 other leaders, including fellow Goldman Prize winners Ikal Angelei and Jonathan Deal. Already, he's taking the knowledge and skills he gained to mobilize his community to oppose the Port of Durban's expansion plans. The port—the busiest in Africa—would displace thousands of people through the expansion and worsen a host of environmental problems in the area, from waste to pollution to traffic. The port also has the potential to exacerbate climate-change risks, such as sea-level rise and coastal storm surges, something D'sa hopes to prevent through opposition of the expansion project.
D'Sa's extraordinary story is just one of countless ones we hear almost daily of Climate Reality Leaders inspiring their communities to step up and act. The planet needs more, though, and that's why we're training thousands more with events in Australia in June and Brazil in November. You can join D'Sa and Climate Reality Leaders around the world building support for climate solutions and helping create a healthy and sustainable future for us all. Visit www.climaterealitytraining.org to learn more and apply.
[Images courtesy The Goldman Environmental Prize]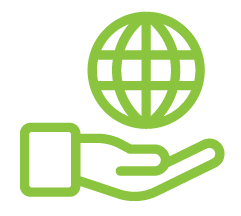 Before You Go
At Climate Reality, we work hard to create high-quality educational content like blogs, e-books, videos, and more to empower people all over the world to fight for climate solutions and stand together to drive the change we need. We are a nonprofit organization that believes there is hope in unity, and that together, we can build a safe, sustainable future.
But we can't do it without your help.
If you enjoyed what you've just read and would like to see more, please consider making a generous gift to support our ongoing work to fight climate denial and support solutions.