July 21, 2016 | 12:43 PM
The Alliance for Climate Protection®: This Climate Reality Leader Fought Big Coal in her Backyard. You Can Too.
For a lot of people, the line "Think global. Act local." is mostly just a slogan they see on a bumper sticker. For Climate Reality Leader Jill MacIntyre Witt, it's something of a personal mission.
Locals know Jill's home town of Bellingham, Washington as "The City of Subdued Excitement" (Google it). But you'd never believe the "subdued" part from the way the town has become the epicenter of anti-coal efforts in the Pacific Northwest, as activists have battled plans for a coal export terminal. And Jill has a lot to do with that.
Her journey to leading the local climate fight in a part of the world she dubs "the black line that separates the US and Canada" actually began thousands of miles away from that line, in Australia. Back when she was studying environmental biology in college, she had the chance to study the algae of the Great Barrier Reef. There she saw right up close the complex relationships between the plants and animals, and it sparked something in her.
"I had this aha moment that if every single person on Earth could see the reef and the connections of hundreds of species living together and how fragile that ecosystem is, maybe people would want to protect it," she says. "Everyone needs something to connect with, something that makes them take action."
When she returned back to the States, she found her passion guided towards helping others learn how to protect our planet. Something turned her attention to specifically focus on climate change and the warming temperatures behind it. And that something? A film called An Inconvenient Truth.
She recalls breaking down and crying in her seat at that part of the film when Al Gore says future generations will ask us why we didn't do anything when we had the chance.
Standing outside unlocking her bicycle, she remarked to her husband, "Al Gore needs to duplicate himself. There can't be just one person going from town to town giving this slideshow! There needs to be people everywhere!"
Soon she would become one of those people. Soon she would find a new challenge, training as a Climate Reality Leader in San Francisco in 2012. As everyone went around the table describing why they wanted to become a Climate Reality Leader, Jill – then in Bellingham – said she wanted to help stop the construction of the Gateway Pacific Terminal, which would be North America's largest coal export terminal. And which would be built – if everything went according to the plans then circulating – just north of town, meaning trains spewing coal dust chugging through the streets she knew and carrying coal destined for Asia.
"They said 'That's awesome!'" says Jill. "'Awesome' meaning: what an amazing opportunity for our town to win a huge fight against climate change."
To many, the thought of people in a town of just over 82,000 – in a county of only 200,000 –taking on the fossil fuel industry in a local fight with global implications might sound a little, well, ambitious. If not outright crazy. But that's what happened.
Jill, drawing on her training as a Climate Reality Leader and work with 350.org, got serious about organizing local opposition to the terminal over the next five years, organizing marches, holding public comment workshops, getting candidates opposed to the terminal elected, building coalitions, and educating others in Bellingham about what was at stake. (As just one indicator of how committed she was as a Climate Reality Leader, she gave over 25 presentations of the very slideshow that had inspired her in An Inconvenient Truth in the first year alone.) And by bringing people in Bellingham together with others across Whatcom County and the local indigenous neighbors, the Lummi Nation, she helped stop the coal project dead in its tracks in 2016. Awesome indeed.
As exciting as the victory was, Jill's fight against dirty coal was only the beginning. Because when the US Department of the Interior, in the process of reviewing the entire federal coal program, announced a temporary moratorium on new coal leases on public lands, she knew she had to do something. Once again, starting close to home. So she helped rally a group of a dozen Climate Reality Leaders to testify at a Department of the Interior hearing on coal leasing in Seattle, arguing that it's time to make the moratorium permanent.
Jill (at left) joined Climate Reality Leaders and supporters in Seattle to support a permanent coal moratorium on federal lands.
If a small city of subdued excitement can help halt the shipment of coal across the Pacific, then surely thousands of us from across the country can send a message to Big Polluters, and the global community looking to us to uphold our Paris pledge, that our public land here in the US will not be used to contribute to climate change. When nations like India, China, and others see we're serious, they step up too and the whole world moves forward together.
Like all great Climate Reality Leaders, Jill's got a lot more planned for the climate fight in her backyard. But coal leasing on public lands affects backyards that belong to all of us, so let's stand with her today.
WE HAVE A LOT OF WORK AHEAD OF US. ARE YOU READY TO START?

Sign up now to receive updates from Climate Reality. We'll deliver ways for you to take climate action, right to your inbox.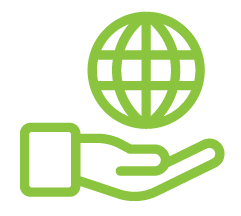 Before You Go
At Climate Reality, we work hard to create high-quality educational content like blogs, e-books, videos, and more to empower people all over the world to fight for climate solutions and stand together to drive the change we need. We are a nonprofit organization that believes there is hope in unity, and that together, we can build a safe, sustainable future.
But we can't do it without your help.
If you enjoyed what you've just read and would like to see more, please consider making a generous gift to support our ongoing work to fight climate denial and support solutions.