March 20, 2015 | 10:00 AM
Come On, Get Happy! Five Reasons to Smile on the International Day of Happiness
Today is a special day.
Here's why: Every year, on March 20, the world marks the International Day of Happiness, established by the United Nations to celebrate and promote "the happiness and well-being of all peoples."
In a world with more than enough problems - from social conflicts to climate change, we believe it's extremely valuable to pause and celebrate how far we've come – and how much is possible for the future. After all, more people than ever are calling for climate action. And that alone gives us hope for a strong global agreement to cut greenhouse gas emissions this year. 
With that in mind, here are five reasons that climate action can make you smile today.
1. President Obama signed an executive order requiring the US government to reduce emissions by 40 percent below 2008 levels by 2025.

President Obama continues moving forward with his Climate Action Plan with an order to rein in the US government's carbon pollution. By cutting the emissions of the federal government agencies and some of its major suppliers by 26 million metric tons, these measures will:
Save $18 billion in avoided energy costs
Ensure 25 percent of their total energy consumption is from clean energy sources by 2025
Reduce energy use in federal buildings by 2.5 percent per year between 2015 and 2025
The greenhouse gas savings will be like taking nearly 5.5 million cars off the road for a year. And that's one reason to be happy. 
2. The EU has promised to reduce emissions at least 40 percent below 1990 levels by 2030. 

Need another reason to smile? In March, the European Union submitted a formal pledge that it intends to cut greenhouse gas emissions by 40 percent below 1990 levels by 2030 as part of upcoming UN negotiations in Paris beginning this November. By taking the first stand, the EU is setting a strong example for other major emitters like the US, China, and other G20 countries.
3. A solar plane is halfway done with the first-ever flight around the world using only solar energy.

Would you fly across your state in a solar plane? How about across your country? How about even farther?
For those of you concerned about the limits of solar power, the Solar Impulse 2 is on a mission to set the record straight. The plane is on a round-the-world journey to prove that fossil fuel-free, pollution-free air travel isn't just feasible – it's a reality. And its day in the sun has just arrived.
4. Notable climate advocates from former Vice President Al Gore to Prince Charles are optimistic about a global climate agreement this year.  

Why we must, can and will solve the climate crisis: http://t.co/1nfP8BWO63 #ClimateHope

— Al Gore (@algore) March 17, 2015
Arnold Schwarzenegger. Hillary Clinton. Richard Branson. Mary Robinson.
Get them in a room together, and you'd have hard time getting them to agree on anything – except, that is, climate action.
In addition to countless citizens joining the People's Climate March and taking action online, political and business leaders are raising their voices, too. And when all of us get together, we're a real force to be reckoned with.
5. Global carbon emissions were flat in 2014 – while the global economy kept growing. 

Carbon dioxide emissions from the world's energy producers stalled in 2014 - for the first time in 40 years http://t.co/Jq0KqMF6g2 #Energy

— IEA (@IEA) March 17, 2015
Cutting greenhouse gas emissions doesn't mean sacrificing growth – in fact, it can even help jumpstart growth. Last year, 2014, marked the first time ever that the global economy grew but energy-related CO2 emissions did not. Which goes to show that making the switch to clean energy won't hurt our economic stability. And that's worth smiling about.
Ready to do your happy dance?

Now that we've brought a smile to your face with a bit of #ClimateHope, help spread the joy. Join Pharrell Williams' Global Happy Party by uploading your photo at globalhappyparty.com. 
Then, be sure to demand climate action now by signing the Live Earth petition. After all, to have a happy planet, we need a happy climate.
Finally, at 5 PM ET today, tune in to UN TV to watch Pharrell Williams , students, and leading environmental experts discuss how to tackle climate change.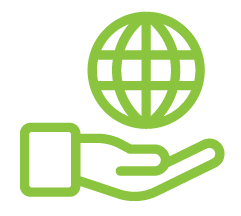 Before You Go
At Climate Reality, we work hard to create high-quality educational content like blogs, e-books, videos, and more to empower people all over the world to fight for climate solutions and stand together to drive the change we need. We are a nonprofit organization that believes there is hope in unity, and that together, we can build a safe, sustainable future.
But we can't do it without your help.
If you enjoyed what you've just read and would like to see more, please consider making a generous gift to support our ongoing work to fight climate denial and support solutions.