September 13, 2016 | 12:46 PM
Coming Together on Climate Solutions
Over the past few years we have witnessed two watershed trends in the movement for effective climate solutions: on one hand, historic progress has been made at the international level with multinational pacts such as the Paris Agreement and the binational agreements between the United States and China. On the other hand, we've seen action for climate solutions crop up in and across America in unexpected places, like doctor's offices, churches, and local communities.  Some might say a church can't make a difference, but collectively these unexpected actions may have as big of an impact as the international ones. 
Local leaders from many backgrounds have joined the ranks of committed climate advocates. Their passion for climate action does not stem from political motivations, but rather from a desire to create thriving communities, protect public health, and an acceptance of the moral responsibility we face to our children and others. 
For the past five years the American Climate Leadership Summit (ACLS) has brought together these leaders to collaborate on plans and priorities to accelerate climate leadership. By working together, these leaders have the potential to reach millions of Americans. We caught up with Mark Tercek, president of The Nature Conservancy; Ken Berlin, president and CEO of The Climate Reality Project; and Robert Perkowitz, president of ecoAmerica, to hear their vision behind the 2016 American Climate Leadership Summit.
"Climate change isn't just an environmental problem," said Mark Tercek. "Its impacts are touching down everywhere you look, from food production to human health to water quality and scarcity. The changes we're seeing are real. They're happening now. And they require bold action from leaders across all sectors."
"The Nature Conservancy is proud to be part of the American Climate Leadership Summit," Tercek continued. "It's encouraging to see leaders from all sectors come together to advance pragmatic, collaborative solutions to the biggest challenge of our time. By bringing each of our strengths and perspectives to the table, I believe we can accelerate progress in a significant way."
"Two years ago this month, hundreds of thousands marched together in New York in a unified call for urgent climate action," reflected Ken Berlin.  "The march was not only historic because of its size, but also because of its inclusive nature and diversity of participants. This moment helped mobilize the climate community and set the stage for the success we witnessed last year in Paris."
"Despite this tremendous achievement, now is not the time to rest," Berlin continued.  "On the contrary, the need to expand the chorus of voices calling for climate action has never been greater.  We are honored to be a part of the American Climate Leadership Summit, and thrilled to continue working with ecoAmerica and its partners to empower messengers who can bring the story of climate solutions to kitchen tables and water coolers across the country."
Robert Perkowitz notes that, "Polls indicate Americans are becoming ever more aware and concerned about climate change.  It's moving from an environmental issue to a public issue that is affecting everyone – all our communities, businesses, churches, hospitals. So, Americans are not just urging the government to take action, they are taking action themselves." Perkowitz continued, "The American Climate Leadership Summit, hosted by ecoAmerica, The Nature Conservancy, Climate Reality, and the MacArthur Foundation, gives leaders from all these sectors the opportunity to come together, connect with and learn from their peers, as well as from the leading environmental organizations in America."
These three leaders, at the forefront of the climate solutions movement in America, are convinced that climate leadership will continue to grow in America.  The impacts of climate change are now widespread and obvious, and these leaders are working together to help Americans understand and effectively act on climate change in their own organizations and communities. Climate advocacy should not be consigned to massive global arenas.  After all, building thriving communities for ourselves and future generations is hardly a special interest.
Follow live updates of the American Climate Leadership Forum on Twitter #USClimateLeadership.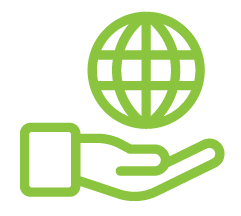 Before You Go
At Climate Reality, we work hard to create high-quality educational content like blogs, e-books, videos, and more to empower people all over the world to fight for climate solutions and stand together to drive the change we need. We are a nonprofit organization that believes there is hope in unity, and that together, we can build a safe, sustainable future.
But we can't do it without your help.
If you enjoyed what you've just read and would like to see more, please consider making a generous gift to support our ongoing work to fight climate denial and support solutions.