July 18, 2014 | 3:00 PM
Cool off with free ice cream!
Climate change means our summers are getting too hot. But that doesn't mean you need to melt on the streets all alone. Next week, you can join us and take action to protect our climate … and cool down with free Ben & Jerry's!
From July 29-31, the EPA will hear from the public on the proposed Clean Power Plan – which attempts to address the biggest source of harmful carbon pollution in the United States: power plants.
These hearings are so important that we're posting up in crowded spots all over Denver for two days with Ben & Jerry's ice cream trucks re-commissioned as mobile action centers to raise awareness, gather support, and best of all, pass out free scoops of Ben & Jerry's ice cream.
See below for event details, and follow @ClimateReality for up-to-the-minute truck locations. Then click here to RSVP and we'll have a free #ImTooHot sticker waiting for you at your location. 
Pittsburgh
Wednesday, July 30
• 11:00AM to 8:00PM: Market Square
Thursday, July 31
• 8:30AM to 1:00PM: William S. Moorhead Federal Building, 1000 Liberty Avenue
• 1:30PM to 6:00PM: University Center at Carnegie Mellon University
Atlanta
Monday, July 28
• 11:00AM to 8:00PM: Peachtree and 7th
Tuesday, July 29
• 8:30AM to 1:00PM: EPA Hearing at The Omni Hotel at CNN Center, North Tower, Level M4, 190 Marietta St NW
• 1:30PM to 6:00PM: Broad Street and Walton
Denver
Monday, July 28
• 11:00AM to 8:00PM: 16th Street Mall (Curtis St. between 15th and 16th)
Tuesday, July 29
• 8:30AM to 1:00PM: EPA Region 8 Building,
  1595 Wynkoop Street
• 1:30PM to 6:00PM: Union Station
Washington D.C.
Monday, July 28
• 11:00AM to 3:30PM: Capital South Station
• 4:00PM to 8:00PM: Union Station
Tuesday, July 29
• 8:30AM to 1:00PM: EPA Headquarters,
  William Jefferson Clinton East Building, 1201 Constitution Ave, NW
• 1:30PM to 6:00PM: Freedom Plaza
The EPA's proposed limits on carbon pollution are historic. They send a clear message to Big Polluters that it's time for them to clean up their act, and cool it with the carbon pollution. Be a part of history and join us at one of the I'm Too Hot truck locations in Atlanta, Washington D.C., Denver, or Pittsburgh. 
See you at the truck! 
Sustainability
All activities related to the #ImTooHot mobile action centers are being tracked and verified carbon offset projects are being supported to neutralize the emissions from event-related travel, waste and energy. 
We have selected Ben and Jerry's as our ice cream partner and are proud of their efforts to pioneer socially responsible business practices and sustainability efforts which include:
• 100 percent of U.S. pint containers are made with FSC Certified paperboard; 
• Monitoring emissions and has specific emissions reduction targets; 
• Monitoring water usage and increased % of water recycled on-site bi-annually; and,
• Offsetting greater than 50 percent of emissions with certified carbon offsets.
Photo © 2013 m01229/Flickr cc by 2.0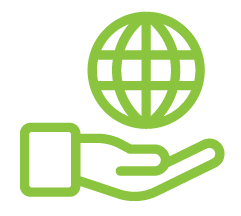 Before You Go
At Climate Reality, we work hard to create high-quality educational content like blogs, e-books, videos, and more to empower people all over the world to fight for climate solutions and stand together to drive the change we need. We are a nonprofit organization that believes there is hope in unity, and that together, we can build a safe, sustainable future.
But we can't do it without your help.
If you enjoyed what you've just read and would like to see more, please consider making a generous gift to support our ongoing work to fight climate denial and support solutions.