October 22, 2015 | 11:46 AM
Debbie Dooley Is Changing How Conservatives Think About Clean Energy
Reposted with permission from Planet Experts
It's fair to say that the Republican Party, in general, has a contentious relationship with climate change and, to a lesser extent, clean energy. It's the party's intransigence on this issue and others that led Louisiana Governor Bobby Jindal to urge his fellow Republicans to "stop being the stupid party" in 2013. Because of a near-unanimous consensus among the scientific community that human-made climate change is an issue, and strong arguments that clean energy is good for the US economy, acting on these issues would seem to be a political slam dunk. And yet the majority of Congressional Republicans are still skeptical.
But that skepticism does not extend to all conservatives. In fact, one conservative in particular has been doing her best to change how right-leaning Americans think about alternative energies. That conservative co-founded the national Tea Party movement in 2009, is now the chairman of the Atlanta Tea Party, co-founded the Green Tea Coalition and is the founder of Conservatives for Energy Freedom.
That conservative is Debbie Dooley, and Planet Experts had a chance to speak to her while we attended the Climate Reality Leadership Corps training in Florida.
Debbie Dooley: Founding a Green Tea Party

The Climate Reality Project was founded by former Vice President and Nobel Laureate Al Gore in 2006. Since that time, it has worked to spread climate change awareness and help usher in "a healthy, sustainable, and prosperous future by making a planet-wide shift from dirty fossil fuels to clean, reliable, and affordable renewable energy." This past week, the Project convened in South Florida – what some have dubbed the "ground zero" of American climate change – to train the latest batch of environmental leaders. Leading the training were several key speakers, including Dooley.
Dooley is not your typical green activist. She has been involved with Republican politics since 1976 and was one of the 22 people that founded the Tea Party movement in February 2009. It was only a few months before the founding of the Tea Party that Dooley's grandson was born, which she considers the major turning point in her environmental views.
"When you have a grandchild, you really start thinking more and more about the future," she told Planet Experts.
Fast forward to 2012 when Georgia Power – a public utility that serves some 2.4 million customers – was experiencing massive cost overruns on its two nuclear reactors at Plant Vogtle (delays at the plant are now expected to push the total cost of the project to $14.5 billion). As a Georgia Power customer, Dooley was forced to pay for the energy she would eventually receive from this plant in advance. She did some research on the project and discovered something that both disturbed and infuriated her.
"I found out Georgia Power was actually making a guaranteed profit of 10.5 to 11 percent off of the cost overruns," she said. "One thing people don't realize is that these monopolies… every time they have to go out and construct a nuclear plant or new power plant, they make a profit off of the construction cost. So the more it costs, the more money they make."
Dooley immediately began looking into competitive forms of energy generation that could challenge the current system of energy monopolies. "I soon found out that a lot of the information that we've been given about solar from conservative groups was absolutely not true," she said.
Most of what Dooley had heard about solar had revolved around solar subsidies and the Solyndra scandal. "Well," she said, " there's a lot of atomic Solyndras in this nation." One example: Duke Energy, which has thus far charged its Florida customers $3.2 billion in "advance fees" for two failed nuclear projects that may never be completed. "Their rate payers are still paying," said Dooley. "The customers have to pay for it and [Duke] makes a profit off of it."
Meanwhile, solar energy is cheap, plentiful and offers a monopoly-busting solution to generating electricity. For Dooley, the choice was an easy one: "I said solar's the way to go."
Fighting Misinformation About Green Energy

Solar subsidies. They come up often in Congressional conversations about the cost of renewable energy. Because the government is discounting the cost of solar, the argument goes, it's really costing the taxpayer in the long run. Why rock the boat when we have cheap oil, coal and natural gas?
"Solar does have subsidies," said Dooley. "But all of the energy forms have been subsidized. Coal received its first subsidy in 1932 and is still receiving massive subsidies. Nuclear is heavily subsidized. There's oil companies that are actually drilling and doing exploration on land owned by taxpayers and, in many cases, they don't have to pay any royalties whatsoever or pay a leasing on that… You don't hear anybody talking about [fossil fuel] subsidies."
In the first 15 years of nuclear, said Dooley, government research and development for the energy added up to about one percent of the federal budget. When Dooley meets with conservatives, she shows them the figures that support this, then hits them with the truth about solar subsidies: During the first 15 years of solar, those subsidies have not accounted for even one-tenth of one percent of the federal budget.
Last year, the Overseas Development Institute and Oil Change International concluded that a conservative estimate of global fossil fuel subsidies totals $775 billion, with an additional $88 billion per year spent on exploring further fossil fuel deposits.
"Every conservative that I talk to that raises the question about solar subsidies – and I educate them about the massive subsidies that other energy forms have received and are still receiving – they say to me, all energy subsidies, both direct and indirect, need to end," said Dooley. "And if you end one then you need to end them all or you are allowing the government to pick winners and losers. And that's the way I address that."
When framed in this way, alternative energy becomes much more appealing to Republicans, because that's what their party is all about: Healthy competition in the market without government interference. Dooley really hammers at the fact that, in its current state, America's energy utility model is a monopolistic system whose winners and losers are very much hand-picked by the government. It's a topic that Planet Expert Peter Banner has revisited several times.
"If the utility companies fail to recognize and acknowledge that their traditional business model is obsolete," he recently wrote, "it is incumbent upon the various state legislatures and public utility regulators to recognize this and refrain from propping them up and implementing band aid fixes to an obsolete business model. Public utilities are often a necessity, and in some cases natural monopolies, and have a place in society, but their structure and mandates need to be adaptive, responsive to changing technologies and societal needs."
Solar Successes

Thus far, Dooley has achieved major success in bringing mainstream solar to Georgia, a state that was previously lacking in its alternative options. In 2013, said Dooley, "we were advocating for our Georgia Public Service Commission to encourage Georgia Power to add more solar to their integrated resource plan. There was a lot of pushback. Americans For Prosperity did not want that."
Americans For Prosperity (AFP) is a political advocacy group funded by the Koch brothers, two of the richest industrialists in America. While Dooley was trying to change Georgia's mind on solar, AFP "put out information that was outright lies about what was being proposed."
"We presented a conservative message of free market choice," said Dooley, "[that] we need to expand our energy portfolio and that solar power has actually plummeted in price. Americans For Prosperity actually ran a campaign saying, 'Keep the Lights On in Georgia,' and they said that rates would increase 40 percent, and your small appliances would no longer function because there'd be brownouts with more solar. And this was utility-grade solar! And so we called them out."
Dooley and her organization began to educate activists about alternative energy, decentralized energy, rooftop solar and the current state of monopolies in America's energy system. "We won that battle in Georgia," said Dooley proudly, "which is a big red state. The Republicans control every branch of state government, including the Georgia legislature, and they just passed this year a Power Purchase Agreement bill that will allow third-party leasing of solar, and will allow consumers to have solar panels installed on their rooftops with no upfront costs – they'll just enter into an agreement with a solar developer to purchase that power."
This time, the PPA "sailed through" the legislature, said Dooley, and it had everything to do with how the message was framed. "Previous to 2013," she explained, "conservatives were just hearing 'we need to go solar because of climate change' and all that. I presented a different message: A free market choice competition and empowering the consumers."
It's not just for tree-huggers, clarified Dooley, and now Georgia is one of the top states in the nation for creating clean energy jobs.
Since that victory, Dooley has traveled to other states to help in the solar battle. She flew to the capital of Indiana where she encouraged conservatives to pull their support for an anti-solar bill. She's working in Florida to undo its severely anti-solar policies. She's fighting the Koch brothers just about everywhere.
"I'm fighting fossil fuel/Koch brothers-funded groups nationwide," she said. "I was in Louisiana last week and it's always the same players and they say the same things. Sometimes I think all these different Koch-funded groups share the same brain, because they use the same talking points."
Her Message to Conservatives: It's a National Security Issue

As a speaker at the Climate Reality Leadership seminar, Dooley emphasized the need for environmental leaders to include conservatives in the conversation, no matter how intractable they may seem.
"Don't make the mistake of thinking just because someone is a Republican or conservative that there's no need to talk to them about clean energy and climate change," she said. For a conservative, Dooley explained, environmentalism alone may not be a strong enough argument. But the free market, national security? Those are solid issues conservatives can latch onto and support.
"I have not spoken to one conservative that has said 'man is not damaging the environment,'" said Dooley. "Everyone agrees. They don't call it climate change, but they are fully aware that man is damaging the environment."
Organizations like AFP that "fight strongly against solar because they want to protect the financial interests of the Koch brothers" are doing a disservice to the future of both the United States and its people, said Dooley. "For God's sake," she added, "you're talking about the future of our children and great-grandchildren!"
To sum up the situation, Dooley likened it to teaching her kids to cross the street. "When my kids were growing up and we crossed the street, I knew, whether or not there was a car coming, I had to train them to look both ways. Because you never know when a car will come out of nowhere and BOOM," she said with a swift clap of her hands. "We have to think about the future and what the world will be like for future generations.
"The United States when we're combating terrorism and engaged in war, we spare no expense to make sure we win. And this attention should be focused to make sure it's more fiscally responsible to prevent damage than to come in and clean it up after the fact. That's something I wish more Republicans and conservative groups would focus on."
After all, Europe is, for the most part, way ahead of the US in terms of climate change legislation. It's time for the US to catch up.
"The world is passing us by," said Dooley. "Elected officials need to put their differences aside so that the United States can lead the world on energy and let innovation take place so we're not reliant on foreign oil."

Nicole Landers contributed to this report. Follow her @girliegreen.
More stories from Planet Experts' Climate Reality series: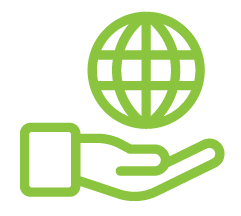 Before You Go
At Climate Reality, we work hard to create high-quality educational content like blogs, e-books, videos, and more to empower people all over the world to fight for climate solutions and stand together to drive the change we need. We are a nonprofit organization that believes there is hope in unity, and that together, we can build a safe, sustainable future.
But we can't do it without your help.
If you enjoyed what you've just read and would like to see more, please consider making a generous gift to support our ongoing work to fight climate denial and support solutions.