December 08, 2015 | 11:55 AM
Do Solar Panels Still Work When It's Cloudy?
Here at The Climate Reality Project, we're taking outdated information about climate change and setting the record straight, making sure the most up-to-date climate science is available to our readers. As part of that effort we're debunking the most common myths about renewable energies.
Earlier this month, we told you why solar technology is a reliable long-term source of energy. Then, we explored how solar panels are more affordable than ever. Now, we're confronting the claim that "solar panels aren't worth the cost because they don't work when it's cloudy or at night."
Myth: "Solar panels are not worth the cost because they don't work when it's cloudy or at night."

Fact: Solar power works even in cold or cloudy places, and new tools are allowing us to use it even when the sun goes down!
Because of the way the technology works, solar panels are just as effective—and usually more effective— in cooler temperatures as in hot ones.
And while it's true that clouds can affect the efficiency of solar panels, they can still produce enough power to be viable sources of electricity. Germany, for example, is a country that is not particularly warm or sunny, but is nevertheless the world leader in solar energy, generating more electricity with solar than nuclear power in July 2015.
Put on your sunglasses, because the future of solar is bright! #ClimateHope pic.twitter.com/AZ9gf7rSkZ

— Climate Reality (@ClimateReality) October 29, 2015
>> If you're ready for a future powered by clean, renewable energy, download our free Solar Myths Ebook  now to learn how solar energy can not only meet our energy needs, but can even help solve the climate crisis. <<
Innovations in managing the grid and new energy storage technologies are helping make renewable energy more reliable all the time, including when the sun isn't shining and at night. With larger, more integrated grids, better resource forecasting, innovative combinations of renewable technologies, and advanced energy management systems (like smart grids), we now have more tools available to make variable renewable energy technologies like solar more reliable than ever. At the same time, new energy storage devices like Tesla's Powerwall and Powerpack batteries — which can be used to store electricity when solar panels aren't generating energy — are starting to change the way we think about the timing of electricity production altogether.
In summary, as more renewable energy is added to the grid, it gives us clean electricity, diversifies our energy mix, and can even help bring quick and affordable power to areas that fossil fuels and traditional grids may not easily reach. In addition, innovations and new tools are allowing us to use more solar in our energy systems than ever before.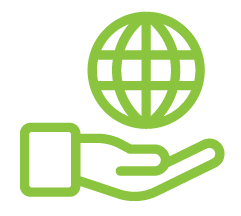 Before You Go
At Climate Reality, we work hard to create high-quality educational content like blogs, e-books, videos, and more to empower people all over the world to fight for climate solutions and stand together to drive the change we need. We are a nonprofit organization that believes there is hope in unity, and that together, we can build a safe, sustainable future.
But we can't do it without your help.
If you enjoyed what you've just read and would like to see more, please consider making a generous gift to support our ongoing work to fight climate denial and support solutions.