November 21, 2016 | 9:00 AM
What's Driving on the Road Forward?
The transportation industry contributes roughly 14 percent of global greenhouse gas emissions, mainly because almost all of the energy that powers our cars, airplanes, trains, and buses comes from dirty fossil fuels. But with the Paris Agreement now in effect, countries are looking for innovative ways to help people get from point A to point B while still meeting their carbon emissions reduction goals.
Enter: the electric vehicle.

Relatively new on the streets, global annual sales of electric vehicles – or EVs for short – have grown ten-fold in just five years. There are now more than one million EVs on the road today. That's one million cars not puttering around on dirty fossil fuels, and these numbers are projected to rise. More and more vehicles are plugging in every day.
The majority of these EVs have hit the road in countries like Norway and the United States, where there are incentives like tax breaks for owners. Recently, however, some new countries have gotten behind the wheel.
On December 5-6, 24 Hours of Reality: The Road Forward will shine a spotlight on a variety of solutions to the climate crisis, including EVs.
Canada

The Canadian city of Vancouver has implemented an initiative called the Greenest City Action Plan. It has 2020 targets for 10 different areas, including climate and renewables, green transportation, green buildings, and a lighter carbon footprint. In its most recent update, the city has shown huge progress, including a 21 percent decrease in vehicle kilometers (km) driven per person since 2007, 200-plus EV charging stations, 275 km of bike lanes, and so much more.
As of early 2016, Canada had more than 20,000 EVs on the road. That's more than double the number of EVs in the country at the end of 2014.
Australia

Down under in Australia, the country's first "electric highway" opened last summer, spanning 310 km and linking Perth to the Southwest. It consists of 12 publicly accessible charging stations that take just 30 minutes to fully charge a vehicle. That's barely enough time for a family of four to make a pit stop!
South Korea

South Korea has set ambitious targets for 30 percent of all car sales to be EV by 2020, while replacing all diesel buses with ones that run on natural gas and toughening other restrictions on diesel vehicles to boost the EV market. By 2020, there are plans to have fast-charging stations every two kilometers and 30,000 Level 2 charging stations – which take a bit longer to power up your EV – within the city of Seoul. And the government has plans to increase subsidies and cut sales taxes on EVs.
Learn more: How It's Supposed to Work: When Governments Walk the Walk on Climate
What's Ahead?

The road forward is clear: a clean-energy future is in our sights. We have a global climate agreement, so now is the time for bold action. Nations around the globe are meeting the challenges of the climate crisis head-on with strong leadership and practical solutions, and we're excited to share their stories with you.
Join us live on December 5-6 for 24 Hours of Reality, when we'll talk about a range of innovative solutions to the climate crisis including electric vehicles and much more.
Sign up for reminders for this global, interactive event right now.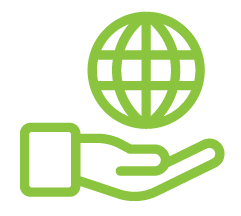 Before You Go
At Climate Reality, we work hard to create high-quality educational content like blogs, e-books, videos, and more to empower people all over the world to fight for climate solutions and stand together to drive the change we need. We are a nonprofit organization that believes there is hope in unity, and that together, we can build a safe, sustainable future.
But we can't do it without your help.
If you enjoyed what you've just read and would like to see more, please consider making a generous gift to support our ongoing work to fight climate denial and support solutions.