August 08, 2011 | 6:57 PM
Efficient cars and speedy buses: Together, they'll drive carbon pollution down
Source: epSos.de
Hear the news? The U.S. government has reached an agreement with major automakers on a significant increase in fuel economy standards. In addition to saving consumers trillions of dollars at the pump, the new standards will prevent an estimated 6 billion tons of carbon pollution from entering the atmosphere. The move from the current standard (23.7 miles per gallon) to a more stringent standard (54.5 miles per gallon by 2025) is certainly a step in a climate-responsible direction.
As you read up on the opinions about the updated standards, keep in mind that fuel economy isn't the only factor that affects the amount of carbon emitted from our vehicle fleet. The amount we drive, or "vehicle miles traveled," is also critical.
In spite of technological improvements, we're emitting more carbon from our cars and trucks because we're driving farther and putting more and more cars on the road. Over time, while we've engineered our cars to be more efficient, we've dramatically increased our vehicle miles traveled.
That's why recent reports from the Center for Clean Air Policy and World Resources Institute say that to achieve meaningful reductions in carbon pollution, we'll need to improve fuel efficiency and reduce vehicle miles traveled. How do we do that?
One great option is known as bus rapid transit. First tried in Curitiba, Brazil, bus rapid transit systems are cheaper to build than subways but still come with many of the benefits. With reserved driving lanes and pay-before-you-board policies to keep loading times to a minimum, the buses are a quick and dependable alternative to driving.
Jakarta, Indonesia, Mexico City, Mexico, and Cape Town, South Africa, each have constructed bus rapid transit networks of their own. And China (expected to soon finalize rigorous new fuel economy standards of its own) won this year's Institute for Transportation and Development Policy (ITDP) Sustainable Transport Award for its bus rapid transit system in Guangzhou.
Last month, ITDP's director explained that due to current budget realities, many U.S. cities could find it difficult to build new subways or light rail. It could be wise for the U.S. to look abroad to successful examples of bus rapid transit -- especially given the reality that improved fuel economy standards alone won't adequately curb carbon pollution coming from transportation.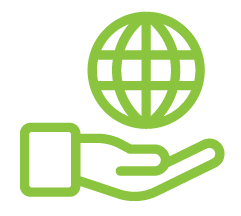 Before You Go
At Climate Reality, we work hard to create high-quality educational content like blogs, e-books, videos, and more to empower people all over the world to fight for climate solutions and stand together to drive the change we need. We are a nonprofit organization that believes there is hope in unity, and that together, we can build a safe, sustainable future.
But we can't do it without your help.
If you enjoyed what you've just read and would like to see more, please consider making a generous gift to support our ongoing work to fight climate denial and support solutions.