August 26, 2015 | 9:00 AM
Eight TED Talks to Understand Climate Change
With an issue as big as climate change, there's a lot to know and a lot of information out there. Actually, make that a staggering amount of information out there. And we're going to be honest: it can seem a little overwhelming at first.
So if you're trying to get a handle on everything from the latest climate science to breakthroughs in solutions to the universe of acronyms from EVs to the EPA, where do you start? We take the radical position that it never hurts to ask the smartest people you can find on a subject – and there are a lot of really smart people working on climate change. Of course, finding them was one thing, but between the realities of competing time zones and the costs of transatlantic travel, asking them all in person was another.
So we did the next best thing. Below are eight TED Talks to give you an overview of what's happening to our planet and what we can do to solve it. Enjoy.
Yes, It's Happening Now, and It Ain't Good ...

Let's start with the facts. The former director of the NASA Goddard Institute for Space Studies, James Hansen, lays out the basic science of global warming and why we need to act to address it. Immediately.
How can we be so certain? Climate scientist Gavin Schmidt describes how modeling the local changes happening everywhere add up to a big picture of a planet in transition.
From what's happening to our planet to what we can do to adapt. Lawyer Vicki Arroyo challenges us to start preparing for a world where extreme weather is the new normal: "There are no quick fixes. There are no one-size-fits-all solutions. We're all learning by doing. But the operative word is 'doing.'"
… But the Good News Is That It's Solvable!

"You can't make a peace treaty with a planet. You can't negotiate with the laws of physics . . . This is an enormous opportunity. It's an opportunity which we can use, or it's an opportunity which we can lose."
The father of climate economics, Lord Nicholas Stern, describes the combination of smart planning, structural transformations, and political pressure that mean, "We can make the next hundred years the best of centuries."
"I'm going to tell you how to get the United States completely off oil and coal, 5 trillion dollars cheaper, with no act of Congress, led by business for profit." Innovator and Rocky Mountain Institute Co-Founder Amory Lovins gives a road map for an energy revolution.
And Here's How

First, there's a role for business. If we're going to stop climate change, we need to start investing in the companies that can make a difference. Big time. Legendary Silicon Valley investor John Doerr describes the practical steps to avoiding eco-apocalypse.
Then there's the technology.
"If we can have a grown-up conversation, make a plan that adds up, and get building, maybe this low-carbon revolution will actually be fun." Information theorist David Mackay outlines what it will take to power the planet with clean energy – and why we need to get moving.
Most important, there's hope.
"How many generations in all of human history have had the opportunity to rise to a challenge that is worthy of our best efforts . . . I think we ought to approach this challenge with a sense of profound joy and gratitude." Our chairman, former Vice President Al Gore, brings a global challenge back down to the level of you and I – and dares us to be optimistic.
(And we'll confess that this was one speaker where we had trouble picking just one from numerous TED Talks. To see more, visit Vice President Gore's TED speaker page.)
The Take Away

Where do we go from here? Well, the most important step is securing a strong agreement to cut greenhouse gas emissions at the UN climate negotiations in Paris this December. You can help by speaking up with countless others around the world, all calling on world leaders to take action in Paris.
Then, stay in the loop with what's happening in the movement for climate solutions by signing up to receive updates from The Climate Reality Project.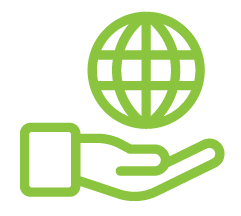 Before You Go
At Climate Reality, we work hard to create high-quality educational content like blogs, e-books, videos, and more to empower people all over the world to fight for climate solutions and stand together to drive the change we need. We are a nonprofit organization that believes there is hope in unity, and that together, we can build a safe, sustainable future.
But we can't do it without your help.
If you enjoyed what you've just read and would like to see more, please consider making a generous gift to support our ongoing work to fight climate denial and support solutions.