January 10, 2018 | 10:00 AM
Finding Hope: Keeping up the Fight in a Tough Year
From seeing the cabinet stacked with friends of the fossil fuel industry to listening to the president announce US withdrawal from the Paris Agreement to watching the new head of the Environmental Protection Agency try to roll back the Clean Power Plan, we took some big hits in the past 12 months.
Seeing what's happening in DC, a lot of us have wrestled with the same question: What do you do?
Do you give up and look away? Just get back to everyday life and cross your fingers that it'll all work out in the end? Or do you discover some new strength and decide that DC politicians can say what they want, you're going to keep fighting for a future we can be proud to pass to the next generation?
The good news for the millions of us who aren't cashing checks from the oil and gas industry is that millions of us chose the latter and are still spreading the word about the crisis, still pushing our cities and towns to go 100 percent renewable, and still working for solutions in countless ways in our own communities.
With 2017 now in the history books, we're talking with some of the regular Americans who are keeping the country moving forward in 2018, despite what's happening in DC. We're starting with Jim McFarlane, an activist from Gainesville, Florida and a Climate Reality Leader, trained in Denver in March 2017.
Climate Reality: You've been working to raise awareness of climate change for a long time now. What first prompted you to get off the sidelines and get involved as an activist?

Jim McFarlane: The awareness of climate issues started way back. In the 80s I was teaching earth science, meteorology, and ocean oceanography, so I was very aware of the effect greenhouse gasses on our atmosphere, the potential temperature increase and sea-level rise. Last year I made a number of presentations on living shorelines and, with every one, I seemed to be coming to the points of ocean temperature and preparing for sea-level rise. The excitement of the Paris Agreement last year gave me a feeling that we were going to do something.  
What has been the primary focus of your work on climate?

I have been involved with Creation Care for years, but climate was not the main focus – it was more directly related to water and oceans. Since my church knew I went to the Climate [Reality Leadership Corps] training and had so much in my background, I was quickly asked to present to church groups [on climate]. That group wanted me back for another hour and another. Other groups wanted me and next thing I knew, I was filling my presentation obligation with requests.
All this time, I realized I had a message to share. Writing to our governmental leaders seemed of utmost importance. If I didn't express how I feel, what I know, and the importance of science and data in making decisions, then I would just have to accept whatever they decided.   
What was your response to the new administration coming into the White House?

In January, I attempted to accept that all would be ok, [that] our government is designed so that one man cannot destroy everything.  Even with his continuous blunders, I kept hoping that he could show some dignity, that he would realize the image he was projecting to the world and that he would never withdraw from the Paris Climate Accord.
I was sitting in the Climate Reality training in Denver in March of 2017 when the news flash about cutting EPA and sea grant programs hit. I honestly could not believe this president could stoop so low as making a decision of that magnitude in his first few months of office. I didn't think our government could allow that to happen.
I realized that it is important to continue [working] on the local and state level. In North Florida, that means I had to continue to present and encourage Governor Scott and Congressman Yoho to move forward.  
How do you stay motivated to keep going and engaged right now?

I know I have a responsibility act in a way that will motivate others. This is not the time to feel defeated. We must win and the only way to win when you feel down is to pour more energy into every effort you make.
For you, what have been the real victories of the past year?

We are moving forward. Daily, I see more people realizing that it is a time for action.  More people are joining the effort.
So, what would you do? Gamble that the science is wrong, or go with a sure bet and start changing the world to renewable energy sources?  Protect the water we drink and air we breathe. Do everything possible to make the world safe.
What do you see as the biggest challenges for the climate movement in the year ahead? The biggest opportunities?

Washington, DC, our president, our leadership have to be the biggest challenges. 
The biggest opportunities are bringing local [communities] and states into action. If we realize the federal government is not going to lead the way, perhaps we will all be better off as each community takes action in its backyard.  This is doable. We must and we can make an impact locally. 
What would you say to someone who feels discouraged about the headlines and the direction the federal government has taken on climate?

We can in our state and our community make change happen.  We cannot sit back and be discouraged. So, find something of value you can accomplish, follow your thoughts, and share them. The next thing you know, your efforts will be multiplied by people that will follow your lead.  Hold your head high. Know that you and the scientists are right and that we must make changes in how we live.
We're with Jim: This is not the time to feel defeated. The White House may have stepped back from the climate fight but US cities and states are stepping up to lead instead, with millions of Americans stepping up with them. If you're ready to get involved and do your part to make 2018 a turning point on climate, download our Be the Voice of Reality: Twelve Ways to Make a Difference action kit and get started today.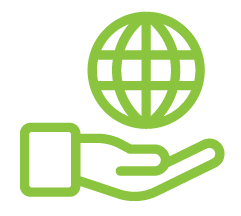 Before You Go
At Climate Reality, we work hard to create high-quality educational content like blogs, e-books, videos, and more to empower people all over the world to fight for climate solutions and stand together to drive the change we need. We are a nonprofit organization that believes there is hope in unity, and that together, we can build a safe, sustainable future.
But we can't do it without your help.
If you enjoyed what you've just read and would like to see more, please consider making a generous gift to support our ongoing work to fight climate denial and support solutions.