December 04, 2014 | 1:40 PM
Five Stops on the Road to Paris
It's no understatement to say the next 12 months are a critical time for the global climate movement. We're talking World Cup final critical. With the scores tied, penalties looming, and our star striker through on goal . . .
But even if you find sports metaphors as clear and compelling as grain transactions recorded in ancient cuneiform, you don't have to look far to see signs that 2015 could be a tipping point on climate change. For one, the popular will for real action and real solutions has never been stronger. Just look at the millions who joined People's Climate March events around the world this September, for example, or the over 1 million Americans who spoke up to support the EPA's Clean Power Plan. Even if some US senators and Australian members of Parliament aren't paying much attention to the scientific reports making the headlines, their constituents sure are.
The stage is set for world leaders to come together and commit to bold steps on reducing carbon emissions in time to keep warming within levels we can safely live with. Which is why next December's United Nations Framework Convention on Climate Change (UNFCCC) meeting in Paris – known as the 21st Conference of the Parties, or COP21 – is so important.
Since talks intended to create a global climate commitment broke down in Copenhagen back in 2009, negotiators have been crisscrossing the planet in a series of meetings from Cancun to Doha to Durban to Warsaw trying to find a way forward and bridge some pretty significant differences. After all, if getting 190 people to agree on something as simple as a takeout order is difficult, getting 190 nations at widely different stages of development to agree to reduce carbon emissions and stop climate change is more than a little challenging.
What's different five years on from Copenhagen, though – and why we believe major steps forward are possible in Paris – is that not only has public understanding grown, but the two most pivotal players in negotiations – the US and China – have already laid their cards on the table. With the US committing to cut emissions significantly and China agreeing to peak emissions by 2030 – and aim for much sooner – the effect is to publicly challenge other nations to follow suit and make equally bold commitments as part of a global agreement at COP21.
There's still a ways to go – both literally and figuratively – to get there, though. And to most eyes, the process can easily get lost in a bureaucratic alphabet soup of acronyms and organizations spread across the globe. So we've identified and broken down the five key steps along the road to a major agreement in Paris, as below.
1. COP20, Lima, Peru – December 2014
Launched this week in Lima, Peru, the UNFCCC's 20th Conference of the Parties (COP20) brings world leaders and negotiators together to achieve three objectives. First, COP20 aims to finalize what kind of details each country's commitments to action – known as its Intended National Determined Contribution (INDC) – should cover. This has been a sticking point as some nations believe INDCs should only cover steps on carbon reduction, for example, while others believe financial support for developing nations must be part of the picture. Second, COP20 will look to create consensus on how these INDCs should be reviewed for their adequacy in stopping climate change and fairness. Finally, the conference seeks to develop an initial draft of a global climate agreement that can set the tone and act as a starting point for COP21 negotiations.
2. ADP Extra Session, Geneva, Switzerland – February 2015
The UNFCCC created the Ad Hoc Working Group on the Durban Platform for Enhanced Action (ADP) to craft the elements of the 2015 climate agreement. In February, ADP negotiators meet to continue this task.
3. INDCs Due – March 2015
Most countries are expected to submit their INDCs by the end of March 2015. The commitments will likely contain emissions reduction targets and actions, as well as possible financial pledges to the Green Climate Fund or related mechanisms.
4. ADP Intercessional Meetings, Bonn, Germany – June 2015
ADP negotiators will meet in June to review INDCs and raise their ambitions in the cases where nations' commitments fall short of necessary targets. Negotiators will also continue working on the draft agreement.
5. COP21, Paris, France – December 2015
This is the final stop and the best hope for a new international climate change agreement. World leaders and climate negotiators will use the meeting to again review, negotiate, and potentially adjust country commitments (INDCs). The goal is a finalized global climate change agreement that will drastically change our current business-as-usual approach to carbon pollution in time to prevent the most severe impacts of climate change.
For those of us who don't already have our tickets booked for Lima, Geneva, Bonn, and Paris, there's also a sixth step: mobilize. Our Climate Reality Leaders are already spreading the word and bringing communities together to support action in over 100 nations. Messengers are reaching out to business leaders, faith communities, farmers and other constituencies across the US to build momentum for a historic agreement at COP21. And that's just for starters.
We need your help. Make a gift today and with your support, we'll mobilize millions around the world to make our leaders seize this historic opportunity and take bold steps to stop climate change. Plus, thanks to an anonymous donor, every gift will be matched dollar-for-dollar, making your contribution go twice as far. This is our chance to create the healthy and sustainable future we want.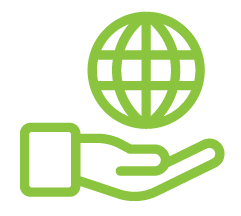 Before You Go
At Climate Reality, we work hard to create high-quality educational content like blogs, e-books, videos, and more to empower people all over the world to fight for climate solutions and stand together to drive the change we need. We are a nonprofit organization that believes there is hope in unity, and that together, we can build a safe, sustainable future.
But we can't do it without your help.
If you enjoyed what you've just read and would like to see more, please consider making a generous gift to support our ongoing work to fight climate denial and support solutions.