March 23, 2016 | 6:00 AM
Five Ways That Cities Are Acting on Climate
In December 2015, almost the entire world (195 nations to be exact) agreed to reduce their greenhouse gas emissions and do their part to solve climate change as part of the landmark Paris Agreement. After years of negotiation and discussion, the world is closer than ever to finally shifting away from dirty fossil fuels and working together to reverse the dangerous upward trend in warming global temperatures.
But you want to know something fascinating? The shift was already taking place around the world. With or without action on a national or global level, more and more people are choosing renewable energy over coal and oil, and some evidence suggests that global carbon emissions are peaking.
Nowhere is this trend clearer than in our cities. Cities of all sizes on every continent aren't waiting for the Paris Agreement to take effect to take action. They're already making leaps and bounds towards a sustainable future and improving the lives of their residents in the process.
Let's highlight just five of the many strategies cities are using to counteract climate change.
1. Embracing Renewable Energy Sources

You can't have a city without one defining feature: buildings. And an abundance of residential and commercial buildings within a compact geographic area means many people who need electricity to power their lives and businesses. Here's a bright idea about what to do with each of those buildings: Put solar on it!
One of the most noticeable ways that cities around the world are acting on climate is by installing renewable energy systems on their buildings. Several cities are installing solar panels on public buildings, as well as partnering with private developers to provide clean energy for city operations through power purchase agreements and other clean energy procurement tools.
But installing some solar is just the beginning. Many cities – including Burlington, VT, Greensburg, KS, and Aspen, CO, in the US – have already made the change to 100-percent renewable energy (RE). Still more have committed to achieving 100-percent RE in the near future, including Vancouver, BC, Georgetown, TX, San Diego, CA, and San Jose, CA, just to name a few.  
It's not just happening in the US – around the world, cities are reaching the 100-percent RE mark, including Yakushima, Japan, Wolfhagen, Germany, Kisielice, Poland, and Dobbiaco, Italy. If your city is only just beginning its RE journey, there are plenty of ways to get started, such as purchasing renewable energy, reducing the costs and paperwork involved in installing solar panels on households and supporting local solar co-operatives that can often let residents buy solar energy for their communities without fronting the costs for the panels.
Climate Reality is working with the City of Aspen as part of it's new I AM PRO SNOW 100% Committed Campaign. Learn more. 
2. Divesting from Fossil Fuels

Münster. Copenhagen. Kansas City. San Francisco. Melbourne.
What do these cities have in common? They've all committed in some form or another to divest from fossil fuels – in other words, selling their investments in fossil fuel companies and putting their money elsewhere.
The divestment movement began on college campuses, spread to churches and faith groups, and now it's burgeoning in cities large and small in every corner of the planet. In fact, according to Fossil Free (a project by the environmental nonprofit, 350.org), there are over 500 institutions divesting that together represent approximately $3.4 trillion in assets.
By divesting, they're making a statement against companies that are polluting our planet and reaping the profits. And that's not only an admirable choice, but one backed by strong economic reasoning.
Get the answers to common questions about solar power with our free solar myths e-book.
3. Energy Efficiency

Bright lights in the big city? At least be sure they're energy-efficient LEDs!
Cities are making smart choices with their power by promoting energy-efficient practices and increasing efficiency standards across the board. That means buildings, manufacturers, and infrastructure use less electricity. And when you use less electricity, that means less carbon pollution is emitted from fossil-fuel based power plants.
In Toronto, for example, the city council adopted several plans over the years to boost energy efficiency, including one to make city facilities more efficient, one to reduce greenhouse gas emissions via energy efficiency and other measures, and another to better track and conserve buildings' energy usage. As a result of the tracking and conservation plan alone, the city is on the way to saving over $17 million in energy costs per year.
4. Public Transport

If your buildings are efficient, what's next? City residents need a way to get to their energy-efficient buildings, so transportation is another way for cities to act on climate. By supporting smarter public transportation and increasing ridership, cities can drastically cut the number of cars taking to the road – reducing traffic AND greenhouse gas emissions. In fact, the American Public Transportation Association estimates that public transportation use in the United States reduces the country's carbon emissions by 37 million metric tons every year!  That's the equivalent of removing 7,789,474 cars from the road.
In Bogota, city officials are taking it to the next level. The historic city of nearly 8 million doesn't have a subway system, so residents rely on cars and buses to get around. The result: increasing smog and hazardous air pollution. To clear the air, the city is replacing its traditional commuter buses and taxis with all-electric zero-emissions vehicles. Within the next decade the entire bus fleet should be carbon-free.
5. Mitigation and Adaptation

Climate change is already happening now, despite our best intentions. To prepare, many cities are restoring natural areas and taking other adaptation measures in order to protect against the impacts we're already seeing today.
In French cities and towns, new commercial buildings will soon need to include either a green roof or solar panels. And that will help save some green too. Roofs covered in plants insulate buildings, helping reduce heating and air conditioning needs, decrease water runoff, and absorb air pollution. They also provide a welcome habitat for wildlife in an otherwise concrete and glass environment.  
Related: How 11 Countries Are Shifting to Renewable Energy
Many cities are also embracing "green streets" – natural and engineered methods for controlling stormwater that would otherwise gather pollutants and rush from hard street surfaces into storm drains and out into local waterways. In addition, "green streets" can help to absorb carbon dioxide and cool the surrounding area, thereby saving energy by reducing the need for air conditioning.
For example, in Copenhagen – a true climate beacon – the world's first climate-change-adapted neighborhood has taken shape. In the St. Kjeld neighborhood, rather than ramping up infrastructure like storm drains to combat future floods, storm water is being diverted through specially-designed public green spaces, making a beautiful park for the public to enjoy while protecting its streets and buildings from flooding. Says architect Flemming Rafn Thomsen, who worked on the project, "Climate change is a huge opportunity to build greener cities. We should stop pushing nature away and stop pretending that we can push the weather away." Replacing asphalt and concrete with grass and vegetation, while maintaining walking paths for residents, was a welcome – and more affordable – way for the area to deal with extreme downpours.
Help Your City Confront the Climate Crisis

Has your city taken action on climate change? Tweet @ClimateReality with how your city is cutting carbon pollution and let us know!
For more ways to get involved in the climate movement, sign up for email updates from Climate Reality now.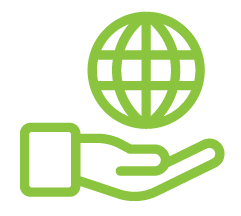 Before You Go
At Climate Reality, we work hard to create high-quality educational content like blogs, e-books, videos, and more to empower people all over the world to fight for climate solutions and stand together to drive the change we need. We are a nonprofit organization that believes there is hope in unity, and that together, we can build a safe, sustainable future.
But we can't do it without your help.
If you enjoyed what you've just read and would like to see more, please consider making a generous gift to support our ongoing work to fight climate denial and support solutions.