November 15, 2016 | 1:19 PM
Flip the Switch! Five Former Coal Sites That Are Going Green (and What It Means)
Solar, wind, geothermal – you name it, renewable power capacity is on the rise. Around the world, there are more people employed by renewables than ever before (8.1 million, to be exact) and global investment in clean energy is through the roof. All this while at least 50 US coal companies have filed for bankruptcy since 2012, which tells you which way the wind is blowing from the market's perspective.
But dirty energy like coal leaves a big mess when mines are closed and power plants are decommissioned. So what happens to those sites after Big Coal moves out? Sometimes clean energy moves in and, well, cleans things up. Check it out:
Glenrock, Glenrock III, and Rolling Hills Wind Farms (Wyoming, USA)

Located right in the heart of coal country, land that was used for surface coal mining has been reclaimed and is now home to three huge wind farms. Together, they comprise a whopping 158 turbines that can produce up to 237 megawatts (MW) of electricity. The project was completed by Pacificorp in 2008 and guess what? It's been incredibly successful – it provides cost-effective, clean energy in a remote part of Wyoming and has helped diversify a predominantly agricultural economy in the region.
The site's director of wind operations, Laine Anderson, has also made a pretty huge transition personally: he used to be an oilfield engineer, but in his own words, "The world is changing. You have to change with it."
"The world is changing. You have to change with it."
Nanticoke Solar Project (Ontario, Canada)

What used to be the largest coal plant in North America (and the dirtiest in Canada) is well on its way to becoming a 44-MW solar farm off the coast of Lake Erie. Nanticoke Coal Plant was decommissioned in 2013 amid safety concerns and as part of Ontario's gradual phase out of  coal-fired power – which has now been banned entirely in the province. Construction for the solar farm is slated to begin in 2017, and the project will take advantage of the transmission lines already in place from existing infrastructure.
In 2015 (the first year Ontario was completely coal-free), the Canadian province didn't have a single smog day, compared to 53 smog days just 10 years before.
Potomac River Green (Virginia, USA)

The old power plant on this 25-acre site in Alexandria (Potomac River Generating Station) had been in operation since the 1940s and "long struggled to meet applicable clean air and water laws." Before its closure, it was once fined $275,000 by the city for environmental violations and only operated at 20 percent capacity. The plant was dated and dangerous, and was retired in October 2012.
So what's the plan now? Well, Potomac River Generating Station will eventually become Potomac River Green. Development started earlier this year and, according to initial plans, the site will feature a riverfront park, low (or zero net) energy footprint commercial and residential buildings, and a "world-class new energy center." The plans include three geothermal systems, solar power and energy storage systems, solar "shields" installed on buildings for heat, and an electric vehicle recharging station. You can check out the full plan for Potomac River Green here.
Derbyshire, United Kingdom

Historically, coal mining has been a robust part of Derbyshire's economy (along with agriculture). But it's a sign that times are changing when a former coal disposal point in the region is transformed into a 4.2-MW solar array (as well as a community park and several new homes). The panels are up and running, and they provide enough electricity for 1,200 homes per year. While this solar array isn't a big one, it's part of a broader transformation that meant that in May of this year, the UK produced 50 percent more electricity from solar than coal – a new record.
The added bonus of the new solar panels for Derbyshire? Profits from the surplus electricity (estimated at £15,000, or about $20,000) will be invested in the local community.
Caerphilly, United Kingdom

In Caerphilly County, Wales, a brownfield site that was originally a coal mine has been transformed into a wind turbine installation. With the help of the Caerphilly County Borough Council and Partnerships for Renewables, the former colliery's environmental contamination was cleaned up and two 130m wind turbines were built in 2014. The installation will generate approximately 10 gigawatt hours per year, while reducing yearly carbon emissions by 4,400 tons. Partnerships for Renewables pays the site's county rent in addition to an annual fee of £10,000 pounds for further social, economic, and environmental projects to occur for the duration of the wind turbines' lives. These turbines came at an ideal time, considering the UK's recent announcement of plans to restrict the use of coal-fired power plants by 2023 and close them completely by 2025.
It's Clear: Times Are Changing

These five former coal sites are great examples of the global energy transition, and it's time for the rest of us to follow. The path to a sustainable future is clear. We can cut emissions and stop the climate crisis by shifting to affordable clean energy.
And the winds of change aren't just blowing through power plants.
We finally have a global climate agreement. But what comes next? And how do we keep the pressure on world leaders to keep the progress going? Join former Vice President Al Gore on December 5-6 for the global broadcast event 24 Hours of Reality: The Way Forward as we bring the planet together to fight the climate crisis and make a brighter future a reality.
Subscribe here to receive email updates about the live broadcast event, guests, and musical performances. In the meantime, check out our social media resource kit and help us spread the word!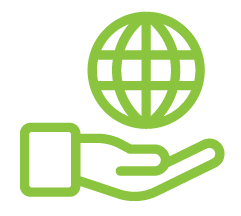 Before You Go
At Climate Reality, we work hard to create high-quality educational content like blogs, e-books, videos, and more to empower people all over the world to fight for climate solutions and stand together to drive the change we need. We are a nonprofit organization that believes there is hope in unity, and that together, we can build a safe, sustainable future.
But we can't do it without your help.
If you enjoyed what you've just read and would like to see more, please consider making a generous gift to support our ongoing work to fight climate denial and support solutions.