June 01, 2018 | 2:09 PM
Forget Trump's Paris Announcement: The 5 Climate Stories that Matter a Year On
It was our Empire Strikes Back moment.
For anyone with even a passing interest in the Earth's future, watching President Trump's announcement on the Paris Agreement last June could've felt like seeing Hans Solo slip into carbonite and the Empire take control.
After all, think back to the jubilation of December 2015 when French Foreign Minister Laurent Fabius banged his gavel and announced the world had its first real plan to tackle the climate crisis. We'd finally done the impossible, right? We'd blown up the Death Star. Right?
And now here was President Trump on the White House lawn, essentially speaking in tweets announcing the US would leave the agreement. All for reasons that bore no relation to reality. Watching it unfold, it was hard to escape a horrible sinking feeling, a sense that this wasn't supposed to happen. That the bad guys had won.
As a theatrical event – complete with weeks of will-he/won't-he intrigue in the lead-up – it was spectacular. As a middle finger to the majority of humanity not currently in possession of a fossil fuel company, the message was clear.
But as a policy event with real-world consequences, it proved, well, meh. Because over the next 12 months, five stories – some inspiring, some terrible – would re-shape the climate landscape and open the door for a Return of the Jedi-style comeback. Here's how – and why.
1. EPA Leadership Joins the Dark Side

Remember when the US Environmental Protection Agency (EPA) actually did what its mission said and worked to protect human health and the environment?
One reason Trump's announcement proved less a shot heard around the world and more a blank fired straight into the air is that a series of executive orders a couple months earlier had made the administration's intentions crystal clear.
These orders – most notably, the wildly misnamed Promoting Energy Independence and Economic Growth – began rolling back many of the federal initiatives key to the US making good on its Paris pledges. The orders didn't stop there either, approving things like the Keystone XL pipeline and aggressively promoting a fossil fuel agenda across the board.
So the writing was already on the wall. In 200-point font. The president's announcement just read the words out loud.
What really mattered is what happened off-camera. Namely, how EPA, the same agency that used to work to help the country cut emissions and shift to renewables, now got to work executing the president's fossil fuel agenda.
Led by Administrator Scott Pruitt – a longtime friend to the fossil fuel industry who, in his previous career as Oklahoma attorney general, had sued the agency 14 times – took aim at a long list of environmental rules.
Many of Pruitt's decisions will have lasting consequences and ultimately take years if not decades to undo. But when it comes to climate, two represent huge missed opportunities to transform how we make and use energy as a country:
Replacing the Clean Power Plan: In a nutshell, this was the first federal plan to cut greenhouse gas emissions from the US power sector. The plan set realistic emissions-reduction goals for each state and gave each the freedom to choose how it met them, based on its own resources and realities. The real goal here was to encourage the sector to increasingly leave coal, oil, and gas behind in favor of cleaner alternatives like wind and solar.
With the power sector being one of the largest contributors to US emissions, this was a key step in weaning the country off coal in particular for good and making a big dent in harmful pollution. All while generating billions in climate and health benefits. Pruitt's EPA, however, is expected to propose a replacement much, much, much friendlier to fossil fuel interests.
Lowering Fuel Economy and Vehicle Greenhouse Gas Emission Standards: The Obama EPA and National Highway Traffic Safety Administration announced guidelines to bring average fuel efficiency across an automaker's fleet of passenger cars and light trucks to 54.5 miles per gallon for model year 2017—2025 vehicles. Americans liked the idea of saving money on gas and dumping less pollution into the air, with six in 10 supporting these standards.
Transportation is now the largest contributor to US greenhouse gas emissions, so this was going to be a big win, preventing the equivalent pollution of 1,746 coal-fired power plants emit in a year. But Pruitt's EPA announced it would review these standards and all signs point to the administration replacing them with much less ambitious targets.
Chalk them up as two to the Dark Side.
2. Silencing Real Science

Politicizing science is nothing new. For years we've seen fossil fuel interests try to stall real climate action by attacking climate scientists and anyone who actually listened to their findings as "liberal," "Obama appointee," or worse.
And for years it worked, with a bizarre partisan divide emerging over basic facts about the Earth (though, thankfully and as a real cause for hope, a new generation of young conservatives aren't buying it).
But this administration has gone a step further. Instead of just shooting the messenger, we've seen top levels of the federal government take a "Hear no evil/See no evil" approach to climate science and try to erase the message entirely.
The premise is clear: If we don't acknowledge the science (you know, the consensus of nine out of 10 climate scientists) – especially when it comes to the direct connection between fossil fuels and climate change – we don't have to do anything about it. And if you don't even hear about the science in the first place, we can just keep on keeping on with fossil fuels.
We're not talking about some Alex Jones-style connect-the-dots conspiracy. This is all happening in plain sight.
First, Change the Language
It starts with language and how we talk about what's happening to the planet. First, we've seen climate change slowly erased from government websites. Then, scientists have been told to not even use the term "climate change" in government communications. And then government employees have been barred from speaking in public about, well, climate change.
Then, Change the Policy
The next step is changing policy and how the government uses – or doesn't use -- science. In August, President Trump signed an executive order eliminating federal flood planning standards that considered the risk of sea-level rise, as scientists predict we'll see more and more of as temperatures rise.
Last, Change the Science
The most recent – and perhaps most chilling step – has been Pruitt's effort to change what counts as valid science.
Under the guise of increasing transparency, Pruitt has proposed a new rule that EPA rules can only be based on studies that make all underlying data public.
On the face of it, this is perfectly reasonable – and that's exactly what Pruitt is counting on. But many good and sound studies depend on data that can't be easily reproduced without violating things like patient confidentiality agreements. And recreating this data merely to satisfy government bureaucracy would take all kinds of valuable time researchers could be using to do actual science. Which is kind of the point.
To put it another way, Pruitt's using the language of open and transparent government to simply take the studies and science he doesn't like out of the picture. Which is the opposite of open and transparent government.
Another win for the dark side.

3. Nature Gets Angry

Maria. Irma. Harvey. Nate. Hurricane season 2017 was so deadly and destructive that the World Meteorological Organization has officially retired the names of the storms that tore through the Caribbean and Southern US last fall, believing it would be deeply insensitive to repeat them.
How deadly and destructive? The torrential rains and powerful winds made this the most expensive hurricane season on record, with estimates approaching the $200 billion mark for damages in the US alone.
The dollars don't even begin to count the real costs. Hurricane Maria alone may have led to as many as 4,600 deaths in Puerto Rico, as lack of power and downed health care facilities continued to take a toll long after the storm had subsided.
In Houston, the devastation from Harvey flooding was so wide-ranging that nine months on, some neighborhoods have hardly even begun to rebuild and recover (and low-income communities seem to suffer the worst). Right as hurricane season 2018 is about to begin. The list goes on and on.
The common factor behind all this tragedy is the extra heat energy that comes with a warming planet. And while climate change might not have caused these storms, it certainly made the misery they brought much, much worse.
Or as renowned climatologist Dr. Michael Mann said, "We can't say Hurricane Harvey was caused by climate change. But it was certainly worsened by it."
There were no winners here. But what these storms did is bring the terrible power of nature in a warming world into focus and make clear what's at stake in the push to drop dirty fossil fuels. And what we could be seeing a lot more of it we don't.
4. The World Steps Up

Now it's time for the good news. And there was a lot of it in the 12 months after President Trump's announcement.
Most important, far from torpedo the international process on climate action, the president's decision seems to have only energized it. Countries around the world recognized that if the world's leading economy (and Number Two polluter) wasn't going to act on climate, at least at the federal level, the future of the planet was in their hands.
And they responded. First, there was the immediate statement from French President Emmanuel Macron, German Chancellor Angela Merkel, and Italian Prime Minister Paulo Gentilioni that the Paris process would continue without the US, declaring "We deem the momentum generated in Paris in December 2015 irreversible."
Of course, statements are one thing. Actual action is another – and we saw that too on the international stage. Three developments in particular point to the direction the world is going, all without the US federal government:
The Powering Past Coal Alliance unites over 50 countries, states, and businesses in working for a coal-free future, with members including the UK, France, Sweden, Italy, California, and Unilever.
China launches the world's largest carbon market, covering 1,700 emitters in the power sector now and with plans to cover eight high-intensity sectors in the future. Yes, the program has plenty of room for growth and improvement, but if the world's biggest carbon polluter can show carbon pricing works on a large scale, we've got a whole new ballgame. After all, as the saying goes, "As China goes, so goes the world."
These aren't the only changes (and the World Resources Institute has done a great job compiling a list of seven markers of progress). But they tell us the planet is moving on without the Trump Administration and moving to a coal-free future where we move without polluting and where the real costs of carbon pollution are front in center.
That's a future we want to live in. Make that three big wins for the good side.
5. Americans Stepped Up – In a Big Way

We Can Solve This: We Are Still In

A powerful alliance of American states, cities, and businesses is picking up the mantle of climate leadership. #Stillin (via Years of Living Dangerously)

Posted by Climate Reality on Thursday, November 23, 2017
The biggest story of them all might be how Americans responded to the president's decision.
First, there was the majority of Americans who opposed the decision, with nearly six in 10 who wanted the US to remain part of the Paris Agreement.
Second, there were the 2,770 leaders of states, cities, colleges, and businesses in all 50 states, together representing over 160 million Americans and $6.2 trillion in GDP, who stood up to say, "We are still in" and committed to doing their part to helping the US meet its Paris goals, even without the federal government.
On the ground, this means California is pushing to cut emissions 40 percent by 2030 and introducing measures like requirements for rooftop solar on new construction that bring clean energy into every aspect of everyday life. Washington State keeps working on paths to carbon pricing that involve a just transition from fossil fuels. And they're just two examples.
But maybe the most inspiring result has been the way thousands and thousands of Americans seemed to shrug and, well, get to work.
At Climate Reality, we see this in the way Climate Reality Leaders and other activists are pushing the towns they live in and the businesses they support and the schools they attend to shift to 100 percent renewable electricity with our 100% Committed campaign.
Plus, they're winning. Count Avon, Colorado; South Lake Tahoe, California; Ulster County, New York; and Colorado State University just a few of the communities and colleges that are all in on a clean-energy future. All thanks to the people who live there and the students who show up for classes day-in and day-out.
That's democracy in action. Real action. And it's spreading.
Make that, well, more than we can count for the Light Side.
How It All Adds Up

The takeaway here is that yes, we've had some setbacks. Yes, the federal government is effectively in the hands of fossil fuel interests. But there's a profound shift underway with governments around the world moving forward and even increasing their commitments to action. And Americans are fighting for a clean energy future in the places they live, the schools they attend, and the businesses they support – and winning.
Of course, nothing is settled. But the changes at work now are stronger than any president with consequences will last far beyond his time in office.
To put it another way, here in the US, one year on from the president's announcement, we're battered and bruised and our mythic hero only has one real arm now. But there's reasons for hope in sight, especially with more and more Americans joining the fight every day. We'll take those odds.
Ready to join the fight for a sustainable future? Join former Vice President Al Gore and learn how you can make a difference by training as a Climate Reality Leader in Los Angeles, California at our next event from August 28-30. Apply today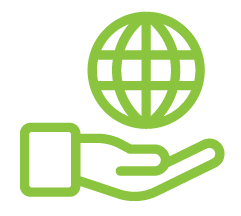 Before You Go
At Climate Reality, we work hard to create high-quality educational content like blogs, e-books, videos, and more to empower people all over the world to fight for climate solutions and stand together to drive the change we need. We are a nonprofit organization that believes there is hope in unity, and that together, we can build a safe, sustainable future.
But we can't do it without your help.
If you enjoyed what you've just read and would like to see more, please consider making a generous gift to support our ongoing work to fight climate denial and support solutions.