October 20, 2011 | 3:07 PM
Former Cape Verde President honored
© 2009 Flickr/Gloria Bell cc by 2.0
The island nation of Cape Verde, featured in 24 Hours of Reality, is taking important steps toward addressing and mitigating the impacts of climate change. And we're proud to announce that on October 10, the former President of Cape Verde, Pedro Verona Pires, was named the winner of the 2011 Ibrahim Prize for Achievement in African Leadership .
The award, and a $5 million dollar prize, is given to leaders who exemplify good governance and leadership. Pires has led Cape Verde to be one of only two African countries to graduate from the United Nation's "Least Developed" nation category and has won international recognition for his country's record on human rights and good governance.
The Climate Reality Project would like to congratulate Pires on winning this esteemed award, and for helping Cape Verde make the transition to a stable democracy that is helping solve the climate crisis. Cape Verde has tackled climate change on several fronts. In 2008, Cape Verde entered into a public-private partnership for the construction of wind farms on four islands in the Cape Verde archipelago. The country has ultimate goal for 25% of its energy to come from renewable sources by 2015.
The Climate Reality Project had the honor of working with many energetic Cape Verdeans when planning for the "Cape Verde Hour" for 24 Hours of Reality, including Ambassador Fatima Veiga, representatives from the Foreign Ministry, leading faculty from the University of Cape Verde, the musical duo Ramiro and Joao Mendes, and the Association for the Defense of the Environment and Development. We congratulate former President Pires and all others who are helping move Cape Verde toward a sustainable future.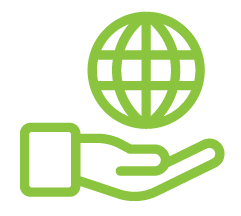 Before You Go
At Climate Reality, we work hard to create high-quality educational content like blogs, e-books, videos, and more to empower people all over the world to fight for climate solutions and stand together to drive the change we need. We are a nonprofit organization that believes there is hope in unity, and that together, we can build a safe, sustainable future.
But we can't do it without your help.
If you enjoyed what you've just read and would like to see more, please consider making a generous gift to support our ongoing work to fight climate denial and support solutions.