June 29, 2017 | 6:00 AM
Four Ways Anyone Can Take Climate Action
Climate Reality Leaders across the US and around the world are taking action and spreading the truth about the climate crisis – starting on day one. As part of their training, Leaders join days of action, doing things like canvassing the streets of the training host city or writing letters to the editor.
At our Climate Reality Leader training in Bellevue, Washington this week, our newest Leaders will be taking to the streets, phones, and congressional offices for a day of action pushing for clean energy solutions in the Pacific Northwest.
If you couldn't make it to the Bellevue training but are ready to help expanding clean energy solutions across the country, we have four ways that anyone in any state or city can take action. You can also download our I Am Still In Action Kit for more ways to get involved.
1. Contact Your Representatives

Contacting your elected leaders' offices is a useful way to communicate your opinions on the climate crisis, especially when an action (such as a vote) is pending. Although it's unlikely you'll speak directly to the official, their staff tracks the number of calls they receive on various topics, and most legislators do pay attention to communications from their constituents.
Take action now and call your senators to ask them to protect the EPA's budget.
While it may seem time consuming, it's important to remember that every call counts. So pick up the phone or grab some paper and a pen and make sure your elected officials know where you stand on the climate crisis.  
2. Write a Letter to the Editor

The opinions section of a publication is one of the most valuable places to discuss the climate crisis. By writing a letter to the editor, your insights and opinions on the topic will be out there for hundreds or even thousands of people to read. It's an incredible tool for reaching and educating the public. And influencers, including business leaders and elected officials, pay attention to opinion pieces, which function as a direct line to local voices.
You can find an article about renewable energy to respond to or write about the White House's recent decision to pull the U.S. out of the Paris Agreement. Keep it short and sweet and make it personal, explain why taking climate action is important to you.  Check out our I Am Still In Action Kit for more tips on writing an effective letter to the editor.
3. Talk to Friends and Family

When you talk, your friends and family listen. That's why talking about the facts of the climate crisis is one of the best ways to take climate action. Whether it's at the grocery store, after church, or over lemonade at a family picnic, talking about the reality of the climate crisis is your chance to change minds and ensure the people you care about hear the truth.
Talk to people about the things that matter to them. It could be how the climate crisis is impacting women and children or clear indicators that show the climate is changing. And no matter the topic, be sure that you know the basics by visiting our Climate 101 page to arm yourself with the facts.
4. Encourage Your City to Go 100 Percent Renewable

The administration has made its priorities clear: the climate crisis is not it's problem. But if the president won't lead on climate action, we will.
Taking action locally is one of the best ways that we can fight the climate crisis. By changing behaviors and markets on a local level, we can demonstrate the robust demand for clean energy and pressure the energy industry to make the shift. Encouraging your city, university, or local business to commit to transition to 100 percent renewable energy will help fulfill the promises and goals the U.S. made in the Paris Agreement – with or without the White House.
Download the Cities100 Guide for 100 climate solutions from cities around the world.
BONUS: Sign Up for Our Activist List

To change everything, we need everyone. That's why we need your help to continue the fight for climate solutions. Join our activist email list and we'll send you the most up-to-date ways that you can take climate action and help us make a difference in the future of our planet.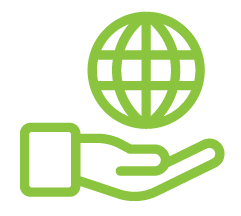 Before You Go
At Climate Reality, we work hard to create high-quality educational content like blogs, e-books, videos, and more to empower people all over the world to fight for climate solutions and stand together to drive the change we need. We are a nonprofit organization that believes there is hope in unity, and that together, we can build a safe, sustainable future.
But we can't do it without your help.
If you enjoyed what you've just read and would like to see more, please consider making a generous gift to support our ongoing work to fight climate denial and support solutions.