March 01, 2016 | 3:38 PM
The Alliance for Climate Protection®: Generation Climate Warrior
Enough with the stereotypes about millennials. Look around at the climate movement today and you'll see all kinds of emerging leaders in their teens and twenties applying foot to posterior in ways inspiring people two or three times their age.
It's no mystery why: members of this generation know that they cannot turn a blind eye to climate change. Their very future is at stake – and they're acutely aware of that fact. We'd like to introduce some of the young activists who aren't waiting around for world leaders to do something – and ensuring a safer future for everyone in the process.
Earth Guardians

Fifteen-year-old Xiuhtezcatl Tonatiuh has been fighting climate change since he was six. As the youth director of Earth Guardians, Xiuhtezcatl has spoken at over 100 rallies and events around the world. He's also an eco hip-hop artist and has performed at international music festivals, sharing his call to action with young people worldwide.
In 2013, Xiuhtezcatl received the 2013 United States Community Service Award from President Obama, and became the youngest of 24 change-makers chosen to serve on the president's youth council. And he's addressed the United Nations General Assembly three times, demanding world leaders take action.
"This is not a game. This is not about politics. This is about every living person and creature on the planet, our lives and our safety being threatened by the greatest issue of our time: climate change." -Xiuhtezcatl Tonatiuh
Xiuhtezcatl and his younger brother, Itzcuauhtli perform together and give presentations in schools across the United States about the need for climate action. They've been inspiring young people to start their own Earth Guardian "crews" in local communities to join the fight too.
Xiuhtezcatl has fearlessly and tirelessly called on young people all over the world to act because their future depends on it. His mission is daunting, but his age is simply a number.  
Retweet if you're ready to be part of the historic movement to solve the climate crisis! #ClimateHope pic.twitter.com/mOjEy70RCO

— Climate Reality (@ClimateReality) March 3, 2016
Climate Activists v. US Government

In 2015, 21 young Americans aged eight to 19 (one of whom was Xiuhtezcatl Tonatiuh) sued the federal government through the District Court of Oregon for infringing on their constitutional rights and the rights of future generations. The US government, they said, has knowingly continued to worsen the effects of climate change through the burning of fossil fuels, and thus has risked "harm to human life, liberty and property."
The 21 young plaintiffs are seeking a court order for the Obama administration to implement a plan to reduce atmospheric concentrations of carbon dioxide to 350 ppm by 2100.
Calum Worthy

Television star Calum Worthy is a climate advocate and Climate Reality Leader. After attending a Climate Reality Leadership Corps training led by former Vice President Al Gore, he's taken a 21st-century approach to activism, using his sizeable and active social media following to spread the word about climate solutions and inspire thousands and thousands of his followers to stand up and speak up for their future.
iMatter

At the age of 13, Alec Loorz had one goal: to stop the climate crisis within his lifetime. He founded his own organization in 2007 called iMatter (formerly Kids vs Global Warming) to inspire climate action among his peers. He felt confident that his generation would be the one to cut through the usual denial and politics and break through to world leaders with a call to action.
iMatter empowers young people on the grassroots level, organizing youth marches and legal actions. The organization also focuses on training and developing a global movement of youth leaders to solve the climate crisis.
At 14, Alec was trained by Vice President Gore and became a Climate Reality Leader. He's since given over 500 speeches and presentations about the effects of climate change and the need for immediate action to nearly 1 million people in the United States, Europe, and South America. Talk about making a difference.
Plant-for-the-Planet

Felix Finkbeiner was nine years old when he first laid the seeds for a new kind of climate movement. Calling on children all over the world to plant 1 million trees in every country, Felix helped launch the youth organization Plant-for-the-Planet. Since 2007, Plant-for-the-Planet has planted over 14 billion trees. And it's not done yet, with a goal of planting 1 trillion.
Plant-for-the-Planet encourages children to become Climate Justice Ambassadors and take action into their own hands and fight for their future. The organization is over 100,000 kids strong, with 30,000 Climate Justice Ambassadors between the ages of nine and 12, and the work they do is growing climate hope around the world.
One person can do so much. Start today: Become a @ClimateReality Leader https://t.co/VlXdwhmEaO #CRinPH pic.twitter.com/QkflMEKEOs

— Climate Reality (@ClimateReality) February 8, 2016
You're never too young (or too old) to make a difference.

Every voice counts in the fight for a better, safer future. Help preserve our planet for future generations. After all, it's the only home we have. Sign up below to receive updates from Climate Reality and stay informed on the latest news in climate science and activism.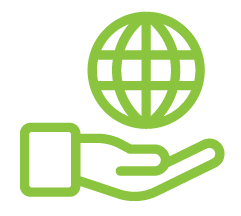 Before You Go
At Climate Reality, we work hard to create high-quality educational content like blogs, e-books, videos, and more to empower people all over the world to fight for climate solutions and stand together to drive the change we need. We are a nonprofit organization that believes there is hope in unity, and that together, we can build a safe, sustainable future.
But we can't do it without your help.
If you enjoyed what you've just read and would like to see more, please consider making a generous gift to support our ongoing work to fight climate denial and support solutions.