April 12, 2015 | 8:00 AM
Getting Into the Business of Solutions
Most people can identify a problem when they see one. What sets Climate Reality Leaders apart is their drive to do something about it, to be a part of the solution. Which means asking a lot of tough questions and acting on the answers, even when it means some difficult decisions.
Wei-Tai Kwok could identify a problem at a pretty early age. When he was still just a sophomore in 1978, he saw the problems American dependency on oil and gas presented and knew there had to be better alternatives. So at a national high school debate on energy, he started asking questions and proposed that the US expand its use of solar power as a way to cut down on fossil fuels.
But it wasn't until years later, when he walked out of the theater after seeing An Inconvenient Truth, that he realized his life wasn't aligning with the solution to the larger problem that fossil fuels were driving: climate change. At that point, he was the CEO of his own successful advertising agency, helping businesses grow by selling more products and encouraging more consumption. "But," he wondered, "is increasing consumer spending and endless annual growth part of the solution? Or part of the problem?"
The question led him to a crossroads, and it wasn't long before he chose to leave his own agency and walk a new path. He found a new start as the head of global marketing with Suntech Power, one of the world's largest solar energy companies. Wei-Tai saw what forward-thinking businesses and solar could do to address climate change – after all, he was working on the very solution he'd proposed as a teenager – but after several years with Suntech, he also saw how ordinary Americans had to join in and he knew he could do more to help.
So he began asking himself how. When he received an email about a Climate Reality Leadership Corps training  in Chicago in August of 2013, he decided to go, feeling it was the perfect opportunity to get the skills he needed.
Wei-Tai said later that it was "the most interesting conference" he had ever attended. He met people from Asia, Europe, Africa, and America, and trained alongside Jews, Christians, Buddhists, and atheists. "It made me feel that people all over the world did care so much about this topic," he said. "It gave me hope that we, the people of this earth, are in fact going to do something about this problem. And we are ready to do it NOW."
After the training, Wei-Tai returned home to Lafayette, California and set a personal goal to reach 1,000 people with the truth about climate change. But he soon discovered it was not something he could do alone. After initially struggling to find audiences for his message, he got some invaluable advice from a friend.
Steve Richard, founder of a local nonprofit called Sustainable Lafayette, told Wei-Tai that he could spread his message further and faster if people in the community were spreading it for him. All he had to do was start asking for their help. So he began to close each of his presentations with the statement, "I have a personal goal of giving this presentation to 1,000 people this year. So you can help me, and you can help spread the facts. If any groups you're involved with, or your business or your church, would be interested in having me speak to you, please contact me afterwards."
The difference that simple request made was tremendous. Every presentation he gave quickly led to others as people in the audience, energized by what they'd heard and eager to help, came up to connect him with friends and other groups he could speak to. It was working better than he had dared to hope and a sign that not only was his message on climate change resonating, but also that the people hearing it wanted to be part of the solution. All he had to do was ask.
The proof was in the numbers. In 2014, Wei-Tai beat his personal goal of reaching 1,000 people (he got to 1,200). For 2015, he's extended his goal and hopes to reach 2,000 people. And the numbers weren't the only benefit.
 "It's been great to meet so many people in my community the past 18 months," he says. "From middle-schoolers to senior citizens, I've been totally encouraged to see that people genuinely care about climate change. There is growing momentum, and that gives me hope that this generation in this decade will put some meaningful legislation in place. I have been surprised, and very happy, to meet so many people who care."
Become a Climate Reality Leader

Join us for an upcoming Climate Reality Leadership Corps training and work with former US Vice President Al Gore and renowned climate scientists and communicators to learn about what's happening to our planet and how you can use social media, powerful storytelling, and personal outreach to inspire audiences to take action. Give us three days. We'll give you the tools to change the world. Learn more.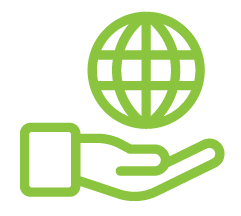 Before You Go
At Climate Reality, we work hard to create high-quality educational content like blogs, e-books, videos, and more to empower people all over the world to fight for climate solutions and stand together to drive the change we need. We are a nonprofit organization that believes there is hope in unity, and that together, we can build a safe, sustainable future.
But we can't do it without your help.
If you enjoyed what you've just read and would like to see more, please consider making a generous gift to support our ongoing work to fight climate denial and support solutions.