May 05, 2015 | 8:00 AM
Going Big and Going Green
If you've ever worked at a large organization, went to a big school, or attended a convention, you're probably familiar with the way most big meetings work: you're shuffled into a huge room and surrounded by blinding screens that stay on forever. Then, when it's time for meals, all you see are unnaturally bright creations served on Styrofoam. The result is that you tend to forget the meeting the moment you walk out the door – and wonder about all the energy, food, and materials wasted along the way.
The truth is, it doesn't have to be this way. That's why when planning our Climate Reality Leadership Corps trainings , including the Cedar Rapids training this week, we strive to create an innovative event with a positive social and environmental legacy that matches the message onstage. We also want to show that with the right commitment and planning, any organization can significantly reduce the impact of its events.
How? In designing our trainings, we focus on four key areas:
Cutting overall energy and water consumption
Sustainable food and beverage sourcing
Waste reduction and diversion through composting and recycling
Attendee engagement activities. 
Waste Reduction and Diversion

We hear it all the time: "Events are wasteful."
There's a reason people believe this. Most large events just order several dumpsters to dispose of their waste – and take it straight to a local landfill.
Instead, we see event waste as an untapped resource that can be either converted into compost for fertilizing grounds at local schools and parks or recycled for plastic or aluminum products. Throughout each Climate Reality training, we have Eco Stations where attendees can separate their compostables, recyclables, and landfill items (not too many of those!).  We also donate any leftover supplies to local organizations that need them so everything gets used.
Energy

"Ok, even if you're not producing that much waste, you're still using tons of energy to put this thing on."
Nope. To save energy, we use energy-efficient stage lighting, send dead batteries and equipment to the e-waste recycling center (i.e. e-waste heaven), and employ a power-down policy to ensure only critical equipment is on during rehearsal and move-in times.
Food and Beverage

"What about the food? Large conferences and events always have lots of waste at meal times, not to mention a lack of vegetarian and vegan food options, which carry a lighter environmental impact."
Agreed. Look, we've all got to eat, but we also work with the venue chefs over the planning months to offer a sustainable dining experience at our trainings.  By serving our food and beverages in reusable tableware (instead of the Styrofoam or plastic stuff), using bulk condiments, and composting any excess food, we cut down on mealtime waste in a big way. Also, by providing wholesome vegetarian and vegan options (not just a mish-mash of side dishes like you're probably used to), and sourcing local and sustainably-produced foods, we shrink the carbon footprint of our meals. Which is something to chew on.
Purchasing

"Ok, ok, that all sounds pretty good. But to put on any event you have to buy lots of materials, and that has to leave a pretty big carbon footprint."
Yes, and no. As minimalist as we try to be, we do have to buy things to put on trainings of this size. However, our sustainable purchasing policy for two of our biggest buys – binders and name tags – requires that they can either be recycled or composted. Also, a local green-certified printer prints all our paper materials. These measures drastically cut down the environmental impact for our event purchasing.
Carbon Neutral Event

"Even with all those measures – you know the event is still going to have a carbon footprint, right?"
Not if we have anything to say about it. We measure overall emissions related to travel to and from training venues and other event-related activities and neutralize them via verifiable carbon-offset projects.
Communication & Legacy

"Cool. Sounds like you're running this event the right way. But this is just one event…"
True. But larger changes start one event at a time, and we work to spread our sustainable event strategies as much as possible during our events. We reach out to everyone involved through online communications, program features, and other ways to let them know what we're up to – and ask them to spread the word. In short, we work to ensure people leave our trainings more knowledgeable about climate change and how they can implement these types of measures in their homes, companies, and future events.
See These Practices In Action

To learn more about how you can join a sustainable Climate Reality Leadership Corps event, visit our training page.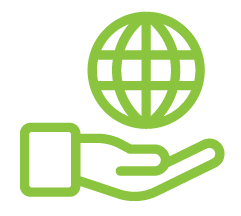 Before You Go
At Climate Reality, we work hard to create high-quality educational content like blogs, e-books, videos, and more to empower people all over the world to fight for climate solutions and stand together to drive the change we need. We are a nonprofit organization that believes there is hope in unity, and that together, we can build a safe, sustainable future.
But we can't do it without your help.
If you enjoyed what you've just read and would like to see more, please consider making a generous gift to support our ongoing work to fight climate denial and support solutions.