August 11, 2017 | 2:33 PM
Got #ClimateHope? Ninety-nine Reasons To Keep Fighting for Our Future
If you saw An Inconvenient Sequel: Truth to Power you might have walked out with a few questions. But most importantly you're probably wondering what has happened in the climate movement after the cameras stopped rolling. Well, in short – a lot. Now, not all of it has been good news. But if you're in need of a dose of #ClimateHope, here's a heaping helping of recent good-news stories about the climate.
Here are 99 reasons why we're still hopeful about the future of our climate: 
PEOPLE ARE FIGHTING BACK  

1. Americans have taken to the streets and marched for their rights and to stand up for others – just look at the Women's March, the March for Science, and the People's Climate March.
2. Hundreds of thousands of Americans are standing up for the Paris Agreement with I Am Still In.  
3. Then, nearly 450,000 raised their voice to say that clean air isn't a burden – and the important protections in the Clean Air Act shouldn't be reduced.
4. Climate Reality trained 918 new activists in Denver and 681 new activists in Seattle. Learn more about how to become a Climate Reality Leader.

5. A majority of Exxon shareholders demanded that the company fully disclose its analyses of climate change risks.  
6. An Inconvenient Sequel: Truth to Power just came out in theaters, and it's inspiring the world to take action.
7. In 2017, there's no longer one definition of "climate activist" as these 10 inspiring advocates show.
8. There are more ways than ever for individuals to go renewable at home.
9. This 11-year-old Climate Reality Leader made headlines for schooling her congressperson on climate science.
10. Solar energy is cheaper and more efficient than ever. And even these Hollywood superstars are getting on board!
11. Even experienced changemakers get discouraged – but they also know how to get out of the funk and keep moving forward. Read their tips here.
COMPANIES ARE STEPPING UP

12. Lego reached its 100 percent renewable energy target years ahead of schedule.
13. One hundred major corporations have agreed to go 100 percent renewable. The #RE100 initiative reached 100 members and growing.  
14. IKEA begins selling solar cells and batteries in the UK – and teamed up with the United Nations to power a Syrian refugee camp with solar energy.
15. Tesla will be building the world's largest battery which, paired with a nearby wind farm, will provide grid stability in South Australia… in 100 days or less.  
16. Plus, Tesla's Kauai solar battery plant will even power the island at night.
17. And the company also brought renewable energy to this island in American Samoa.
WIND ENERGY IS BLOWING AWAY ALL EXPECTATIONS

18. America's first offshore wind farm opened off Rhode Island – saving 1 million gallons of diesel per year.
19. Scotland opened the world's first floating wind farm, opening the possibility of installing turbines on stretches of ocean that were previously unavailable.
20. Plus, in the first six months of 2017, wind energy has supplied 57 percent of Scotland's total energy needs.
21. In the American Southwest Power Pool grid, wind power set a new record by providing more than 50 percent of electric demand on one day in February.
22. When you travel by rail in the Netherlands, you're also traveling by wind.
23. Germany, the Netherlands, and Denmark are building a wind energy island that could provide clean energy to a whopping 80 million people.
SOLAR SHINES ON

24. India joins the renewable revolution, and even builds the world's largest solar farm. At 1,000 Megawatts (MW), the Kurnool solar park is a sun salutation that really stretches India's solar muscles.
25. India has launched trains with solar panels to generate electricity for onboard lights, fans, and information display systems.
26. Germany produced so much electricity from renewables on April 30 that supply exceeded demand. Not only that, electricity prices went negative.
27. Here comes the sun – yet another solar record fell in the UK, with sunshine generating 8.7 Gigawatts (24.3 percent of demand) on May 27, 2017.
28. Solar and wind produced a record 67.2 percent of the electricity for a big chunk of California on May 13.
29. The United States installed a record-smashing 14,762 MW of solar power in 2016 – with installations in 2017 set to top that.
30. Say this five times fast: Panda power plant.
31. China has activated the world's largest floating solar plant, preserving freshwater by preventing evaporation while generating 40 MW of power for Anhui province.
32. France opened the world's first solar road, testing the viability of wide scale adoption for this technology.
JOBS, JOBS, JOBS

33. The fastest-growing profession in America is wind technician.
34. Clean energy employs more people than fossil fuels in every US state.
35. Solar is the top employer in the US electric power sector, accounting for 43 percent of the total jobs in the field.
36. Renewables employ at least three times as many workers in the US electric power sector as the fossil fuel industry.
37. Renewables employ 9.8 million people worldwide (more than coal and oil). 
38. Solar power employs a higher percentage of veterans than the rest of the workforce.
39. The solar industry is creating jobs 17 times faster than the rest of the US economy
CLIMATE ACTION MOVES TO THE LOCAL LEVEL

40. On June 1, 2017, 365 mayors (and counting) pledged to adopt, honor and uphold Paris Climate Agreement goals through the Climate Mayors effort.
41. Thousands of mayors, governors, college and university leaders, businesses, and investors signed the We Are Still In pledge – representing 120 million Americans and $6.2 trillion of the US economy.
42. … including Atlanta, whose mayor, Kasim Reed, remarked, "I don't believe President Trump is going to be able to stop the forward progress on green energy."  
43. Hawaii was the first state to pass a law committing to the Paris Agreement.
44. California will bypass the president and host its own climate summit.
45. Many more states are continuing climate action, including Iowa, Oregon, and Minnesota.
46. The bipartisan Climate Caucus in Congress is now 50 members strong – 25 Republicans and 25 Democrats from the House of Representatives.
47. The Senate rejected overturning Obama era methane drilling rule (keeping limits on methane emissions in tact).
48. The EPA reversed course and will implement smog regulations after being sued by 15 states.
49. Former governor Arnold Schwarzenegger created a digital environmental legislative handbook to help enact climate solutions at local and state levels.
50. These US cities have already achieved 100 percent renewable electricity: Burlington, VT; Greensburg, KS; Kodiak Island, AK; Aspen, CO; Columbia, MD; Rock Port, MO; and Georgetown, TX.
51. At least 30 US cities, from Moab in Utah to Los Angeles are planning to run entirely on renewables within the next 20 years! Want to see your city on the list? Learn more here.
52. New York City is on a mission to reduce carbon emissions from buildings by making them more energy-efficient, providing low-cost financing to cut emissions in affordable housing, and protecting public housing while making it more sustainable.
53. And even states like Hawaii and California are charging ahead towards 100 percent renewable energy.
54. A group of prominent Republicans announced support for a carbon tax, promoting the idea to top White House officials.
55. Cities like Paris, Taiyuan, and Seattle are making transportation cleaner.
56. Red state rural America is acting on climate – without calling it climate change.
UNEXPECTED ALLIES ARE EMERGING

57. After handing over a copy of Pope Francis' Encyclical on climate change, the Vatican has urged the president to change his position on climate change.
58. A Kentucky coal museum installed solar panels. "We believe that this project will help save at least $8,000 to $10,000 off the energy costs on this building alone, so it's a very worthy effort and it's going to save the college money in the long run," said a museum official.
59. After the US Centers for Disease Control cancelled a climate and health conference, Climate Reality, Vice President Gore, and partners convened the Climate and Health Summit to ensure knowledge-sharing and conversations on this critical subject could continue.
60. Even sports teams are going green: Arsenal Football Club's stadium will be going 100 percent renewable.
61. The Keystone XL fight's not over. Now, farmers whose land is along the pipeline route are fighting back and putting solar panels to block the path…
62. … but KXL might not happen anyway for economic reasons.
63. Four former EPA officials, representing both sides of the aisle, have spoken out against the new administration's environmental policies.
CLIMATE BATTLES GET THEIR DAY IN COURT

64. A court tells the EPA to enforce the Obama Administration's methane pollution rule, despite the current administration's efforts to block it.
65. Coastal communities are suing oil companies over climate change.
66. The Kids Climate Lawsuit has a trial date: February 5, 2018. The 21 young plaintiffs argue that "their constitutional and public trust rights are being violated by the government's creation of climate danger."
67. Much like the planet, Exxon's court case on its climate change misinformation campaign is heating up.
INTERNATIONAL ACTION ABOUNDS

68. India cancels coal stations plans and is on track to exceed its Paris Agreement commitment to reducing emissions (three years early).
69. These countries are phasing out gas-powered cars: UK, France, Netherlands, Norway, Germany, and India.
70. Costa Rica gets almost all of its electricity from renewables — and aims to be carbon neutral in just four years.
71. The UK, birthplace of industrial revolution, goes a day without coal – and more are coming soon as the nation will be coal-free by 2025.
72. Norway's government will no longer buy products that contribute to deforestation. Cutting down fewer trees could make a huge difference in the fight to stop climate change.   
73. France wants American scientists — and the country will pay for them to study climate change.
74. France, Ireland, Germany, and Bulgaria have banned fracking.
75. Beijing is replacing its fleet of 70,000 taxis with electric cars.   
76. Ireland voted to become the first nation in the world to cut all fossil fuel investment.
77. The Finnish government plans to stop using coal, as part of the country's ambitious target of cutting greenhouse gas emissions by at least 80 percent by 2050.
78. More than half of all the cars registered in the first months of this year in Norway have been either electric or hybrid.
79. When you hear from someone who says the US shouldn't be taking climate action because India and China aren't, show them this: India and China's carbon cuts are set to outweigh those of the US
80. France is banning all new oil and gas exploration. Merci beaucoup!
81. Sweden passed a law to become carbon neutral by 2045, a significant step up in its ambition.
82. Even Saudi Arabia has kicked off a plan to reduce oil use, aiming for 700 MW of solar and wind power.
RENEWABLE ENERGY TECHNOLOGY BREAKTHROUGHS CONTINUE

83. Iceland may soon get clean energy from a volcano. Yes, really.
84. This transparent solar panels could revolutionize clean energy. 
85. After Portugal went 107 hours without fossil fuels in 2016, it opened a first-ever hydro-solar hybrid plant.
86. These blinds double as solar panels.
87. Bladeless wind turbines are in development.
88. An autonomous electric cargo ship? It could change the face of the shipping industry.
89. These electric-powered "taxi pods" are taking on pollution in Stockholm.
90. New technology transmits electricity to moving objects – "paving" the way for road surfaces that wirelessly charge electric cars.
91. Tesla's solar roof cost is comparable to an average roof, and dare we say, makes solar even more sexy?
92. Tesla's hot new car means affordable, long-range electric vehicles are starting to come to scale in a big, big way.
93. Germany is converting a former coal mine into renewable battery energy storage.
94. A new type of solar panel can generate drinking water from the air.
95. Alphabet Inc.'s "moonshot factory" – you know, the place that makes Google's driverless cars – is working on a novel way to store renewable energy using salt rather than lithium-ion batteries.
IF YOU ONLY READ FOUR, MAKE THEM THESE

96. Leaving the Paris Agreement isn't the end of the world because…
97. The Paris Agreement will survive, with or without the White House.
98. If we halve carbon dioxide emissions every decade, scientists say we will beat climate change.
99. And in the process, we could boost the global economy by $19 trillion.
What else should be on this list?
Share your ideas with @ClimateReality using #ClimateHope
WHAT WILL HAPPEN NEXT? IT'S UP TO YOU!

If you're not giving up hope – if you want to continue fighting like your world depends on it, join us. We need people like you to attend our next Climate Leadership Training and push for real action in your town, city, state, and country. As seen in An Inconvenient Sequel: Truth to Power, Climate trainees attend an intensive training led by former Vice President Al Gore, and leave with the skills and knowledge to effect change in their communities.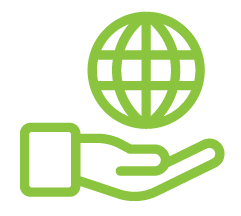 Before You Go
At Climate Reality, we work hard to create high-quality educational content like blogs, e-books, videos, and more to empower people all over the world to fight for climate solutions and stand together to drive the change we need. We are a nonprofit organization that believes there is hope in unity, and that together, we can build a safe, sustainable future.
But we can't do it without your help.
If you enjoyed what you've just read and would like to see more, please consider making a generous gift to support our ongoing work to fight climate denial and support solutions.