October 31, 2011 | 11:53 AM
Halloween: It's getting scarier
© 2008 Jay Schyler Raadt/WikiCommons cc by sa 3.0
Have Halloween plans for tonight? In between big bites of candy and hair-raising thrills, see if you can work climate change into your conversations. Here are three ways climate change could impact Halloween seasons to come:
Climate change is projected to shrink the world's chocolate supply.
A study issued earlier this month shows that areas suitable for growing cocoa in Ghana and Cote d'Ivoire (the source of half the world's chocolate!) will likely shrink as the climate warms. This doesn't mean that chocolate will disappear altogether -- but it implies chocolate will be more scarce, and therefore more expensive.
Extreme weather (which we expect climate change to exacerbate) is bad for pumpkin crops. Just look at this year!
As we highlighted during 24 Hours of Reality, climate change is expected to intensify the Earth's water cycle and lead to more severe heat, rainstorms and droughts. This year, we've seen what such extreme weather can mean for pumpkin harvests. In the wake of Hurricane Irene, the price of a pumpkin has doubled in some locations. The USDA's blog explains that heavy rains and intense heat act to reduce supply and hike up the prices of pumpkins and other ornamental crops.
There's reason to believe climate change is affecting fall foliage. After all, "fall colors depend on weather."
Although the science is still coming in on whether climate change could lead to a less dramatic display and a later dropping of fall leaves, there's evidence pointing in that direction. To find out more, thousands of citizens like you are spending time outside this fall to help scientists gather more data.

Mummies and goblins and werewolves? Meh. The thought of Halloween with less chocolate, fewer pumpkins, and green leaves!? Now that's scary.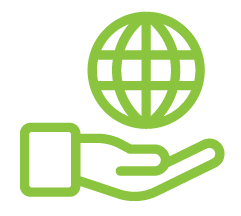 Before You Go
At Climate Reality, we work hard to create high-quality educational content like blogs, e-books, videos, and more to empower people all over the world to fight for climate solutions and stand together to drive the change we need. We are a nonprofit organization that believes there is hope in unity, and that together, we can build a safe, sustainable future.
But we can't do it without your help.
If you enjoyed what you've just read and would like to see more, please consider making a generous gift to support our ongoing work to fight climate denial and support solutions.