October 10, 2011 | 11:43 AM
Has your mayor faced reality yet?
Today, close to 300 local leaders convened in Ekurhuleni, South Africa and reaffirmed the critical role that local governments must play in combating and planning for climate change.
But mayors in Africa aren't the only ones talking about our changing climate. In Mayor Darwin Hindman's town of Columbia, Missouri, biogas from decomposing trash is turned into electricity. In South Korea, a 2.2MW solar power plant is generating power in Mayor Shin Hyun Guk's city of Mungyeong. And in Tallinn, Estonia, local leaders have developed a sustainable energy action plan that's put the city on track to reduce its carbon emissions 20% by 2020.
These are only a few of many great examples. What's going on in your town? Check out the maps below...
World Mayors Council on Climate Change, Membership
Covenant of Mayors Committed to Local Sustainable Energy, Signatories
U.S. Conference of Mayors Climate Protection Center, Participating Mayors
Has your mayor put your city or town on the map yet? If so, show him or her your support, and see how you can get involved in local efforts. If not, encourage your mayor to join the community of local leaders who are already busy confronting climate change!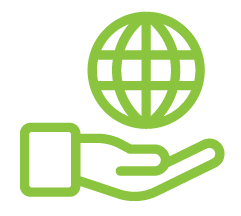 Before You Go
At Climate Reality, we work hard to create high-quality educational content like blogs, e-books, videos, and more to empower people all over the world to fight for climate solutions and stand together to drive the change we need. We are a nonprofit organization that believes there is hope in unity, and that together, we can build a safe, sustainable future.
But we can't do it without your help.
If you enjoyed what you've just read and would like to see more, please consider making a generous gift to support our ongoing work to fight climate denial and support solutions.