September 26, 2011 | 3:04 PM
Honoring Wangari Maathai
Photo by Martin Rowe, 2002
I was deeply saddened to learn that an extraordinary woman, a passionate advocate for human rights and the environment, has passed away. Professor Wangari Muta Maathai, who won the Nobel Peace Prize in 2004, dedicated her life to empowering women and promoting democracy and peace with a focus on sustainable development. We are honored that Professor Maathai served on our Board of Directors.
Wangari Maathai was born in Kenya and spent her life in service to others. Hers was a "life of firsts." She was educated in both Kenya and the U.S. and the first woman in East and Central Africa to receive a Ph.D., to chair a department and be appointed a professor. She was the first African and first environmentalist to receive the Nobel Peace Prize.
In 1977 she founded the Green Belt Movement, a grassroots organization that started by encouraging women in rural Kenya to improve their lives and livelihoods by planting trees. While it may sound like a simple concept, the impact of the Green Belt Movement is vast and profound. Planting trees helps provide food and clean water, allowing women to become more self-sufficient and prosperous. It sustains the land, its people and our planet.
From there, the Green Belt Movement entered the political sphere, calling on national leaders to enact meaningful change. In 2006, Professor Maathai joined the United Nations Environment Programme to launch a campaign to plant a billion trees around the world. Since that goal was met within a year, the target is now 14 billion.
As Wangari Maathai said: "You cannot protect the environment unless you empower people, you inform them, and you help them understand that these resources are their own, that they must protect them."
Let us all remember the legacy of this brave woman, a leader of our times, as we continue to work toward a sustainable future.
Please join us in sharing your condolences with the Green Belt movement here.
Read a statement from our Chairman and Founder, former Vice President Al Gore here.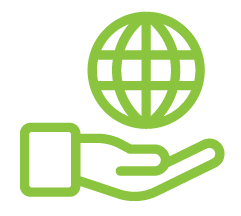 Before You Go
At Climate Reality, we work hard to create high-quality educational content like blogs, e-books, videos, and more to empower people all over the world to fight for climate solutions and stand together to drive the change we need. We are a nonprofit organization that believes there is hope in unity, and that together, we can build a safe, sustainable future.
But we can't do it without your help.
If you enjoyed what you've just read and would like to see more, please consider making a generous gift to support our ongoing work to fight climate denial and support solutions.