September 10, 2015 | 6:00 PM
The Business of Climate Solutions: How Businesses Are Going Green
Those of us working to stop climate change are often faced with political partisanship and disagreement over basic facts around science and the environment. But one area that it seems everyone can agree to support is the green or sustainable business movement. We're guessing it has something to do with the fact that even climate deniers like saving money – as many green businesses do very well – and those of us on the other side like the practical steps these firms are taking to work for climate solutions.
We wanted to learn more. So on August 27, we held a webinar called "The Business of Climate Solutions" to investigate what business leaders are doing in the workplace and how it fits into larger efforts to stop climate change. We heard from five panelists, including three leaders in the green business movement, Jaime Nack, Bryan McGannon, and Deb Nelson, as well as Climate Reality Leaders and business owners Simone Rothman and Jason Utgaard.
Let's back up for a moment. What are Climate Reality Leaders and how do they relate to sustainability? Climate Reality Leaders are regular citizens trained by The Climate Reality Project's founder and chairman, Al Gore, to help spread the truth about climate change and drive global action to solve it. Many of these Leaders, including the two on our panel, are helping fight climate change by making sustainability a core part of their businesses and setting models for others to follow.
What did we learn from our panelists? Read on to find out.
First Things First

What is a green business, and how is it different than a regular business? Having a green or sustainable business can mean a lot of different things, from high-tech firms developing new clean energy technologies to companies committing to go 100-percent paper-free. In essence, green businesses adopt principles, policies, and practices that improve the quality of life for their customers, employees, communities, and the environment. They're focused three things: people, the planet, and profit.
Climate Change Affects the Bottom Line

More and more businesses in the US and abroad are embracing sustainable practices as they begin to feel the impacts of climate change where it matters most: in their bottom lines. As Bryan McGannon, policy and engagement director at the American Sustainable Business Council (ASBC), explained, more than half (53 percent) of business leaders polled by ASBC believe climate change will adversely affect their business. Of those, 19 percent say they've already seen their business operations impacted from extreme weather events associated with climate change.
Bryan sees firsthand how climate change affects profitability when working with other council members. Things like extreme weather events harm day-to-day business operations with effects such as supply chain and transportation disruptions, increased healthcare costs, and increased stress on power grids. All of these factors add costs and create operational disruptions that directly affect profitability.
ASBC is helping address issues like these by advocating for a shift to clean energy and working toward policy changes in the government. Acts like supporting the EPA's Clean Power Plan, eliminating fossil fuel tax loopholes, initiating a carbon tax campaign, and supporting incentives for clean energy are just some of ways the organization is driving change.
Investment Changes

Deb Nelson, executive director of the Social Venture Network, sees how businesses are playing a key role in combating climate change through investment models that shift away from fossil fuels. This model, called "divest-invest," mobilizes billions of dollars in investment capital from the top 200 fossil fuel companies and into climate solutions and clean energy funds.
The idea is to accelerate the transition away from carbon-intensive fossil fuels and into cleaner, sustainable forms of energy. With billions of dollars at stake, this strategy has caught investors' attention and is now the fastest-growing divestment movement in history. After all, as the saying goes, "money talks" – and investors are listening.
Key Policy Developments

Jaime Nack, president of Three Squares Inc, outlined some of the important federal policy changes that often go under the radar, but have huge impacts on sustainable businesses. A notable one was a White House executive order, released this past March, that aims for sustainability in the Federal Government over the next decade.
The order focused on areas like increased energy efficiency in federal buildings and vehicles and reduced water consumption, among others. Overall, the changes would reduce the Federal Government's greenhouse gas emissions by 40 percent below 2008 levels and save taxpayers $18 billion in avoided energy costs.
Climate Reality Leaders in Sustainability

Most people throw things like used coffee grinds and old skateboards into the dumpster. Climate Reality Leader Jason Utgaard turns them into clothes and furniture. Jason is the founder of an online store called The Spotted Door that creates products from recycled and reclaimed materials and, during the webinar, he explained how businesses like his can help prevent pollution, save energy, and create more jobs in the recycling and renewable sectors.
Taking another approach is Simone Rothman, the CEO of FutureAir. FutureAir designs indoor air products to improve energy efficiency and air quality, helping people reduce their carbon footprints while also breathing a little easier. Simone described how she takes the sustainability mindset a step further at the company by using only local industrial products rather than importing goods, using creatively sourced and recycled materials to build products, and implementing a green workplace culture.
Taking Climate Action Daily

Simone and Jason are just two examples of Climate Reality Leaders who are making climate action part of their everyday lives. And thanks to their training, they're connecting with a global network of other committed activists creating new approaches to climate solutions.
To hear more of their stories, watch our webinar, "The Business of Climate Solutions."
And if you're interested in finding out how you can become a Climate Reality Leader, sign up here to receive info about upcoming trainings.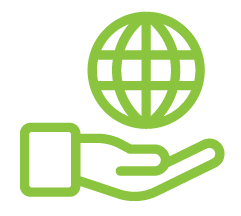 Before You Go
At Climate Reality, we work hard to create high-quality educational content like blogs, e-books, videos, and more to empower people all over the world to fight for climate solutions and stand together to drive the change we need. We are a nonprofit organization that believes there is hope in unity, and that together, we can build a safe, sustainable future.
But we can't do it without your help.
If you enjoyed what you've just read and would like to see more, please consider making a generous gift to support our ongoing work to fight climate denial and support solutions.