November 30, 2016 | 12:31 PM
How Countries are Confronting Their Biggest Climate Concerns
Headlines from around the world this past month have been dire: "Hottest Year Ever." "Cries for Help." "Extraordinarily Hot Arctic Temperatures." And while the headlines scream, we know whose fingerprints are all over the front page: fossil fuels.
Countries across the globe are facing extremely serious issues because of our continued use of fossil fuels, resulting the release of greenhouse gases which alter our climate. Public health is threatened, livelihoods are at stake, and the natural systems that citizens have grown up admiring for their entire lives are in danger.
The time for talk is over.
Together, we can make solutions to the climate crisis a reality and begin to change the headlines.
Check out some of the countries that have already begun to tackle some of their biggest "fossil-fueled" issues.
China: Air pollution

China is a country with a staggering 1.37 billion inhabitants. It relies on fossil fuels as its main source of electricity generation and is the largest producer and consumer of coal in the world. As a result, it suffers from serious air pollution problems. In 2015, only about 20 percent of monitored Chinese cities attained national air quality standards. It's also estimated that air pollution costs the country roughly 6.5 percent of its GDP annually due to lost productivity.
But recently, China has taken a deep breath and become a global leader in renewable energy development and investment. Between 2009 and 2015, China more than doubled its renewable energy capacity, according to the International Renewable Energy Agency. It invested $103 billion in renewables last year alone and aims to cap coal use by 2020. The important thing is this: China is off the sidelines and taking matters into its own hands to clean up its act. 
Indonesia: Deforestation

© 2012 Program on Forests (PROFOR)/Flickr cc by-nc 2.0
Indonesia is considered one of the most biodiverse countries on the planet. But much of that biodiversity is under serious threat from deforestation and human activities. From 2000 to 2012, Indonesia lost more than 15 million acres of forest, with recent rates estimated at 1.17 million hectares per year. Since many of these areas cleared for agriculture (particularly palm oil) are burned, Indonesia has at times even taken the mantle as the world's top carbon emitter due to the CO2 these fires released.
But change could be in the air. In 2015, Indonesia's president renewed a national forest moratorium, prohibiting new licenses to clear key forest areas. And more than 2,700 independent smallholders have recently been certified as "sustainable farmers," giving hope to the zero-deforestation efforts in the country and to a future of reduced carbon emissions. It's not enough to solve the problem entirely, but it's a step in the right direction.
Australia: Coral bleaching

Australia's Great Barrier Reef is the world's largest single structure made by living organisms, and can be seen from outer space. It's also in major danger because of increasing sea surface temperatures and ocean acidification caused by the climate crisis. The warming waters are resulting in mass coral bleaching events, effectively shutting down the entire ecosystem reliant on the coral for survival.
Despite Australia's backtracking on climate action in recent years, the country is taking some notable measures to reduce emissions and increase renewable energy use. To encourage investment in renewables, the government has established financial incentives to develop large and small-scale renewable energy projects. And the state of South Australia already has been setting, reaching, and re-setting renewable energy goals since 2009. The state was able to achieve its 50 percent renewable energy goal this year – almost a decade ahead of schedule – and now plans to go all the way to 100 percent. Let's hope the rest of the country takes note and follows suit!
Italy: Sea level rise

© 2012 Roberto Trombetta/Flickr cc by-nc 2.0)
One of Italy's most iconic cities is at serious risk from the mounting effects of a warming world. Venice is no stranger to flooding, but with conservative estimates showing that global sea levels could rise up to nearly a meter by the end of the century, the incredible "City of Canals," a UNESCO World Heritage site, could find it increasingly difficult to stay above water.
But the resilient Italians are looking to stay afloat by going renewable. Italy currently leads the world in solar power consumption, and at least one PV system is installed in each of Italy's over 8,000 municipalities. Even cooler: Vatican City, within the city of Rome, became the world's first carbon-neutral nation state in 2008.
Countries around the world are taking climate action – and we can't let the Unites States fall behind. Let the Senate know that we deserve a qualified cabinet – not one filled with Big Oil insiders and climate deniers like Rex Tillerson, Scott Pruitt, Rick Perry, and Ryan Zinke. Add your name now: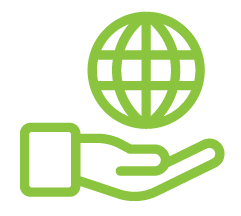 Before You Go
At Climate Reality, we work hard to create high-quality educational content like blogs, e-books, videos, and more to empower people all over the world to fight for climate solutions and stand together to drive the change we need. We are a nonprofit organization that believes there is hope in unity, and that together, we can build a safe, sustainable future.
But we can't do it without your help.
If you enjoyed what you've just read and would like to see more, please consider making a generous gift to support our ongoing work to fight climate denial and support solutions.