May 21, 2015 | 7:00 AM
Ice, Ice Baby: Is Antarctica Ice Melting or Growing?
You might have seen the news from NASA last week: Antarctica's Larsen B Ice Shelf could disappear before the end of the decade.
"It is certainly a warning. The conclusion is inescapable."Antarctica's Larsen B Ice Shelf could disappear before the end of the decade. NASA - National Aeronautics and Space Administration

Posted by Climate Reality on Friday, May 15, 2015
But even while the Antarctic land ice disintegrates down south, and Arctic ice contracts further up North, climate change deniers are touting the record extent of Antarctic ice and using that to claim that climate change isn't even happening.
What's really going on with the polar ice caps? 

In short, there's a difference between sea ice and land ice. Antarctica's land ice has indeed been melting at an alarming rate.
Land ice – also called "glaciers" or "ice sheets" – is ice that has accumulated over time on land. Sea ice is frozen, floating seawater.
Overall, the Antarctic sea ice has been stable — but that fact doesn't contradict the evidence that our climate is warming.
There's a difference between sea ice and land ice
Tweet
The ice sheet – land ice – that covers most of Antarctica is melting at the rate of about 159 billion tons every year in recent years. When land ice melts, it flows as water into the ocean, contributing to sea-level rise. Antarctica's melting land ice poses a direct threat to the hundreds of millions of people living on islands and near coasts. 
Here's more about why this is the case – and how glaciologists know this isn't normal – from our friends at Yale Climate Connections: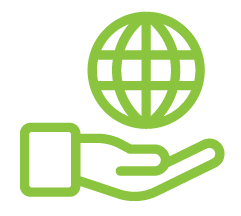 Before You Go
At Climate Reality, we work hard to create high-quality educational content like blogs, e-books, videos, and more to empower people all over the world to fight for climate solutions and stand together to drive the change we need. We are a nonprofit organization that believes there is hope in unity, and that together, we can build a safe, sustainable future.
But we can't do it without your help.
If you enjoyed what you've just read and would like to see more, please consider making a generous gift to support our ongoing work to fight climate denial and support solutions.