July 22, 2015 | 9:22 AM
Is a "Mini Ice Age" on the Horizon? Only If You Live in Westeros!
Researchers from the University of Northumbria recently made headlines with an eye-opening presentation at the Royal Astronomical Society's National Astronomy Meeting postulating that solar activity could fall by 60 percent in the 2030s, possibly bringing the Earth into a "mini ice age"
The reason, they assert, is that fluid movements within the sun will converge in such a way that temperatures on Earth fall leading to conditions similar to the "Maunder Minimum," a cold period between 1645—1715.
You can guess what happened next. The usual suspects of climate change deniers jumped on the study to suggest that climate predictions are too uncertain to trust. And so it doesn't make sense to worry about reducing greenhouse gas emissions (especially if the Earth might actually get colder).
Before everyone gets carried away, let's consider the bigger scientific picture and two points in particular.
The sun isn't the only player in the climate system.
 © Skeptical Science cc by sa 3.0 http://skepticalscience.com/graphics.php?g=5
Many factors influence surface temperatures on Earth along with the sun. Some are natural—such as volcanic activity and internal variability—while others are linked to humans. The magnitude of these individual factors may vary at any given moment and one could potentially offset or overshadow the effects of the others. Case in point: the sun has shown a slight cooling trend for at least the past 35 years, but 14 of the 15 hottest years on record have occurred since 2000.
In other words, even though recent solar activity suggests that the planet should already be cooling, global temperatures have kept rising. So even if we do see a period of exceptionally low solar activity, it doesn't automatically mean a mini ice age is coming. Especially when there are other factors to offset any cooling (like, say, the highest levels of CO2 in the atmosphere in the last 800,000 years.
This isn't the only study on Maunder Minimums.
Scientists have been studying Maunder Minimums for a long time. So if you want to know what the general consensus of years of research and hundreds of scientists is, it's worth looking at what the Intergovernmental Panel on Climate Change (IPCC) – the United Nations' panel of scientists that gathers and assesses the research on climate change happening all over the world – has to say about periods of low solar activity. And what it has to say in its most recent report is this:
"Despite uncertainties in future solar activity, there is high confidence  that the effects of solar activity within the range of grand solar maxima and minima will be much smaller than the changes due to anthropogenic effects."
In other words, even if there is a solar minimum like the one predicted by the Northumbria study, any cooling effects on the climate will be offset by the warming effects of man-made climate change. Many studies back this conclusion up, but the point is that we've got to look at any new study in the context of the larger body of research before jumping to conclusions.
It's getting hot in here.
The Northumbria study makes an intriguing contribution to the research on the connection between solar activity and our climate. But the study alone doesn't mean we shouldn't reduce our greenhouse gas emissions. Especially when the overwhelming body of scientific evidence suggests the planet is warming thanks to human activity – and will keep doing so unless we seriously cut down on fossil fuels. There are also plenty of climate impacts – like oceans becoming more and more acidic – that diminished solar activity wouldn't even touch. Plus, the big-picture solution to climate change – a global shift to clean energy – will bring improvements in health and economic opportunities that will benefit the world, "mini ice age " or no.
Bottom line: It's possible that decreasing solar activity could offset some – and we repeat "some" – of the Earth's warming, but the dangerous warming caused by burning fossil fuels will continue unless we take bold steps to change our energy use. So when it comes to talk about a new ice age, let's ensure cooler heads prevail.
Stay up-to-date on the latest climate change facts -- and myths -- with our climate change email newsletter.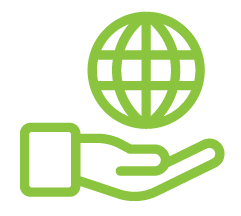 Before You Go
At Climate Reality, we work hard to create high-quality educational content like blogs, e-books, videos, and more to empower people all over the world to fight for climate solutions and stand together to drive the change we need. We are a nonprofit organization that believes there is hope in unity, and that together, we can build a safe, sustainable future.
But we can't do it without your help.
If you enjoyed what you've just read and would like to see more, please consider making a generous gift to support our ongoing work to fight climate denial and support solutions.