November 18, 2014 | 12:32 PM
Indigenous Voices on Climate Change
Reposted with permission from AmazonWatch
"I worry for my children, for all our children and the future generations. Despite our fight to keep the earth in balance, to protect our territory and our tradition, the Amazon is in danger." Mayalú Kokometi Waura Txucarramãe addressed a diverse group of climate leaders, international experts, government officials and media at the Climate Reality Leadership Corps training in Rio de Janeiro, Brazil.
Mayalú, a rising Kayapó leader from the Xingu region, had journeyed from the Brazilian Amazon to speak about indigenous perspectives on climate change and to join some 750 emerging climate leaders from 55 nations that included top Brazilian and international scientists, academics, politicians, journalists, activists, business leaders, students, celebrities and a team from Amazon Watch. The Climate Reality Leadership Corps is a global network of leaders personally trained by former U.S. Vice President, Nobel Laureate and Climate Reality Project Chairman Al Gore, and committed to activating their communities and working for solutions to the climate crisis. The program convenes top influencers and change makers from around the globe and provides an intensive three-day training in climate science, communications and organizing. Leaders leave with adaptable tools to tell the urgent story of climate change and its impacts, shaping the international conversation on climate from dinner tables to world summits.
"My grandfather said long ago that the uncontrolled action of man has unbalanced nature," continued Mayalú after sharing a traditional Kayapó war song to a now captivated crowd. "Fish are dying because the rivers are drying up, and this has harmed forests too. The cycle of rainfall is not the same, which affects the plants and animals. This saddens me because my grandfather told me before he died that he was part of the land, part of the river, part of the forest. Then I see that nature is crying and it is as if my grandfather is crying…For me, caring for nature is caring of my ancestors."
Mayalú went on to talk about deforestation and the imperative role legally recognized rights of indigenous lands has played in protecting the Xingu Indigenous Park where she grew up, which she described as "a lush green island surrounded by a desert of dead and deforested areas, totally destroyed." According to data from Imazon, deforestation in the state of Mato Grosso, where the park is located, increased 957% in the fall of 2014 compared to the same period last year.
"I do not need numbers to find this sad reality of the indifference of Brazil towards native people and the Amazon forest," Mayalú stated, artfully unwinding a narrative that danced between personal stories and heavy local issues. "Deforestation is an issue of international importance because it is one of the causes of climate change and must be resolved."
"What is the problem behind the water shortage in Brazil?" Mr. Gore cited the current water crisis sweeping the supply of Brazilian cities. "It's deforestation of the Amazon." He went on to describe "flying rivers" that carry moisture to the rest of the country in the process of evapotranspiration that regulates rainfall cycles.
"Scientists say the Amazon is the source of flying rivers that come from the rainforest toward São Paulo. When trees are cut down or burned to the point that the Amazon is no longer healthy, this has a major impact on water transfer across the sky to the safety of São Paulo…If there are no more trees, no more flying rivers."
Mr. Gore, who presented for nearly eight hours as the core of the training program, emphasized throughout the day the critical importance of the Amazon region and its role locally and globally in regulating weather patterns, calling it one of the great "green lungs" of our planet and breaking down the science of deforestation, drought and evapotranspiration.
Mr. Gore and Mayalú were joined in speaking about the Amazon by indigenous and NGO leaders, government officials, renowned scientists and other experts such as Dr. Carlos Nobre, National Secretary for R&D Policies, Ministry of Science, Technology, and Innovation of Brazil; Almir Narayamoga Surui, Chief, Surui Nation; Izabella Teixeira, Brazil's Minister of the Environment; Alfredo Sirkis, Chairman, Brazil's National Climate Change Congress; Roberto Smeraldi, CEO, Amigos da Terra; Amazon Watch's Atossa Soltani and many others.
Perhaps most importantly, several cited the critical role of indigenous stewardship of the forests and the fact that this hinges on legal recognition of their territories, a theme we should expect to see maintained in global conversations on climate. "Deforestation of indigenous community forests in Brazil would likely have been 22 times higher without their legal recognition," Mr. Gore quoted a recent report by the World Resources Institute.
In a complementary dialogue, Mayalú further discussed Kayapó perspectives on climate change and the immensely valuable wisdom and solutions indigenous peoples have to offer global efforts to confront the climate crisis.
"While we, as indigenous peoples, may not articulate these problems in scientific terms and categorize them as 'climate change,' we know their causes well. We also know that we can be part of the solutions, solutions that we have demonstrated over millennia by preserving and taking care of our Mother Earth. Our culture, our traditions, our beliefs depend on the land and we care for her; this is a major teaching we have received from our ancestors."
As the western world sluggishly awakes to the veracity of climate change, indigenous peoples around the world have long been observing directly its effects on the natural environment that sustains their very existence. Although they bear the least responsibility for greenhouse gas emissions, they are often the ones most disproportionally affected by its impact. There is growing evidence that the livelihoods, cultural practices and very existence of some 370 million indigenous peoples worldwide are already under threat from both the impacts of climate change and from international programs that attempt to mitigate them.
Mayalú and the indigenous people of the Amazon are already facing the harsh consequences of climate change and have been monitoring its effects for years, their observations coded in rituals and traditions and their insights and wisdom often lost to outsiders. They are telling us their stories of drastically changing weather patterns and agricultural cycles that have existed in the Amazon for millennia. Temperatures are rising. Fires burn more intensely in dry forests. Rivers flood unpredictably and rainfall patterns do not follow traditional methods of forecast like celestial timing. How can the Kayapó continue to predict rains in order to time crops when looking to the stars of Pleiades no longer helps predict weather patterns as it did for centuries?
The scientific and academic communities have made significant advances in understanding the behavior and dynamics of Earth's systems, but a very important voice has largely been missing from the conversation about climate change. What role should ancient wisdom play in confronting our biggest modern challenges?
"It's hard for us as human beings and citizens of our respective countries to imagine that the world could act together," stated Mr. Gore in closing. "But we must. It's the only way to solve this crisis."
"We are at a turning point. The future of humanity is at stake, there is no time for despair and we must accelerate changes amid the climate crisis," he continued. "My only fear is that we take too long to make decisions and leave a big bill for our children and grandchildren to resolve. But when we realize that we can do what must be done, let's ask ourselves: what is the right thing to do? And we will do what is right. But it better be soon rather than too late."
"It is for the future generations that I am here today," Mayalú wound down her speech to a standing ovation. "For this baby in my belly right now – a future warrior for the Amazon – for my children waiting for me at home and for all the children on the planet."
Photo: ©Caroline Bennett/Amazon Watch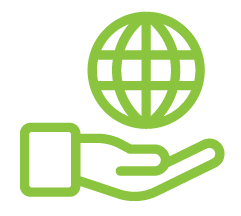 Before You Go
At Climate Reality, we work hard to create high-quality educational content like blogs, e-books, videos, and more to empower people all over the world to fight for climate solutions and stand together to drive the change we need. We are a nonprofit organization that believes there is hope in unity, and that together, we can build a safe, sustainable future.
But we can't do it without your help.
If you enjoyed what you've just read and would like to see more, please consider making a generous gift to support our ongoing work to fight climate denial and support solutions.