May 06, 2015 | 4:50 PM
Iowa Training Spotlight: Climate Reality Leadership Corps Director Mario Molina Answers Three Big Questions
This week, we're in Cedar Rapids, Iowa exploring practical solutions like wind energy and climate-smart agriculture with a new generation of Climate Reality Leaders and training them to become powerful voices for change.
Over the course of the training, we're asking attendees and activists three big questions on climate change. First up was Climate Reality CEO Ken Berlin. Next in the spotlight: Climate Reality Leadership Corps Director Mario Molina.
Does one person's voice and actions matter when it comes to an issue as big as climate change? Why?

It's the aggregate effect of multiple voices coming together that does matter. When it comes to our Climate Reality Leaders, we often see that a single person's voice has a disproportionate effect in influencing their communities, networks, and decision makers. And that really matters.
If you could sum up why we need to act on climate in eight words or less, what would you say?

Two-thirds of fossil fuels can't be burned.
Question: What's the Global Carbon Budget?Answer: The estimated amount of CO2 the world can emit to limit global temp rise to 2 °C above pre-industrial levels. Like?

Posted by Climate Reality on Saturday, August 30, 2014
What makes climate change personal to you?

Most of my values were formed by interacting with natural environments.  The idea that those might drastically change or disappear makes maintaining their integrity as personal as it gets.
Become a Climate Reality Leader

Join us for an upcoming Climate Reality Leadership Corps training and work with former US Vice President Al Gore and renowned climate scientists and communicators to learn about what's happening to our planet and how you can use social media, powerful storytelling, and personal outreach to inspire audiences to take action. Give us three days. We'll give you the tools to change the world. Learn more.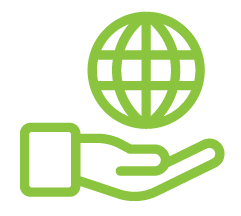 Before You Go
At Climate Reality, we work hard to create high-quality educational content like blogs, e-books, videos, and more to empower people all over the world to fight for climate solutions and stand together to drive the change we need. We are a nonprofit organization that believes there is hope in unity, and that together, we can build a safe, sustainable future.
But we can't do it without your help.
If you enjoyed what you've just read and would like to see more, please consider making a generous gift to support our ongoing work to fight climate denial and support solutions.